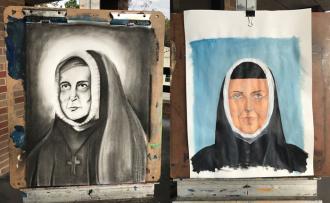 Duchesne Academy of the Sacred Heart in Houston celebrated the Feast of Rose Philippine Duchesne on Friday, November 17 and kicked off the opening of the bicentennial year marking the 200th anniversary of Philippine Duchesne coming to the New World to establish schools in America.
The fifth grade French classes designed a special life-size mosaic made from 50 individual pieces. Each student used their knowledge of the French language and artistic abilities to create their piece of the mosaic.
In Lower School, Meg Poole's third grade class researched Philippine's journey, then wrote a script and performed a skit reenacting Philippine coming to America. The girls performed the skit for the entire Lower School during assembly.
In the Fine Arts Department, Upper School students drew portraits of Philippine using a variety of mediums including charcoal and acrylic.
Click here to go to their website for more information about various class projects honoring the bicentennial of Philippine's journey.