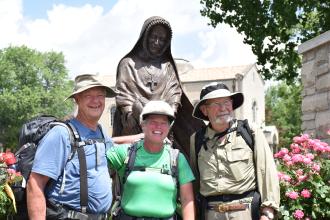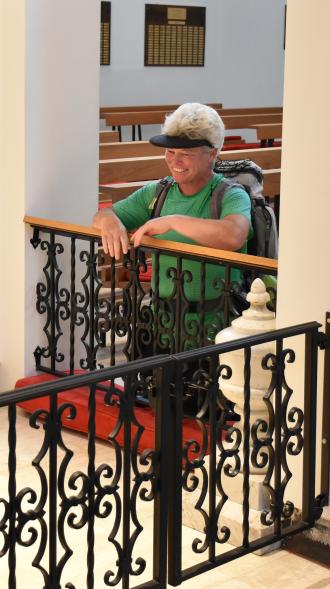 On Monday, March 24, 2017, three pilgrims (ages 80, 76 and 53) walked from Mound City, Kansas, to St. Charles, Missouri, in honor of the bicentennial of Saint Rose Philippine Duchesne. After visiting Sugar Creek and the area Saint Philippine lived and prayed with the Potawatomi, they began their 335-mile to the Academy of the Sacred Heart, Saint Philippine's first school and resting place.
They traveled on gravel farm roads for the first part of the journey, then walked along the Katy Trail. They arrived on May 18, after 25 days of walking 10 to 15 miles a day, averaging 13 miles or a half marathon. The phone app one of the men used showed them walking 35,000 to 45,000 steps a day.
Along the way, the slept at churches of various denominations. Some parishioners took them into their homes. On foot, a pilgrim will walk village to village, up to a day's walk apart to reach shelter before nightfall. It mandates encountering people, individuals or a community, every night to request this basic human need of food and shelter. It invokes the Biblical promise – to ask and to receive; to seek and to find; to knock and to have a door opened – every day.
Ann Sieben, age 53, led the group of three pilgrims. Ann is affiliated with the Society of Servant Pilgrims. Jim Adams from St. Louis, age 76, learned of the upcoming bicentennial of Saint Philippine and longed to make a pilgrimage from Mound City to St. Charles. He connected with Ann, who made it happen. They were joined by Roscoe Hill from Denver, age 80, a retired university professor.
Ann has been a life-dedicated mendicant pilgrim since 2007. A mendicant pilgrim is one who travels on foot along ancient paths to significant destinations. She shares her story on her blog, which begins:
"My name is Ann Sieben. I'm American by birth and global in existence. I was in Spain waiting for a work permit for a project in Bulgaria that never came through. Not wanting to look around for another project at the moment, on a lark, I was inspired to join the growing movement of modern pilgrimages along medieval routes across Europe. I made my way to León, Spain, and then walked 200 miles to Santiago de Compostela through gorgeous countryside during the days and enjoyed the camaraderie of other pilgrims in the special hostels in the evenings. After 11 days of walking, I was hooked."
Every winter for about six months, Ann travels the world by foot. She makes shorter pilgrimages the rest of the year. She completed a pilgrimage throughout Japan shortly before beginning the Saint Philippine pilgrimage. She plans to walk the same Missouri route for Saint Philippine in spring and fall 2018. Details are still being developed and will be shared when they are available. Others are invited to join Ann on these pilgrimages for all or part of the journey! 
Read more:
http://winterpilgrim.blogspot.com/
https://www.societyofservantpilgrims.com/
Photos:
Pilgrims (from left) Roscoe Hill, Ann Sieben and Jim Adams stop at the Saint Philippine sculpture at the Academy of the Sacred Heart. They were greeted by students from the school. Their pilgrimage ended when they crossed the threshold into the Shrine of Saint Rose Philippine Duchesne. The pilgrims had lunch with students, participated in the May crowning Mass, and attended the crowning ceremony and Maypole dance. 
The pilgrims' journey ended when they crossed the threshold in to the Shrine of Saint Rose Philippine Duchesne. They each visited her sarcophagus.