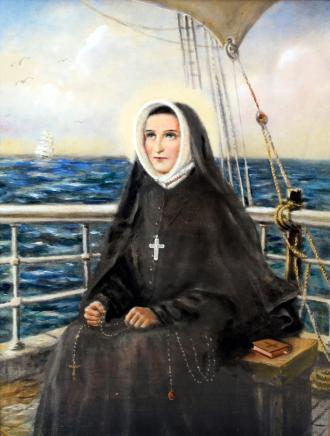 Philippine saw a chance to turn her missionary dreams to reality when Bishop William Du Bourg visited the Society motherhouse in Paris. He had come from the United States to recruit nuns to establish schools for the Indians and French children in his diocese of Louisiana. On May 16, 1817, Philippine begged Sophie Barat on her knees for permission to travel to the mission; at last Sophie gave her consent.
Philippine sailed with four other religious the following year, providentially arriving in New Orleans on the Feast of the Sacred Heart, May 29, 1818. She later sailed up the Mississippi River to St. Louis, Missouri, a trip of forty days, arriving on August 22, 1818.
On September 14, 1818, Philippine opened a school in a log cabin, not in St. Louis, as expected, but in nearby St. Charles, Missouri. It was the first free school west of the Mississippi. A few weeks later, the Academy of the Sacred Heart was opened with three students. The frontier conditions were a challenge, but even more so was the limited population. Philippine was forced to close this school after one year and open a new school in the nearby town of Florissant.
Despite being challenged by the English language, Philippine served as both superior of her religious community and head of the school. She reserved for herself the most menial of chores: tending livestock, chopping wood, gardening, mending shoes and clothing, nursing the sick and making soap and candles. In Florissant, she often slept in a small closet under the stairs so she could slip in without disturbing others after her all-night prayers in the chapel nearby. (This room can still be seen at the Old St. Ferdinand Shrine in Florissant, Missouri.) She survived pioneer conditions, a bout with yellow fever and persistent feelings of failure.
Read Saint Rose Philippine's story in French