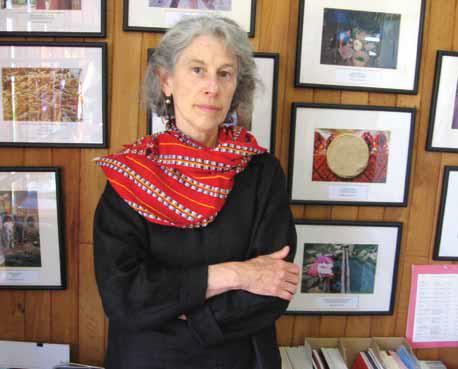 If it was heritage that drew Carlota Duarte, RSCJ, to southern Mexico, it was the prospect of empowering people through art that convinced her to stay. For the last twenty years, Sister Duarte has overseen the Chiapas Photography Project, which has trained more than two hundred indigenous photographers – Mayan Indians – in creative skills that are enabling them to tell their own story, building dignity and cultural pride in Mexico's poorest state.
The project, which today employs a full time staff of four Mayan photographers, has accumulated an archive of more than 75,000 images. They are the work of some two hundred and fifty photographers representing at least ten indigenous ethnic groups, mostly from Chiapas, but also from Yucatan and the neighboring state of Oaxaca. The project is renowned in Mexico and abroad and has caught the eye of the Ford Foundation, which has provided much of the funding over the past ten years. Some photographers have seen their work published in beautiful books and displayed in galleries in the United States, including New York City, and throughout Mexico, as well as in Iceland, Holland, Germany and Spain.
Ironically, most of the men and women who have become skilled at visually recording the rhythms of daily life, the beauty of the land and the people, are unaccustomed to speaking for themselves – are politically invisible, or were, until the short-lived but successful uprising that brought Chiapas into international prominence in the early 1990s. They are, however, economically vital.
"The economy is based on their cheap labor," Sister Duarte said, in an interview during her recent visit to St. Louis to attend a college reunion. They are largely rural farmers, coffee growers and peasants who lack the most basic amenities of modern life. Yet through photography, the indigenous peoples' appreciation of their own changing culture has been translated into a national cultural treasure that will endure long after many of the things that money can buy.
Exploring ethnicity
The daughter of a Mexican father and an American mother who attended a Sacred Heart school, Sister Duarte attended Kenwood Academy of the Sacred Heart in Albany, New York, on a scholarship and then Maryville College in St. Louis. Two years out of college, she joined the Society of the Sacred Heart in 1968. Following in the footsteps of Cora McLaughlin, RSCJ, her aunt, who taught art history for nearly two decades at Convent of the Sacred Heart in Greenwich, Connecticut, Sister Duarte pursued an interest in art and earned a bachelor's degree in fine arts at Manhattanville College. (Sister McLaughlin, now retired, lives at Teresian House in Albany.)
Sister Duarte was attracted to the Society by the deep spiritual practice of its members, its strong intellectual tradition, and its reputation for affording women freedom to grow as individuals in the context of a shared mission. Her first assignment as a Religious of the Sacred Heart was teaching English, photography and pottery-making at Doane Stuart School, a Network school in Albany. After six years, she moved to Boston to help establish an art and craft cooperative, Casa del Sol, where immigrant women, mostly from Puerto Rico, learned to produce marketable goods and sell their work. During this period, she began to work as a professional artist, and in 1977, she was accepted at the Rhode Island School of Design, where she earned a master's degree in fine arts.
The 1980s and early 1990s were taken up with teaching at the University of Massachusetts, in the working class city of Lowell, where Sister Duarte learned from a colleague a principle that guides her to this day: "We don't have everything we'd like [in the way of equipment], but our students are eager to learn, and we owe it to them – and to ourselves – to give them the best that we can." In 1990, her photographic essay Odella: A Hidden Survivor was published and exhibited throughout New England and elsewhere.
It was in this period, too, that Sister Duarte gained a deeper appreciation of ethnicity and became interested in exploring her own. She was familiar with parts of Mexico from her grammar school days, when her family lived in southern California and made regular trips across the border. "My mother had a strong social conscience," she said. "We often went to Mexico to take things to an orphanage in Tijuana."
City a magnet
As an adult, Sister Duarte traveled all over Mexico, visiting Yucatan, her father's family's home, and Chiapas, with its more mountainous terrain and cooler climate. Her ties with Mexico were strengthened in the mid-1980s, when she was offered what she describes as an exceptional opportunity: to collaborate in compiling a reference book on Mexican pictorial collections, including photographs, paintings and graphics.
What struck her as she traveled around, getting to know the country through its visual history, was that indigenous origins were "central to Mexican identity," yet virtually all representations of Indians were the work of outsiders. "It felt very unfair to me," she said. Wouldn't it be a matter of simple justice, she wondered, if indigenous people could be empowered to speak for themselves by creating their own images.
Duarte began the Chiapas Photography Project in 1992, working first as a visiting artist at House of the Writer in San Cristóbal de las Casas, where indigenous Mayans had begun preserving their culture through writing and related activities. As Chiapas's second largest city, with a population of about 150,000, San Cristóbal serves as a magnet for commerce and outsiders, including tourists, who enjoy the contrasts of the centuries-old colonial architecture and the pre-conquest Mayan ruins a few hours away.
"It is a very special, beautiful place – to me one of the most interesting places on the planet – cosmopolitan, yet provincial – with its mix of ancient cultures, indigenous people, and colonial remnants," Sister Duarte said.
Paradoxes abound. "I can be in my apartment watching a movie, look out the window and see someone walking by with no shoes, carrying an enormous bundle," she said. "My heart is still very much affected by the suffering of the place."
In addition to tourists, the city attracts many short-term researchers, human rights workers, journalists, church workers and political observers from several countries. But at last count, she said, she is one of only about thirty or so Americans who live full time in San Cristóbal. Europeans, especially Italian, French and German, are more numerous.
Education fundamental
In the early years, the photography project used 35-millimeter manual cameras donated by friends and colleagues in the United States. Sister Duarte tutored natives in their use, but strictly avoided imposing artistic standards on their efforts. Once a core group was trained, they trained others, so that now all basic training is provided by Mayan photographers, carried out in Spanish and native languages and incorporating methods suitable to the culture. In the early years, as the project grew, donated disposable cameras were added to the equipment bank. Participants learned to reuse them by replacing used film with new. Over the years, better cameras, mostly contributed, have become available.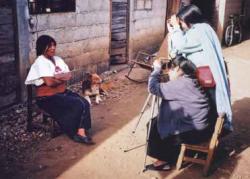 "We are now getting donations of good-quality film-based analog cameras as people switch to digital," she said. "And recently, we have begun receiving digital cameras as well, so we are able to move into this new technology. Volunteers have come too, from several countries – more than fifty-five so far, including two Sacred Heart alumnae.
In 1995, three years after the Chiapas project began, the Ford Foundation gave Sister Duarte an individual award, making it possible for her to settle permanently in Chiapas and further develop the project. A project grant from the Ford Foundation the next year funded the beginning of the Archivo Fotografico Indigena – Indigenous Photography Archive – located at the Center for Research and Higher Studies in
Social Anthropology, where Sister Duarte had been invited as a visiting researcher. Photographs from the archive are available on request to the indigenous participants, academics and the press, and images have appeared in a variety of publications.
The project has created thirteen traveling exhibitions and seven books, always multilingual, in the photographers' native language, in Spanish, the national language of Mexico, and in English. Publications include a book of photographs of many forms of the ubiquitous chili pepper by Juana López López, a project staff member since 1999.
Since finishing the book, López has moved on to other artistic experiments, including "multiple photos" – several images joined to make a single work (see Shadow below). A book, by Emiliano Guzmán Meza features another staple of the Mexican diet: corn. A book by Maruch Santíz Gomez, pairs photographs of objects from everyday life with native sayings and beliefs – a slice of cultural history that she wanted to preserve. For example, the words "It is unlucky to sweep the house in the afternoon. You could become so unlucky that you could lose all your money" appears alongside a photograph of a branch used for sweeping.
Sister Duarte said the project is fundamentally an educational one that goes well beyond developing photographic skills. Staff members at the archive begin the day with two hours of study. This is school work for some, including two who are attending the university. Photographers work on Spanish too, an acquired language for most indigenous people in Mexico.
Financially, the project's development is due to donations by many individuals as well as to the substantial Ford Foundation support over the years. Lamentably, the Ford funding is ending this year, so Sister Duarte has begun to establish a modest endowment and hopes to see it grow.
Justice through art
Two major political events have occurred since Sister Duarte began her work in Chiapas. First, on New Year's Eve, 1993, while she was visiting Boston, a group of armed, masked peasant insurgents seized San Cristóbal and several surrounding towns, calling themselves the Zapatista National Liberation Army and declaring war on the Mexican government. The uprising had been prompted in part by the North American Free Trade Agreement (NAFTA), which held little promise for the long impoverished and oppressed Indian population
The Mexican army soon brought a restive peace to Chiapas, after more than a hundred people were killed, and Sister Duarte was able to return, though to a militarized city. Since that time, she said, the situation in Chiapas is one of "low intensity warfare" and the life of indigenous communities has become more difficult.
In 1998, she became eligible for dual citizenship, a result of her direct Mexican heritage (her father was from Yucatan) and NAFTA – "one of the few positive components of that agreement," she noted. Previously, like many foreigners, she had lived in fear of deportation – an ironic twist on Mexicans now living illegally in the United States.
Since the project began, a range of academic phrases has been used in international coverage, both press and academic, to describe what Sister Duarte has done: "photography as creative social discourse" and "the camera as a tool of social awareness," to name just two. But Sister Duarte prefers to describe the project in the simpler language of art and justice, and as an extension of the educational mission of the Society of the Sacred Heart. She notes that the project not only provides quality education to the educationally underserved, but also, through outreach activities, educates the public about indigenous talent and culture.
She stressed that the purpose of the project goes much deeper than the externals that draw a lot of notice, such as the glossy books and exhibitions in New York. What still matters, she said, is what mattered when the project was conceived: "Giving people the opportunity to represent themselves with their own artistic talent and to regard themselves and their cultural heritage with dignity and pride."
For more information about Sister Duarte's project, visit http://chiapasphoto.org/.This article originally appeared in the Winter 2006 issue of Heart magazine.