Annett Hanrahan, RSCJ, from the Province of Australia/New Zealand, offers us insight into the rich diversity of expression of Sacred Heart spirituality across cultures. She explains her image.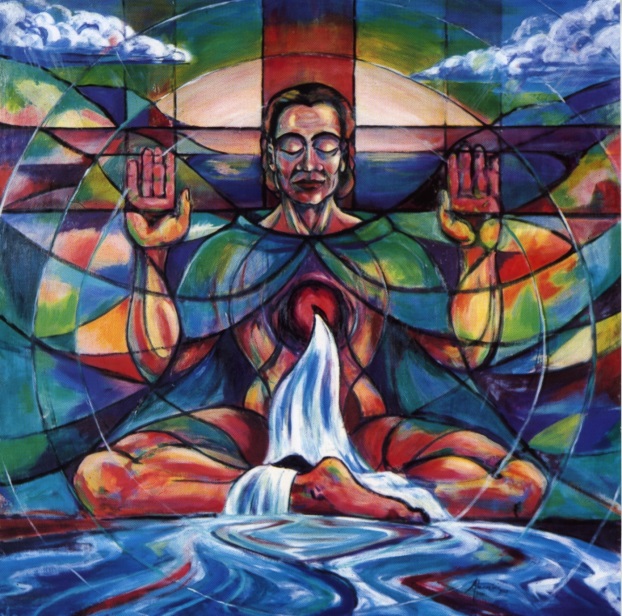 I live in the South Pacific, in New Zealand, which is a multi-cultural country, including Maori, Polynesian, Pakeha, and peoples from all parts of Asia. I could not find any images that spoke to me or to any of us of a powerful, loving God, with an all-embracing, all-forgiving love that we as human beings can open to and understand in our very humanness. I wanted to probe the incarnational reality of God in Christ and in all of creation in a language that might have some meaning in my world. 
So, Christ is seated in a posture similar to the prayer posture of many in the east, and of the Polynesian peoples of the Pacific. His features have a Polynesian quality. He is holding his cross, which is transparent, for it is part of, and dialogues with, the earth, but Christ has moved beyond it. Christ's eyes are closed as he is one with His Father, and in that deep communication, he is a powerful and strong channel, river even, of the flow of the love of God to slake our thirst. It has become a very meaningful image of Christ for the students at Baradene, the Sacred Heart School in Auckland, who see in it a strong ecological meaning for our time and call it our "Cosmic Christ."
~ Annett Hanrahan, RSCJ (Australia/New Zealand Province)
Posted August 2, 2013
To sign up to receive an email from the Society of the Sacred Heart each First Friday, click on the words Sign up for E-news here or at the bottom of any page on this site.