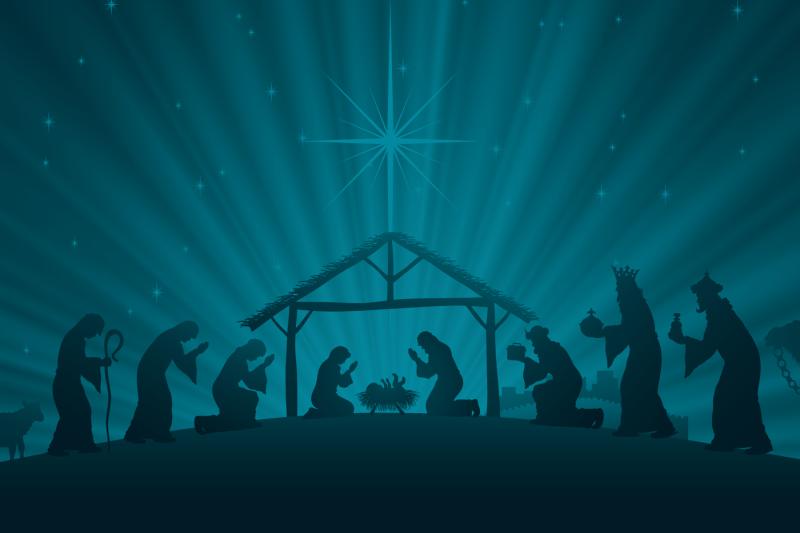 Veillée.
We open our hearts, our lives and our ways of being together so we can invite the Spirit to translate what has been into what will be. Many Religious of the Sacred Heart cherish and wish to share in a generative spirit, our experience of Christmas Eve in our communities with a common practice we refer to with the French word: Veillée.
Like many family traditions and practices around the holidays, it is somewhat difficult to trace the history and understand what it meant to those early companions of the young Society. There are references in the "house journals" in the early 19th century recounting the joy and celebration.
For many of us, the remembrance of joy, spontaneity and celebration has been influenced by the candlelight quiet of the liturgy at midnight and has taken on new characteristics. For nearly all of those who assisted in this process, Veillée is a time of gathering to remember, to celebrate and to believe. It is our invitation to gather together to welcome the birth of new hope.
The Formation to Mission team invited RSCJ to share their favorite prayers, poems and songs of Veillée with the question of what "needs" to be part of the celebration to feel like it makes the transition from the waiting of Advent to the celebration of Christmastide.
We share with you remembrances and resources submitted by 27 Religious of the Sacred Heart of the United States – Canada Province. We also have integrated the past and the present into a suggested Veillée prayer for 2019. Please adapt it for your community, family or gathering. There is some strength in knowing we will share some of the same words, images, silence and joy, especially in this time when our hearts can feel heavy with the needs of our global community, and we are eager to hold that as "one Body."
With gratitude and hope, the Formation to Mission team shares this collection and prayer.
You will find five parts of our collection:
From the Voice and Experience of Heart of RSCJ
Suggested Veillée Readings 
Suggested Veillée Songs 
Suggested Veillée Prayers 
Veillée 2019 
Thank you to the RSCJ who contributed to this collection and prayer:
Lisa Buscher, RSCJ
Jane McKinlay, RSCJ
Maureen Chicoine, RSCJ
Sally McLean, RSCJ
Maria Cimperman, RSCJ 
Lolin Menendez, RSCJ
Kathleen Conan, RSCJ
Helen O'Regan, RSCJ
Anne-Marie Conn, RSCJ 
Carolyn Osiek, RSCJ
Jan Dunn, RSCJ
Rita Pinto, RSCJ
Frances Gimber, RSCJ
Clare Pratt, RSCJ
Gwendolyn Hoeffel, RSCJ
Natalie Runfola, RSCJ
Kathleen Hughes, RSCJ
Carolyn Siy, RSCJ
Mary Kay Hunyady, RSCJ
Loretta Somerville, RSCJ 
Sharon Karam, RSCJ
Paula Toner, RSCJ
Eve Kavanagh, RSCJ
Deanna Rose Von Bargen, RSCJ 
Bonnie Kearney, RSCJ
Marie-Louise Wolfington, RSCJ
Lorraine Landry, RSCJ 
 
Book design by Beth Ponticello, CEDC at the Stuart Center