By Carole Sargent, Associate, Washington, D.C., and Catherine Kestler, Associate, Chicago
At the August 2021 hiking retreat in coastal Massachusetts, six participants stayed at a retreat house near White Horse beach in Plymouth, Massachusetts. Three Religious of the Sacred Heart (RSCJ) remained at their house ­– a rambling former rectory complete with ghostly echoes of past occupants and a friendly bat, 40 minutes away in Weymouth, Massachusetts.
Mary Frohlich, RSCJ, began designing and leading these beautiful trips years ago, and Diane Roche, RSCJ, has been on most of them, including this one. When we arrived at Plymouth, Jane O'Shaughnessy, RSCJ, was busy in the garden, having recently planted a butterfly bush, and planning areas where we could add beach rocks collected from our hikes.
Jinyong Kim, RSCJ, a professor on sabbatical from her community in Korea, and Deasy Hartanto, NSCJ (Novice of the Sacred Heart), from Indonesia by way of a decade and a half in Brisbane, Australia, completed the contingent.  Hartanto, who found the bat in her room, amiably endured jokes all week. Kathy McGrath, RSCJ, did not join the hikes, but cooked a great meal with Sister O'Shaughnessy, and joined us for contemplative sharing and the closing mass in Weymouth.
We three intrepid guests – Lori Wilson from Connecticut, Catherine Kestler from Chicago, and me, from Washington, D.C. – plus Ellen Dowling, who is the librarian at the Princeton Academy of the Sacred Heart in Princeton, New Jersey, enjoyed being outnumbered by the RSCJ. It reminded us how the Society is and should be anchored, while we as Associates and educators also have an essential role.
Daily five-ish mile hikes in national parks took us to the Myles Standish State Forest (twice), Ellisville Harbor State Park, Great Esker Park, Wompatuck State Park and a great water view of the Boston skyline at World's End, a sweeping park that is part of the Boston Harbor Islands National Recreation Area. All morning hikes were in companionable silence (it was okay to say "there's a bug on you," "yum, blueberries," or "can I borrow your binoculars?"), and afternoons back at the houses remained quiet. At our 5 p.m. "yappy hour" we could speak freely and, if desired, enjoy a glass of wine before dinner.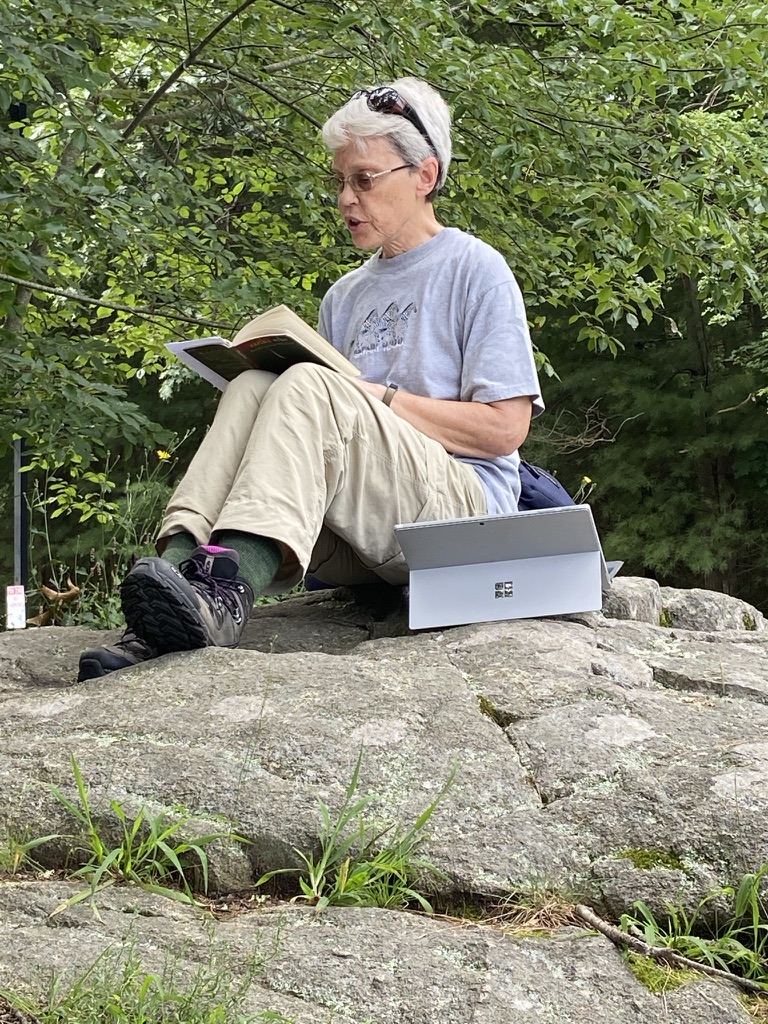 Sister Frohlich was recently certified in forest therapy, so we did "forest bathing" on two mornings, where the trees and forest environment performed great and ongoing healings. Sister Kim and Sister O'Shaughnessy led Qi-gong two of the mornings. Sister Frohlich made a booklet to accompany us that offered poetry and reflections, and we took turns sharing materials of our own such as songs and meditation methods during the end-of-day group time each evening.
Sister Roche opted to sleep in a tent for about half the week, with Hartanto taking her place the remaining nights. We learned what the scream of a red fox or bobcat sounds like (mournful, human-like wailing), and we shared a collective interest in local critters and the weather forecast, especially the tent-dwellers. One night there was a meteor shower, so we made a trek to White Horse beach in the dark. We did not see any meteors that night due to some cloud build-up, but we were able to spend a few memorable afternoons at the beach, enjoying refreshing swims in the cool ocean water, collecting colorful beach rocks and determining how the tides work by doing a Google search.
We were all consoled that with nine of us together for six and a half days, no one was "that person." Life was easy and hassle free, with everyone enjoying cooking and cleaning up as much as eating and praying. Dowling's husband Larry sent along glorious fresh herbs from their garden. Kestler told us delightful stories about her partner Dan and their two parakeets Lady Bird and Bo Bird. Wilson shared heroic driving duties with Sister Roche, and evening meals were served in keeping with the RSCJ value of simplicity. Sister Kim led a rich reflection on the last day that had us each write a word on a colorful paper flower, fold it, and then float it in a pool of water in a bowl on the table, where it opened like a prayer. We don't know what the future holds for RSCJ and Associates together, but more will surely be revealed.