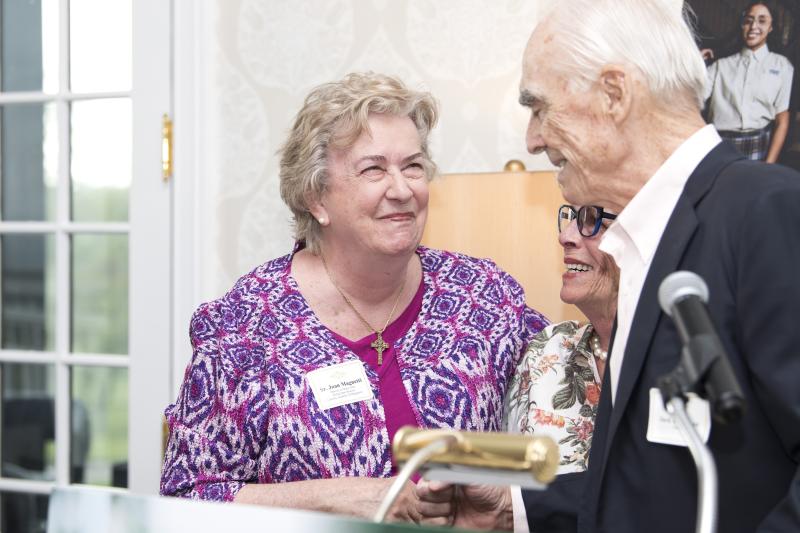 June Dolce and Jack Heffernan, dear friends and benefactors of the Society of the Sacred Heart and Sacred Heart schools, stood beside Joan Magnetti, RSCJ, as she lauded the couple for their generosity and commitment to Catholic education. "I've known them for over 50 years," remarked Sister Magnetti as she spoke to a crowd of 250 golfers and friends at the 10th Annual Catholic Academy of Bridgeport Golf Classic fundraiser on May 16.
Sister Magnetti continued to share that June was two years ahead of her at Manhattanville College — known at the time as Manhattanville College of the Sacred Heart. The two reconnected when Sister Magnetti became Headmistress of Convent of the Sacred Heart, Greenwich (now Sacred Heart Greenwich) in 1990. June is an alumna of Sacred Heart Greenwich. June and Jack's children attended the school, and now their grandchildren attend. Jack also served on the board of trustees at Greenwich.
After 19 years serving as Headmistress, Sister Magnetti joined the Catholic Academy of Bridgeport as Executive Director in 2010 at the request of Bishop Lori, then the Bishop of Bridgeport.
The Catholic Academy of Bridgeport is one school comprising four campuses spread throughout the city of Bridgeport, Connecticut, serving 900 students kindergarten through 8th grade. Sister Magnetti emphasized that while tuition is $5,000, 85% of families live below the poverty level and are unable to afford it. Thus, financial aid of $2 million needs to be raised every year.
Those to whom much is given, much is required.
The Dolce-Heffernan family believes in the value of quality Catholic education, no matter a student's ability to pay for tuition. During Sister Magnetti's time as Executive Director, June and Jack did not skip a beat in supporting the Bridgeport school. Jack also served on the school's board of trustees in various capacities.
 "The Gospel passage which was a favorite of our foundress Saint Madeleine Sophie was, 'Those to whom much is given, much is required.' And I know that you both take this to heart in every aspect of your lives," said Sister Magnetti as she closed out her remarks.
She presented June and Jack with a gift box sporting an anchor on it — a very fitting gift as the couple enjoyed boating, Sister Magnetti later learned. She concluded her remarks saying, "You have been an anchor of faith, hope and trust for the children at the Catholic Academy of Bridgeport."
Little did Sister Magnetti know, though June and Jack were honorees at this fundraising event, that they had, in fact, planned to honor her. June took to the podium to accept the award most graciously. With Jack close beside her, she said, "God has privileged us and we want to share." 
Sister Magnetti's face lit up when Jack announced that he and June were establishing the Joan Magnetti Scholarship Fund with an initial endowment gift of $1 million to be used for tuition assistance for children at the Catholic Academy of Bridgeport. "You're an extraordinarily selfless person, and it's an honor for June and me to call you our friend," Jack said.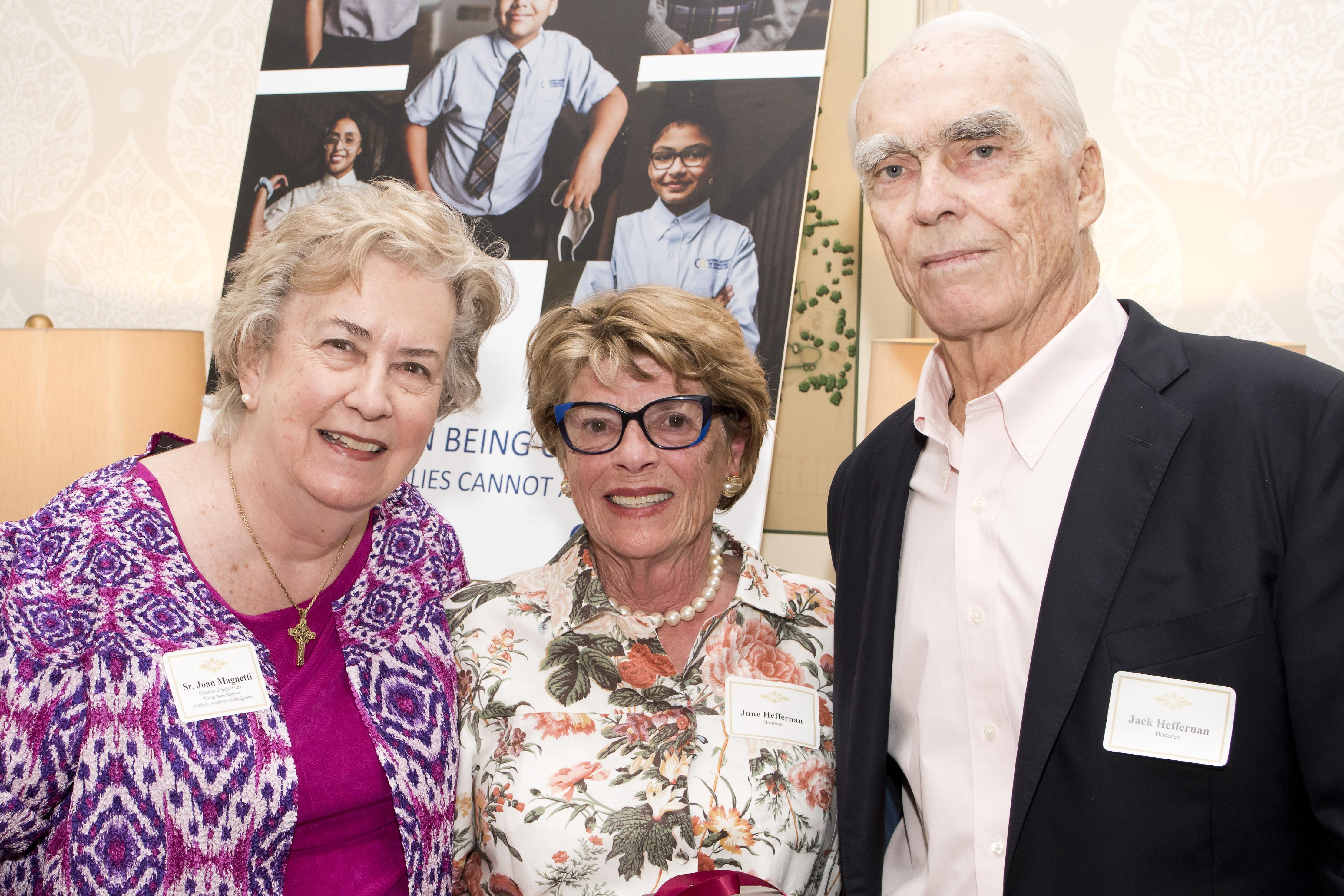 Sister Magnetti was blown away by June and Jack's generosity. As she reflected on the significance of this gift, she explained what a difference a transformational gift like this can make to further quality Catholic education in the city of Bridgeport. "The violence, gangs, lack of resources in public schools all mix to create an especially challenging environment for children in Bridgeport," said Sister Magnetti. "We do not have a donor base from our parents or alums so we rely completely on gifts such as June and Jack made. For people to give as they do … there's a humility and genuine generosity that stuns me. June and Jack, they get it."
Sister Magnetti later shared that the couple has often repeated to her the simple phrase, "it's all about the kids." This sentiment echoes Saint Madeleine Sophie Barat's often quoted writing "for the sake of [a single child], I would've founded the Society." In this spirit, June and Jack have time and time again exemplified a genuine and meaningful commitment to Catholic education, for the sake of many.
Photos courtesy of the Catholic Academy of Bridgeport