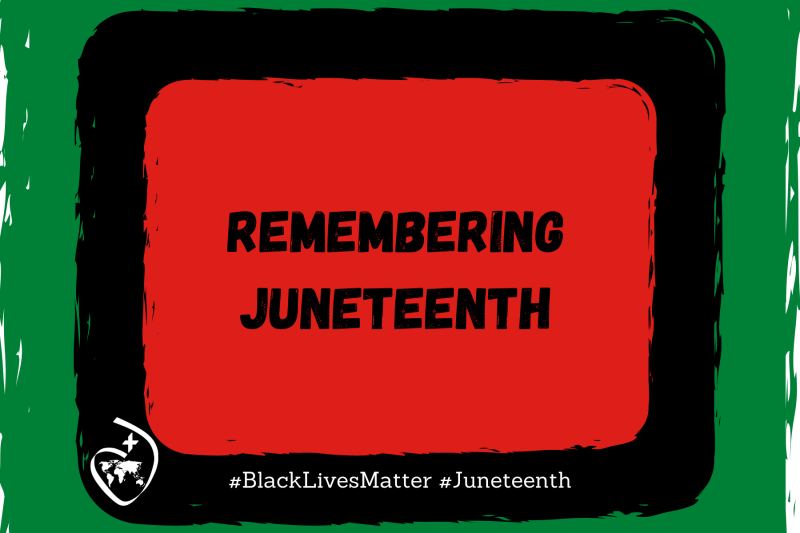 Juneteenth is a day honored and celebrated in the United States, as it marks the final proclamation, in 1865 in Texas, that enslaved persons were free. One hundred and fifty-five years later, the residual effects of enslavement are present and visible throughout the United States. Black and brown persons, today, continue to endure and raise their voices against systemic racism and injustice.
On this Feast of the Sacred Heart, we contemplate the pierced heart of Christ – the brokenness and hope in our world. Our call as a Sacred Heart kinship is to reveal God's love, and thus it is our responsibility, especially as a predominantly white community of RSCJ and lay persons, to actively work to eliminate racism each and every day, beginning with prayer, which then must inform our action.
For those who have privilege, we must sit in the discomfort and pain of this current moment, inform ourselves, not look away from the ravages of racism, and act each day to create a more just world,  keeping in mind that our sisters and brothers of color are targeted by racism and experience untold indignities, and discrimination on a regular basis, effecting the quality of their lives.
Let us listen. Let us pray. Let us recognize the centuries of oppression and disenfranchisement of black and brown persons. Let us wake up to our presumptions and our biases and confront them. Let us watch, read and, in alignment with our charism, educate ourselves. And, let all of these lead us to act with intention, courage and confidence – our "war cry" – to create just systems, a just society and a just world.