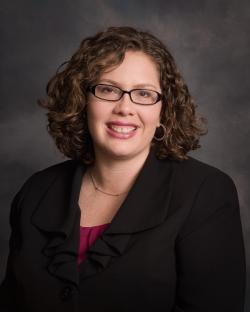 Our new province Chief Operating Officer (COO), Antonia M. Ponder, J.D., is a native of St. Louis and the product of Catholic education, receiving her undergraduate and law degree from Saint Louis University in 1999. After clerking for the Missouri Supreme Court, Toni practiced corporate and real estate law at mid-size firms in St. Louis.
In 2011, Toni began her fundraising and development career for the Archdiocese of St. Louis, first at her alma-mater, Rosati-Kain High School. At Rosati-Kain, Toni led the school's first successful capital campaign, raising $3.5 million dollars to support the construction of their new building. After this success, Toni was asked to join the Today and Tomorrow Educational Foundation (TTEF) to support fundraising, development and marketing needs of the Foundation, and spearheaded significant fundraising, operations and partnership efforts for the Archdiocesan Elementary Schools in the City of St. Louis. She is a member of the Class of 2016 of the Focus St. Louis Leadership Program.
Upon accepting this newly created position, Toni stated: "I am thrilled to accept the Chief Operating Officer role, a new position created within the Society of the Sacred Heart, United States – Canada Province. This role represents a perfect culmination of 20-plus years of my professional experience in both the religious nonprofit and corporate sectors. I am impressed with the intentionality and leadership of the Provincial and the Provincial Team and look forward to our work together as we continue to further the Society's important mission locally and throughout the country and Canada."
"We are pleased to welcome Toni to our provincial office senior management," said Sheila Hammond, RSCJ, Provincial of the United States – Canada Province. "In this new role as Chief Operating Officer, Toni will assist both leadership and staff. She will facilitate the coming together of the various functions necessary for effectively serving the province and living our mission – to reveal God's love in the heart of the world."
Toni is married to Mark Ponder and has three children, Heidi (16), Jack (16) and Charlize (13). Toni lives in Brentwood, Missouri, and her family attends Immacolata parish. She enjoys spending time with her two dogs and traveling with her family.