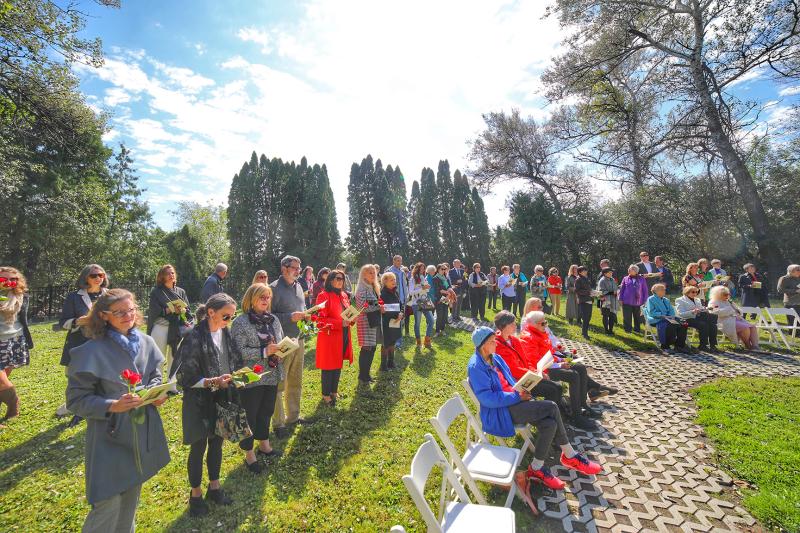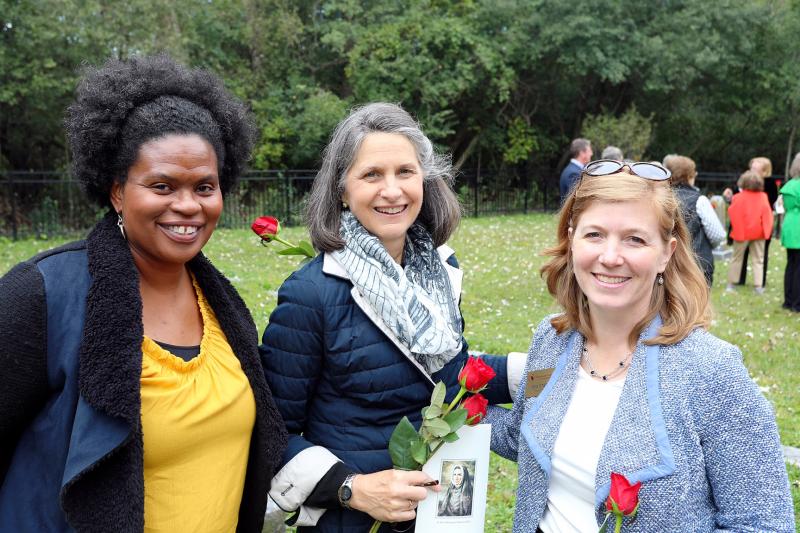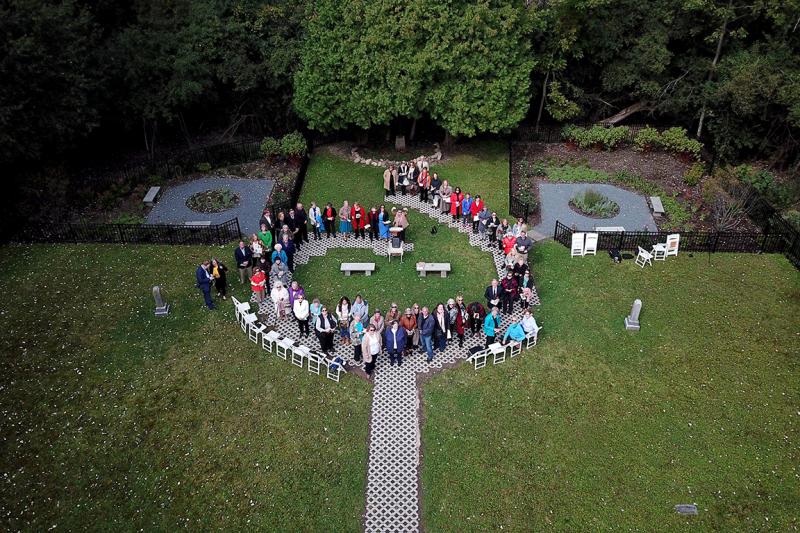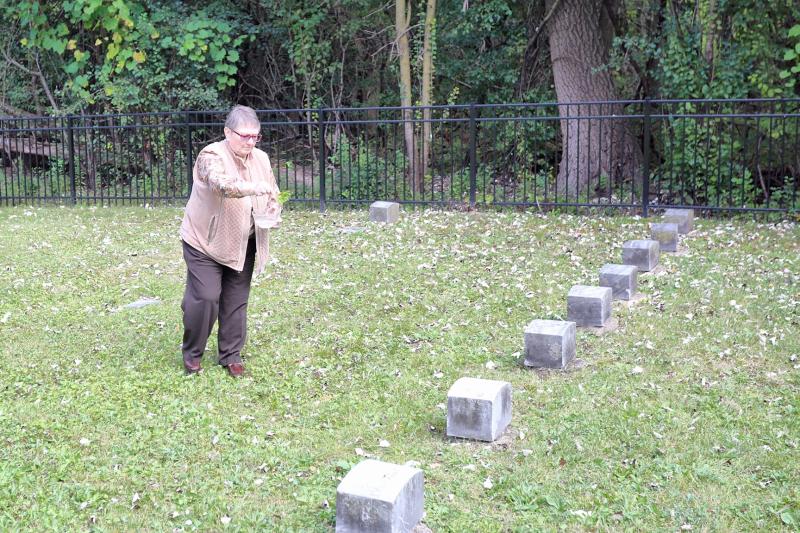 Written by Mary Bernstein, RSCJ
Saturday, September 29, 2018, at noon was a special moment in the RSCJ Cemetery in Lake Forest, Illinois.
What had been a gloomy, cold day suddenly became sunlit and beautiful as 64 people gathered to bless the refurbished cemetery of 154 RSCJ who served Chicago and Lake Forest beginning in 1856.
It was a simple ceremony. Adelyn Dougherty Leander proclaimed a reading from St. Paul's letter to the Thessalonians. Patsy Reiss, RSCJ, read a Psalm. Provincial Sheila Hammond, RSCJ, spoke of the African tradition of calling a name to welcome the presence and blessing from an ancestor.
The congregation spoke the 154 RSCJ names. Rev. James Murphy, nephew of Mother Marie Stuppy, RSCJ, alongside Mary Bernstein, RSCJ, sprinkled holy water on each of the graves and then placed a rose on each marker.
Wonderful stories emerged as all gathered afterwards in the Gloria Dei building, and since the rededication, more alums have come forward to honor the RSCJ who meant so much to their lives.
The renovation and rededication come after the RSCJ Cemetery emerged visible, and sorely in need of attention, following the demolition of the Barat College buildings three years ago, in addition to the placement of a "Quiet Trail" through the fields and ravines near the grounds.
For years the grass had been cut, but the old chain link fence was in disrepair. So, a small group of alums from Woodlands Academy of the Sacred Heart and Barat College began to talk and think of how to honor the resting place of RSCJ buried in the small cemetery.
Kathleen Reidy, Bridget Kleiderer and Susan Regan, all Woodlands alums, along with Heidi Fennewald Kuharich, a Barat College alum, and Mary Bernstein, RSCJ, a Sheridan Road alum, became known as "the Cemetery Club." As they began to plan, Anne Murphy Gallagher, another Woodlands Alum, came forward with interest and the willingness to financially support renovation efforts in honor of her aunt, Mother Marie Stuppy, RSCJ. Woodlands Alum Board members jumped in with ideas and encouragement and plans were set.
The new space invites visitors to stroll on a brick pathway in the form of the Society's logo, to sit on benches and enjoy quiet moments in the newly planted small gardens.
The cemetery plot was originally registered in 1909 with the City of Lake Forest as "Seminary of the Sacred Heart Cemetery." From then through the 1920s, RSCJ from Lake Forest and Chicago were laid to rest there. In the late 1920s, many RSCJ graves from Calvary Cemetery in Evanston, Illinois were relocated to Lake Forest.
With the assistance of the Society's Archives office in St. Louis, the club was able to indentify the 100 RSCJs buried in the memorial graves that were moved from Calvary to Lake Forest Cemetery.
There are plans in place, donations pending, to install a permanent plaque with the names, past and present, of the cemetery and the names the 154 RSCJ buried there.
Photos by Tom McDonald Photography