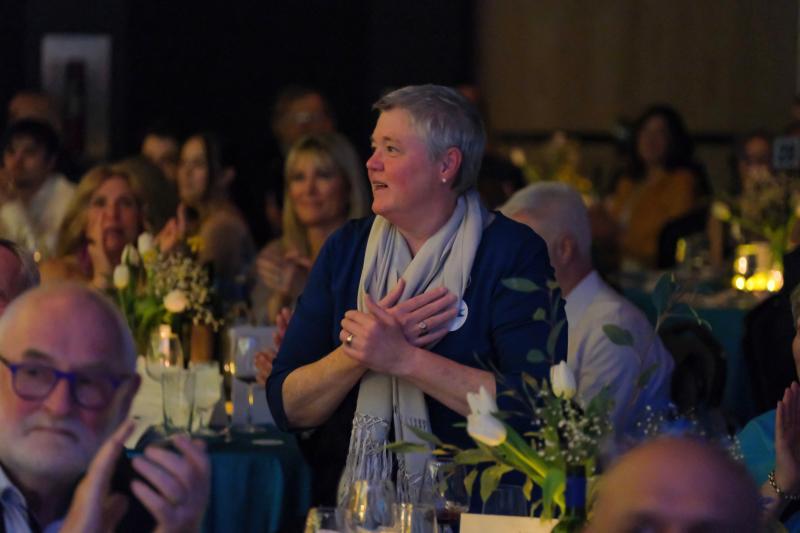 In words, pictures, music, and standing ovations, guests at the Sacred Heart School of Halifax Bursary Benefit paid tribute to Anne Wachter, RSCJ. On Saturday, April 30, Sister Wachter was feted for her many contributions to Sacred Heart School of Halifax as she attended her final Bursary fundraising event as the Head of School, and also acted as the evening's keynote speaker.
Among the highlights of the night, past Sacred Heart parent and current grandparent, Denis Ryan, serenaded Sister Wachter with his stirring rendition of "Wild Mountain Thyme." In addition, Digital Content Coordinator, Sofia Ortega, created and offered a slideshow video that so wonderfully captured images from Sister Wachter's 10-year tenure at the school — it had many in the room a little teary-eyed.
Mike Simms, Vice-Chair of the board of governors, who introduced Sister Wachter, also let the audience know about the board's initiative to name a bursary in Sisters Wachter's honour and invited the school community to join them in making a donation to that fund.
The Sacred Heart School of Halifax has several other events planned to celebrate Sister Wachter before the conclusion of her final year as Head of School.
Text and photo courtesy of the Sacred Heart School of Halifax in Halifax, Nova Scotia.