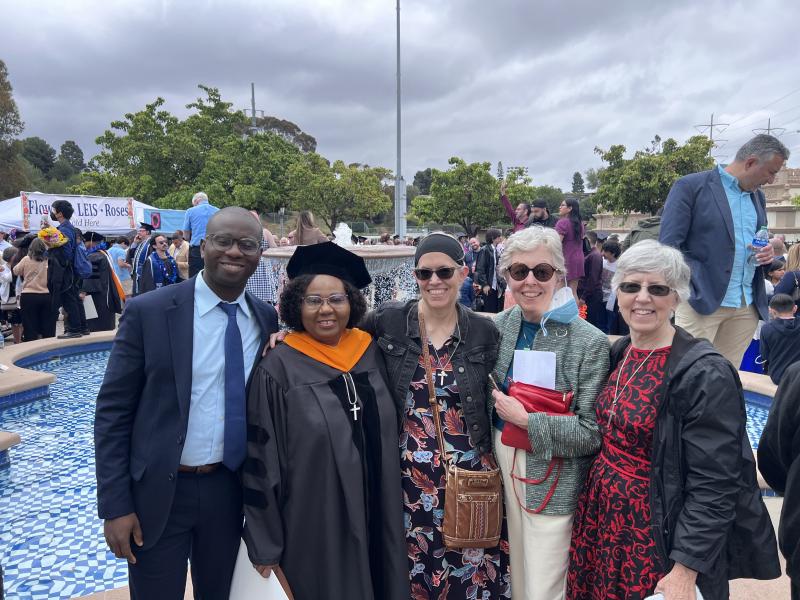 This past May, Uchenna "Uche" Oluoha, RSCJ, earned a doctorate of nursing practice from University of San Diego (USD).
Supported by her RSCJ community, Uche received her doctoral hood in a ceremony, fittingly, on May 25, the Feast of Saint Madeleine Sophie Barat — the founder of the Society of the Sacred Heart. Uche then walked in a procession at the graduation ceremony on May 27, one moment recognizing and celebrating three years of intense work and dedication.
A nurse of 32 years, with experience across languages, cultures and various settings of nursing, Uche started the Doctor of Nursing Practice (DNP) program at USD's Hahn School of Nursing in the fall of 2020, less than six months into the COVID-19 pandemic.
Because of restrictions at the time, Uche completed her entire first year of study on Zoom, without interacting in-person with fellow students. "It was difficult and lonely without study partners to bounce ideas off of. There was no opportunity to come together to build relationship, which is a real value that l so much treasured," she said.
She elaborated on the transition back to the classroom in the fall of 2021, an experience shared with so many students across the world, but a unique experience for those in medical fields.Uche described how exhausting it was to wear an N-95 face mask for eight hours a day during class lectures and lab sessions. She said that it so often made her tired because of diminished oxygen to the brain over such long periods of time.
In addition, English not being her first language, Uche said, "I struggled with words and sentences that stood in the way to my understanding in-depth meanings and scenarios of some case studies provided in assignments. I found myself spending more time researching and looking up terminology and words that are more involved."
While shouldering each of these challenges, Uche persevered and finished the program. On earning her degree, she shared gratitude for her fellow classmates, "without whom it would have been impossible to complete the program." She is thankful to the Society of the Sacred Heart for the opportunity to complete the program, and for the academic and clinical skills she acquired because of it.
After she passes her state board examinations, Uche most looks forward to acquiring more hands-on skills, and working with and providing excellent, compassionate care to patients.
In her 32 years of nursing, Uche has worked in intensive care, obstetrics, community-based and hospital-based nursing, in Ireland, Nigeria, Brazil and the United States, respectively. Immediately preceding her studies at USD, she was a part of a healthcare team on which she performed health screenings, health education and tended to the health needs of asylum-seeking immigrants and migrants in California. Uche is also a certified nurse mid-wife.
Uche entered the Society of the Sacred Heart in 2013.
Notably, the University of San Diego was founded in-part by the Religious of the Sacred Heart. The RSCJ founded San Diego College for Women, which broke ground in 1948, opened its doors in 1952, and later merged in 1972 with San Diego College for Men and Law School to form the University of San Diego.