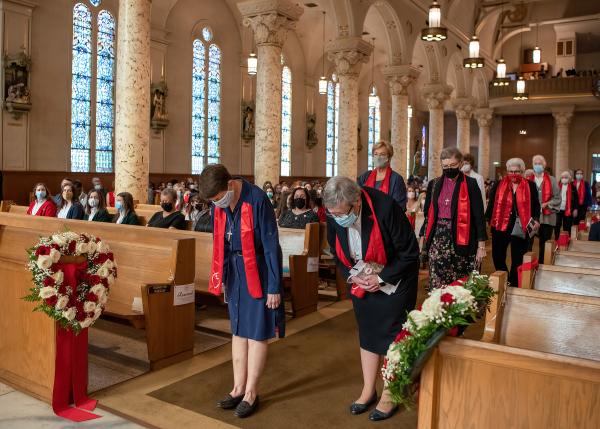 On October 5, 2021, members of the Sacred Heart family filled St. Landry Catholic Church in Opelousas, Louisiana, to celebrate a day 200 years in the making. This opening Mass, concelebrated by the Most Reverend J. Douglas Deshotel, Bishop of the Diocese of Lafayette, and the Right Reverend Monsignor Keith Derouen, marked the anniversary of the opening of the school and the beginning of a year of bicentennial activities for the Academy of the Sacred Heart in Grand Coteau, Louisiana. 
Students and faculty, Religious of the Sacred Heart (RSCJ), descendants of people enslaved by the Society, alumnae and other notable guests were recognized and honored in the call to worship and opening procession. Student representatives from each grade at the Academy carried items significant to the history of the school, including an oak branch, a representation of the Five Goals, and a vessel of earth collected from the enslaved quarters. The Mass was broadcast via live stream for members of the Sacred Heart family who could not attend due to COVID-19 restrictions or trepidations. 
Louisiana Governor John Bel Edwards addressed attendees, as did head of school Dr. Yvonne Adler, and Provincial Suzanne Cooke, RSCJ. Sister Cooke invited everyone to "celebrate 200 years of a learning community that has known struggle and glory, pain and joy, sin and grace." She continued, "We come because we are called by Christ to build the beloved community that Jesus spoke about, that Martin Luther King described, and which Madeleine Sophie hoped all members of the Sacred Heart family would contribute to build."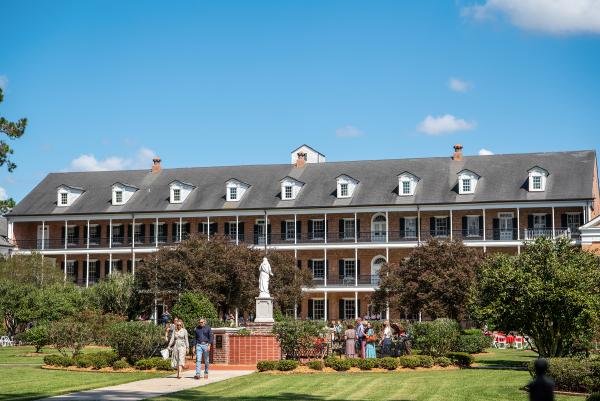 Following Mass, guests were invited back to the Academy for an afternoon of celebration. Visitors strolled the grounds while student ambassadors provided histories at various locations such as the Shrine of Saint John Berchmans, the RSCJ cemetery, and the 1834 enslaved quarters. The student bodies of both the Academy and its brother school, Berchmans Academy, attended brickmaking demonstrations, played period games, and participated in writing reflections, while many of the younger students made cards for and visited with RSCJ in the gardens.
Reflecting upon the bicentennial, the Academy's administration writes, "we would like to recognize the strength and vision of Saint Madeleine Sophie Barat, the humility and courage of Saint Rose Philippine Duchesne, the fortitude and perseverance of the descendants of the enslaved individuals who built our campus, the fervor and passion of our educators, both past and present, the diligence and curiosity of our students, and the love and loyalty of our alumnae. Our hearts are filled with the memories of our traditions and legacy, and our eyes are affixed to the future as we await the unfolding of our next 200 years."
Photos courtesy of Schools of the Sacred Heart in Grand Coteau, Louisiana.