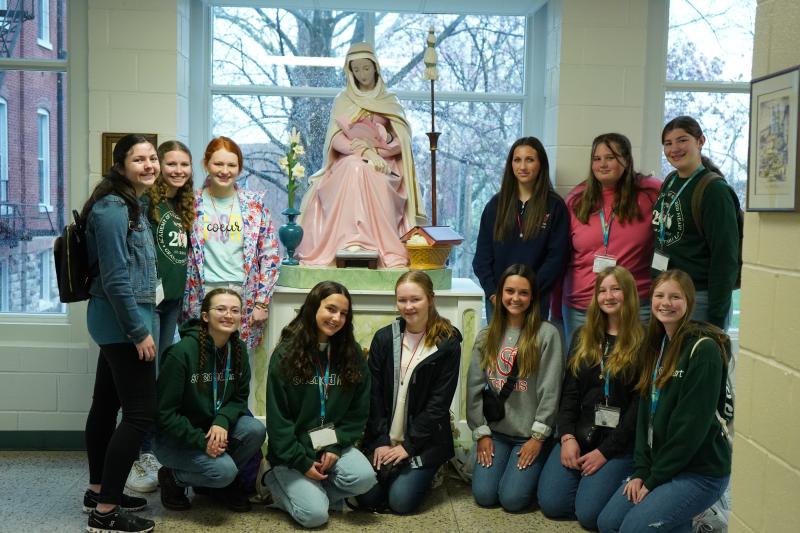 A group of 20 eighth and ninth grade students from Academy of the Sacred Heart in Grand Coteau, Louisiana, visited the greater St. Louis, Missouri, area. They soaked up everything from the Gateway Arch to historical sites significant to the foundations of the Society of the Sacred Heart, United States – Canada Province, and Sacred Heart education.
There is a breadth of Sacred Heart history in Grand Coteau, Louisiana, inextricably bound to Missouri, where now the Province's main office and archives are located, along with the Shrine of Saint Rose Philippine Duchesne and two schools within the Network of Sacred Heart Schools.
Students and educators spent a full day exploring Sacred Heart history. They started off with a prayer service and tour of the Shrine of Saint Rose Philippine Duchesne in St. Charles, which sits on the campus of Academy of the Sacred Heart. The Academy in St. Charles is the first Sacred Heart school established in North America and the first free school west of the Mississippi. The Academy of the Sacred Heart in Grand Coteau is the oldest continuously operating Sacred Heart school in the world, having just recently celebrated its bicentennial in 2021.
Margaret Munch, RSCJ, highly-regarded for her extensive historical knowledge of the area, offered the students a tour of Old Saint Ferdinand Shrine in Florissant, Missouri, where Philippine lived for several years of her life.
In true Sacred Heart school fashion, Villa Duchesne and Oak Hill School welcomed students with goûter — a time-honored Sacred Heart tradition of enjoying a treat, usually cake or candy.
The group ended its day at the United States — Canada Province Archives. There, students received a tour and had the chance to peruse records and artifacts tied to their school in Grand Coteau. Among them was a letter written by Philippine to a student at the Academy who had organized a collection of clothes for children who were orphans in St. Louis.
Notably, this was the first group of students from an out-of-state Network school to visit the St. Louis and St. Charles area since pre-pandemic times. The Province staff and Religious of the Sacred Heart were delighted to have the opportunity to connect and share in the rich Sacred Heart history and traditions with Sacred Heart students and educators.