The Shrine of Saint Philippine Duchesne in St. Charles, Missouri, is a lasting tribute to the French missionary Religious of the Sacred Heart who brought formalized education and a zeal for sharing the love of God to the Missouri frontier in 1818. Her little school for girls was the foundation of:
the Academy of the Sacred Heart in St. Charles
an international presence of the Society of the Sacred Heart
Sacred Heart education in what is now known as the Network of Sacred Heart Schools in the United States and Canada
Catholic education in the Archdiocese of St. Louis, Missouri
education in St. Charles County.
Philippine's desire to serve God and to bring God's love to Native Americans fueled her resolve for nearly 35 years as she opened schools in Missouri and Louisiana, established a novitiate, ministered to the Potawatomi Indians in Kansas, and prayed. She prayed without ceasing, prompting the Potawatomi to call her "the woman who prays always."
We invite you to learn more about the Shrine and the saint who inspired it, and hope you will plan a visit soon to this sacred place.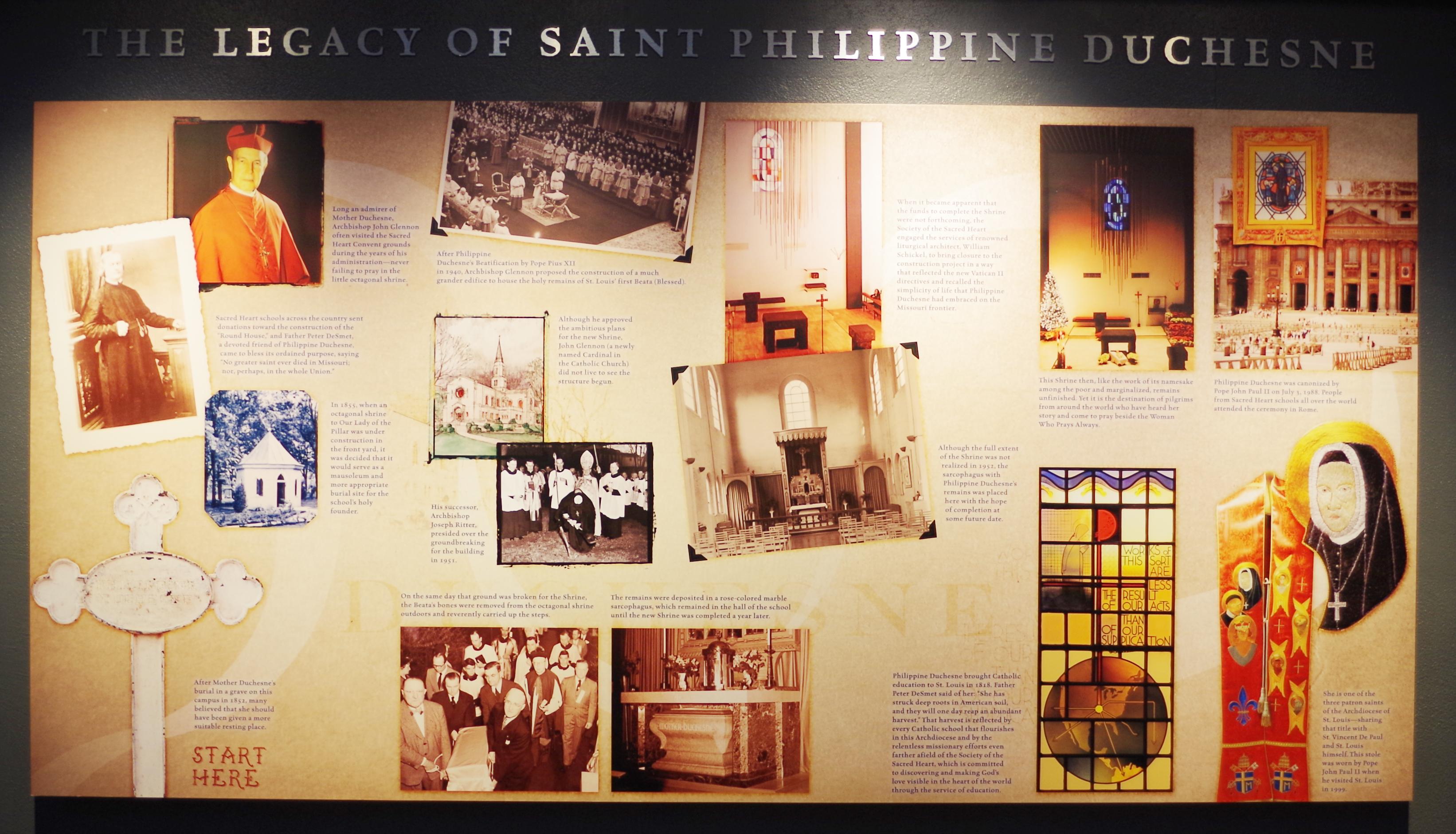 History
Following her death in 1852, Mother Duchesne was buried on the grounds of the Academy of the Sacred Heart in St. Charles, Missouri. After three years, her body was exhumed, found to be miraculously intact, and reverently interred in a crypt within a simple octagonal shrine in the front yard of the school.
Following Philippine's beatification in 1940, an order came from Rome decreeing that her remains be removed from the little octagonal shrine and suitably deposited indoors. This was done in 1949, at which time the remains were placed in a marble sarcophagus housed in an oratory prepared in the old "back porch" area of the original (1835) convent.
The Shrine of Saint Philippine Duchesne was begun in 1951 to honor this pioneer Religious of the Sacred Heart. John J. Cardinal Glennon of St. Louis was one of the strong proponents of the building of the Shrine, which he envisioned as a basilica to honor the new Beata. However, he died in 1946 and so it was Archbishop Joseph Ritter who presided over the groundbreaking. On June 13, 1952, the sarcophagus was moved into the finished Shrine.
Initially the Shrine was a freestanding building. It was connected to the Academy when the south wing of the school was added in 1961.
The Shrine remains unfinished according to its original plan, which called for a cross-shaped building with the longest nave stretching out to the south. When funds were exhausted, however, the building was finished to its present size.