Rose Philippine Duchesne (1769-1852)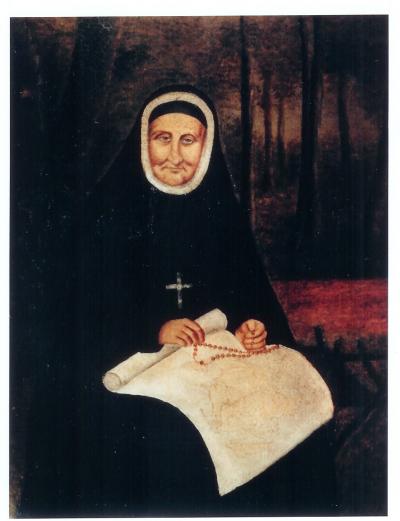 Rose Philippine Duchesne was born in Grenoble, France, on August 29, 1769, into family actively involved in political and commercial life.  Educated by the Visitation nuns at Sainte Marie d'en Haut monastery, she was drawn to their life of contemplation. She entered the congregation when she was 19, against the wishes of her family.
The French Revolution soon forced the nuns to leave the monastery, and Philippine returned to her family. For 11 years, she risked her freedom and life by nursing prisoners, bringing priests to the faithful, and teaching and feeding poor children. At the close of the war, she gained title to Sainte Marie d'en Haut and opened a boarding school. In December 1804, she met Madeleine Sophie Barat, who in 1800 had founded the Society of the Sacred Heart. Philippine immediately turned over Sainte Marie d'en Haut and entered the Society.
A deep friendship formed between these two remarkable women of such different temperaments. For 12 years, the patient wisdom of Sophie molded the ardent, steadfast Philippine into a religious called to glorify the Heart of Jesus. Philippine, whose greatest joy was to spend whole nights in prayer, soon felt a call to serve as a missionary. Many times, Philippine shared with Sophie her dream of bringing the Gospel to the native peoples in America, but her skills were needed at home, first in the school at Sainte Marie, and from 1815 as the Society's secretary general.
Her dream was realized when Sophie accepted Bishop William Du Bourg's invitation to establish schools for the Native Americans and French children in the diocese of Louisiana. Philippine Duchesne, Eugénie Audé, Octavia Berthold, Marguerite Manteau, and Catherine Lamarre set sail for North America on the Rebecca, March 21, 1818, landing on near New Orleans on the Feast of the Sacred Heart, May 29, 1818, and from there they traveled to St. Louis, Missouri. 
At the direction of Bishop Dubourg,
Philippine and her companions went to St. Charles, Missouri, across the Missouri River, where on September 14, 1818, they opened the first Sacred Heart school outside of Europe. It was also the first free school west of the Mississippi and the first Catholic school in what would become the Saint Louis archdiocese. By the next year, they relocated to Florissant, Missouri, where in 1820, Mother Duchesne opened the first novitiate. Other schools soon followed in Missouri and Louisiana. Eventually there were six schools.
In 1841, Philippine and three other Religious of the Sacred Heart went to Sugar Creek, Kansas, to establish a school for Potawatomi girls. At 72, too frail to do physical work, and unable to learn the Potawatomi language, she spent much of her time in prayer, gaining the name "Woman Who Is Always Praying." After just one year, she was recalled to St. Charles, her original foundation, where she died on November 18, 1852, at age 83, having spent 34 years in America. 
Philippine and the first RSCJ became dependent on the forced labor of enslaved persons during their initial years in North America. This practice was entrenched in the economy and civil society of Missouri and Louisiana and was supported by Catholic Church leaders. Today we know that complicity in the institution of enslavement denied the dignity of people of color and was sinful. The Society is working humbly to acknowledge our history with enslavement, to build relationships with the descendants of our enslaved persons, and to work with the descendants towards racial equity, and the end to systemic racism in our institutional structures. 
It was later admirers of Philippine who initiated her process of canonization in the Catholic Church. She was declared a saint of the Catholic Church in 1988. Her Feast Day is November 18.