Rose Philippine Duchesne (1769-1852)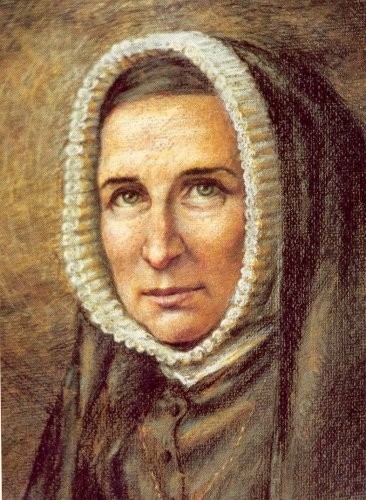 Rose Philippine Duchesne was born in Grenoble, France, on August 29, 1769, into family actively involved in political and commercial life. Philippine, who felt called to religious life from an early age, entered the Visitation convent, Sainte Marie-d'En-Haut, in spring of 1788 at age 18. Four years later, the Revolution closed all religious houses and she was forced to return home.
After 11 years with family and in service to victims of the Revolution, she obtained the use of the building in the hope of re-opening the Visitation monastery, but to no avail. Then, in December 1804, Madeleine Sophie Barat, superior of the Society of the Sacred Heart, arrived. Rose Philippine Duchesne entered the Society of the Sacred Heart, and the two women became immediate and lifelong friends.
Philippine's dream was to work among the Native Americans of the New World. After 13 years, she received the permission of Mother Barat to go. Philippine and four companions set sail from Bordeaux on the Rebecca, March 21, 1818, and landed near New Orleans, Louisiana, on the Feast of the Sacred Heart, May 29, 1818, and from there they arrived in St. Louis, Missouri.
Instead of opening a school there, they were sent to the village of St. Charles, Missouri, across the Missouri River, where on September 14, 1818, they opened the first Sacred Heart school outside of Europe. It was also the first free school west of the Mississippi and the first Catholic school in what would become the Saint Louis Archdiocese. By the next year, they relocated to Florissant, Missouri, where in 1820, Mother Duchesne opened the first novitiate. Other houses soon followed in Missouri and Louisiana.
Finally, in 1841, her dream of serving Native Americans brought her and three other Religious of the Sacred Heart to Sugar Creek, Kansas, to establish a school for Potawatomi girls. At 72, too frail to do physical work and unable to learn the Potawatomi language, she spent much of her time in prayer, gaining the name "Woman Who Prays Always." After just one year, she was recalled to St. Charles, her original foundation, where she died on November 18, 1852, at age 83, having spent 34 years in America. She was declared a saint of the Catholic Church in 1988. Her Feast Day is November 18.
Rose Philippine Duchesne was a pioneer, an educator, a vowed religious. The Society of the Sacred Heart recognizes her participation and complicity in the evil of slavery, out of economic necessity in the slaveholding Missouri of her time, and holds and ponders the complexities of this history. In addition, her fortitude, faith, courage, and humility continue to inspire today.