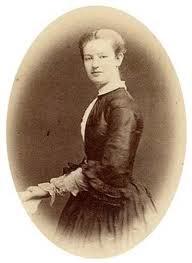 Recently I received a request from a gentleman in Dublin, Ireland, for information about two young women who had attended Eden Hall for one year, 1860-1861. Their names were Katherine (Kate) Hewitt and her adopted sister, Catherine Dunn. His interest was primarily in Kate, who he informed me "had a tragic love affair with Major General John F. Reynolds, who was killed at Gettysburg."
I am always amazed at the wealth of information that is housed in our archives and how much the province owes to Mary C. Wheeler, our first archivist (1973-1976). I easily found the names of the two in the Eden Hall student register of 1845-1895 and in the student accounts book from 1842-1855. Then, to my great delight, I found their names in the baptismal register, 1848-1965. Both Kate and Catherine were converted to Catholicism and baptized in the Eden Hall chapel. I like to think that, while waiting for the war to end, Kate entered the school as a companion to her adopted sister, who was then only eleven years old. Perhaps, though, it was because of her desire to be baptized. The Dublin researcher was "absolutely thrilled" with the information I was able to send him.
In a previous article, I wrote of how such research requests pique my curiosity. In this case, I wanted to know more about Kate's "tragic love affair," so I began to search for more information. I soon discovered that I wasn't the only person interested in love stories from the Civil War. There were several posts on the Internet such as, "Star-Crossed Lovers of Gettysburg" and "Nine Love Stories from the Civil War." The most interesting and informative was posted by Maggie MacLean in December 2008.
Kate Hewitt was born in Owego, Tioga County, New York, in 1836. At the age of twenty she went to San Francisco as a governess for the children of relatives. On a voyage from San Francisco to Panama and another from Panama to New York, during July and August, 1860, she met and fell in love with Major General John Reynolds.
Major General Reynolds was one of the Union's most important generals in the American Civil War. A graduate of West Point, he had a distinguished career in the army. He fought in the Mexican-American War and in the battles of Fredericksburg, Manassas, Chancellorsville and Gettysburg. He was killed at Gettysburg on July 1, 1863.
John's body and his personal effects were removed from the battlefield and taken by his military aides to his sister's home in nearby Philadelphia to await his burial. It was then that Kate's existence and their engagement became known. His military aides had discovered a small Catholic medal around his neck and a gold Claddagh ring inscribed, "Dear Kate."
John's family warmly welcomed Kate, but it seems that she had promised, if he was killed, to enter religious life. True to her promise, she entered "St. Joseph's Seminary," Daughters of Charity, in Emmitsburg, MD, on March 17, 1864.
For reasons that are not known, she left the Daughters of Charity community in September of 1868, never having made vows. But she stayed in the Albany area and taught in a private school along with another former sister and then taught in a school she operated on her own. Ultimately, she married a local man, Joseph B Pfordt, a florist, in June 1874. She died from consumption on October 6, 1876 and is buried in Saint Agnes Cemetery in Menands, New York.
Ironically, in 1993, Marie Louise Padberg was in contact with a researcher interested in another Civil War love story. His letter began, "I am gathering information for a magazine article about a woman who I believe was a member of your religious order. Her maiden name was Clara Bishop. In 1862 she married Patrick O'Rorke… who died a heroic death at Gettysburg."
Another story for another time.
Mary Lou Gavan, October 2014
Note: Original post corrected Auigust 2020 by Jeff Harding, Gettysburg historian