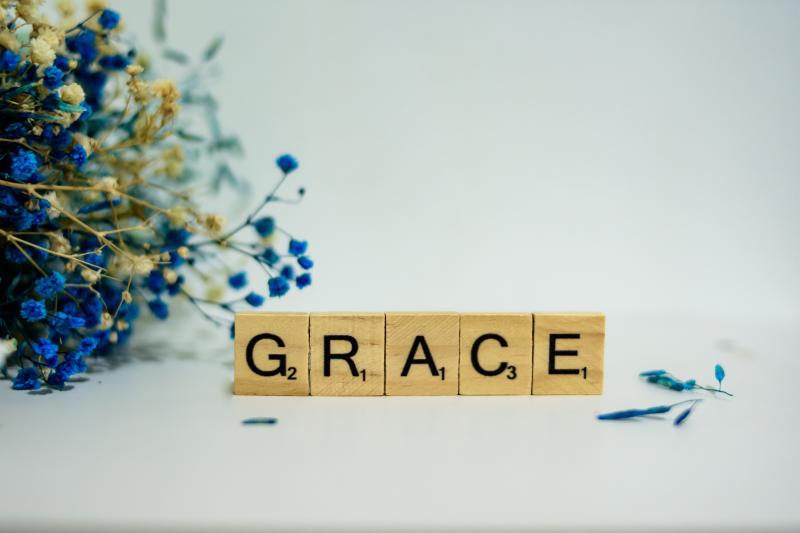 By Lauren Brownlee, Educator and Associate of the Sacred Heart 
The longer I survive not only the COVID pandemic itself, but also the collective exhaustion it has yielded, the more I appreciate the spiritual gift of grace. On the first day of this school year, my colleagues and I each considered a word we wanted to share as inspiration ("hope," "joy," "love," "rest," "peace," etc.), wrote it on a stone, and put the stones in the center of our circle. Everyone then read each stone and kept one that resonated with them. I put "grace" on my stone, and I ultimately kept a different stone that said "grace." What joy to begin my year by giving and receiving grace!
Earlier on in the pandemic, I changed the screen on my phone to say "Give Grace Lavishly," and I have spent the last two years trying to live up to that charge.
Bryan Stevenson's reflections in Just Mercy speak to the fact that the world needs all of our grace: "our brokenness is also the source of our common humanity, the basis for our shared search for comfort, meaning, and healing. Our shared vulnerability and imperfection nurtures and sustains our capacity for compassion ... There is no wholeness outside of our reciprocal humanity."
The parable of the prodigal son, heard in today's Gospel, reminds us that we are indeed beloved in our imperfections. May grace empower us to honor and to celebrate the love, light, and spirit of God in ourselves and each other.
Lauren Brownlee is the Upper School Head Teacher at Carolina Friends School in Durham, North Carolina, and a former educator at Stone Ridge School of the Sacred Heart in Bethesda, Maryland.