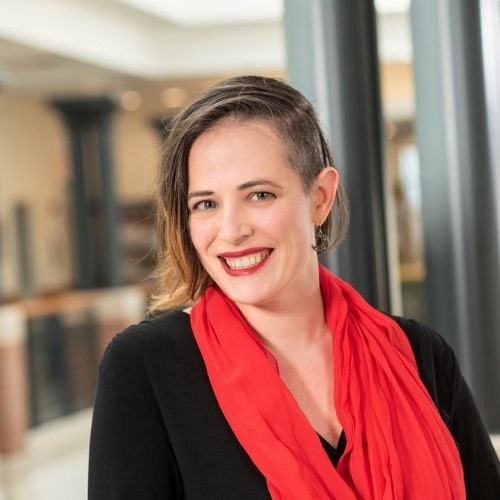 The Provincial Team and the Stuart Center for Mission are pleased to announce and welcome Megan Wilson-Reitz as JPIC Coordinator for the Society of the Sacred Heart, United States – Canada Province. Megan will serve in her role at the Stuart Center for Mission based in Washington, D.C.
Megan comes to this position from John Carroll University in Ohio where she spent the last 4 and a half years in the Division of Diversity and Equity, first as Coordinator then in her most recent role as Manager of DEI Programs. In these roles, she worked to develop and promote university-wide strategic efforts around institutional goals, training workshops and program development. She has also taught such courses as "Catholic Social Teaching and Business" and "Social Justice and the Economy."
Megan is an activist, an educator and a leader who places high value on genuine collaboration, dialogue and challenging the institutional status quo. Prior to working at John Carroll, Megan worked "on the ground" as a community organizer and coordinator. In the early stage of her career, she was a volunteer in Chile and is able to speak conversational Spanish. She has also been a volunteer with the Catholic Worker Community of Cleveland since 2001.
When the search committee tasked with hiring this role took a sounding to glean what Religious of the Sacred Heart (RSCJ) and Associates of the Society of the Sacred Heart believed to be the important qualities in the next JPIC Coordinator, the most frequently mentioned qualities were: collaborative, appreciates and demonstrates the importance of true partnership, and has strong communication skills. In addition, the committee sought a person with the heart of an educator who is rooted in the principles of Catholic Social Teaching. Considering the work the province needs to do, as well as the life and mission of the Society,  the committee also identified the ability to navigate intercultural and international settings and an ability to speak Spanish to be important.
In addition to meeting all of the aforementioned qualifications, Megan is process-oriented in a goal-directed way, which will prove essential to develop a Province JPIC Commission. In 2019, she received the "Ignatian Educator of Distinction" award from the Midwest Province of the Society of Jesus, and this year she was honored with the Staff Community Service Award.
Megan is a faith-centered woman and an active member of her local Cleveland community including as a VIRTUS training facilitator (child sexual abuse awareness & prevention) for the Diocese of Cleveland. She has also served on the Board of Directors of the Inter-Religious Task Force on Central America.
She has authored several publications in both academic and popular circles, and has an impressive repertoire of workshops, presentations and trainings. She has facilitated workshops on such topics as cultural competence, managing bias and anti-racism. She has also led trainings and retreats entitled: Interrupting Micro-aggressions; What is Power and How do We Use It?; Citizenship and Laudato Si; and Diversity and Inclusion in Christian Faith: Building a Church where the "Other" is "Us."
Megan currently lives in Cleveland, Ohio, with her husband and two children. She will begin her work full-time on August 8, 2022.
A special thank you for the time and careful discernment of the search committee members who dedicated many hours to the search process: Interim Executive Director of the Stuart Center for Mission Clara Callahan, Reyna Gonzalez, RSCJ,  Sheila Smith, RSCJ, and Associate Kristi Laughlin.
Please join the search committee, Provincial Team and entire Province in welcoming and praying for Megan as she begins her work with the Society.