About the Season of Creation
The Season of Creation is the annual Christian celebration of prayer and action for our common home. Together, the ecumenical family around the world unites to pray and protect God's Creation. The season starts on September 1, the World Day of Prayer for the Care of Creation, and ends October 4, the Feast of Saint Francis of Assisi, the patron saint of ecology.
🔥👂🏽Do you hear that? It is the voice of Creation! | #SeasonofCreation 2022
2022 Theme: "Listen to the Voice of Creation"
During the COVID-19 pandemic, many have become familiar with the concept of being muted in conversations. Many voices are muted in public discourse around climate change and the ethics of Earth-keeping.
These are voices of those who suffer the impacts of climate change. These are voices of people who hold generational wisdom about how to live gratefully within the limits of the land. These are voices of a diminishing diversity of more-than-human species. It is the voice of the Earth.
2022 Symbol: The burning bush
The burning bush is the symbol for the Season of Creation 2022. Today, the prevalence of unnatural fires are a sign of the devastating effects that climate change has on the most vulnerable of our planet. Creation cries out as forests crackle, animals flee, and people are forced to migrate due to the fires of injustice. 
Individuals and communities are invited to participate in the Season of Creation through the practices of prayer, reflection, and action. The Sacred Heart model of discernment – Pause, Reflect, Discern, Decide, Act – sometimes referred to as "the Sacred Heart way," can help us identify where each of us is being called to bring our gifts in service of Creation:
Step 1: Pause:
Cultivate a new habit of noticing the small moments when your senses interact with Creation throughout your day, such as the feel of clean water on your skin, the sound of the wind in the trees, the color of the sky through your window, the taste of a fresh fruit at lunch, the smell of the ground just before a rainstorm. 
Go on a "prayer pilgrimage" in a natural setting. Pay attention to the beauty around you. Notice the ways in which Creation is expressing God's love to you, right now. Pay attention to how this place may be threatened by climate change, habitat destruction, or loss of biodiversity. What is your heart calling you to notice? 
Take a moment to listen to the Season of Creation 2022 song, "Burning Bush." 
Step 2: Reflect:
In a journal or notebook, take a moment every evening to write down something about Creation that you have noticed today. Where do you feel your heart being stirred by this habit of paying closer attention to Creation? 
Practice lectio divina with Scripture readings that emphasize the goodness of Creation and our responsibility to care for it, such as: Genesis 1-3; Leviticus 25:1-7; Psalm 24; Daniel 3:56-82; Matthew 6:26-34. Listen to the voice of the Holy Spirit speaking in your heart as you pray with these Scriptures. What do you hear? 
Host or attend an ecumenical prayer service that unites all Christians around the value of care for our common home. (Learn more about ecumenical prayer at https://www.oikoumene.org/.) Register your event on SeasonofCreation.org. 
Step 3: Discern:
Locally: Learn more about the watershed(s) where you live, work, study and play. What is most valuable about your local environment? What elements of it are being threatened? Where are members of your local community working to protect and care for Creation today? What are the immediate issues facing your local watershed where your time, efforts, or voice might be needed? 
Regionally: Learn about the climate issues facing your state and/or region. Connect with your state's environmental protection organizations and coalitions. What kind of support could you offer to these efforts? 
Globally: Learn more about the international climate justice movement, and study the issues and events leading up to the United Nations Climate Change Conference (COP27), to be held in Egypt, November 7-18 2022. 
Step 4: Decide:
Make an individual and/or communal commitment to taking some concrete action as part of this Season of Creation 2022. Write down your commitment and post it somewhere visible. Tell another person, or your community, about your commitment; ask them to hold you accountable for keeping it.
Step 5: Act: 
Take action to reduce your individual and communal use of non-renewable resources, such as forgoing air conditioning or adjusting the thermostat to burn less fuel; trying to bike, walk, or take public transit rather than driving; installing low-flow fixtures to reduce water use; replacing non-native plants in your garden with native species that require less water and fertilizer to grow. Find many more tips on reducing your carbon footprint here. 
Host a Creation Care Pilgrimage to clean up litter in your community and keep plastics and other pollutants out of the waterways and soil. Gather with a prayer, and sing while you work! The Season of Creation Liturgy Guide (linked below) offers a few music suggestions and prayers that can get you started.  
Host a public awareness event to help others learn about a particular local, regional or global issue connected to Care of Creation, such as a film screening, a book read, a lecture, a conference, or a community prayer vigil. 
Organize others in your school, workplace, church, or other institution to take action to reduce the organization's carbon footprint, reduce waste, embrace better environmental stewardship, or advocate as an institution for policies that will protect Creation. 
Join - and organize others to join - an ongoing campaign for climate justice on an issue that directly affects your local community, watershed, or region. 
Advocate for climate justice with your local, regional, and national government representatives. Write, call, or visit their offices to encourage them to consider Creation as their constituent when they make laws or enact policy. 
Additional Resources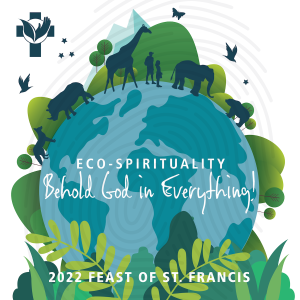 For an official Season of Creation Celebration Guide, a wide range of resources, and a form to register your events visit SeasonOfCreation.org.
From the Catholic Climate Covenant:
We hope that this Season of Creation renews our baptismal call to care and sustain this ecological turning so that life may flourish, and all creatures may find their place to flourish in our common home.
"About the Season of Creation," "2022 Theme" and "2022 Symbol" text courtesy of SeasonofCreation.org.