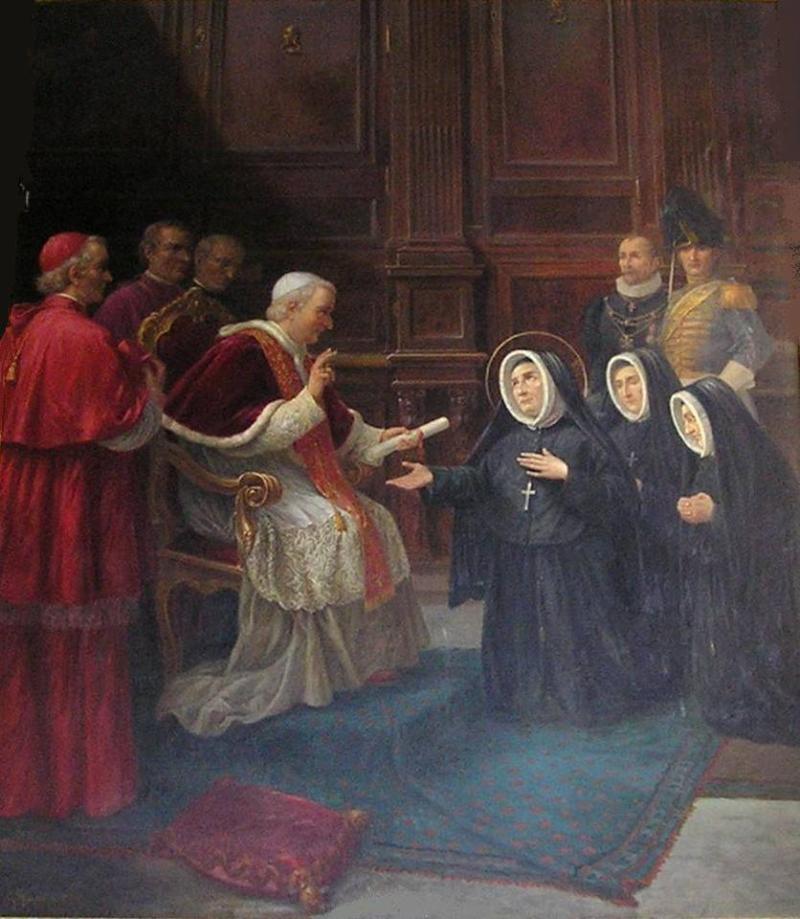 Madeleine Sophie Barat
The Society of the Sacred Heart was founded in the turmoil of post-Revolutionary France by Saint Madeleine Sophie Barat. Its history is the story of strong and dedicated women true to the Society's motto: "One Heart and One Soul in the Heart of Jesus."
The daughter of a vintner in the wine country southeast of Paris, Madeleine Sophie Barat was educated beyond the norms of her contemporaries, making her well-suited for leadership of a religious community dedicated to prayer and education. In Paris, on November 21, 1800, at the age of twenty, she and three other young women consecrated themselves to "make known the revelation of God's love." Centered in personal and communal prayer, they set out to give young women a classical education - not common in their day - and to offer religious studies and practical skills. They began to call themselves the Society of the Sacred Heart.
In 1806, Mother Barat (women religious took the name Mother or Sister in addition to their family name), was elected superior general. During her 65-year leadership, the Society of the Sacred Heart grew to include over 3500 members, expanded to the Americas, and broadened its educational mission. Madeleine Sophie Barat was canonized in 1925. Her feast is May 25.
Rose Philippine Duchesne
The missionary, Saint Rose Philippine Duchesne, first brought the Society to the Americas – to St. Charles, Missouri –  in 1818. The first free school west of the Mississippi was founded in St. Charles in a log cabin by five RSCJ  led by Mother Duchesne. Philippine was canonized in 1988. Her feast is November 18.
Today in the United States – Canada Province of the Society of the Sacred Heart, there are twenty-four Sacred Heart schools guiding students in the spirit of Saint Madeleine Sophie Barat.
Want to learn more about the history of the Society?
Visit rscj.org for a more in depth look at the Society's history and heritage.
The following are some recommendations on books about the Society of the Sacred Heart:
Louise Callan, RSCJ: The Society of the Sacred Heart in North America, 1937
Louise, Callan, RSCJ: Philippine Duchesne: Frontier Missionary of the Sacred Heart 1769-1852 (unabridged version) 1954
Phil Kilroy, RSCJ: Madeleine Sophie Barat: A Life. Cork University Press/Paulist Press, 2000.
Phil Kilroy, RSCJ: The Society of the Sacred Heart in Nineteenth-Century France, 1800-1865. Cork University Press, 2012.
Maud Monahan, RSCJ: The Life and Letters of Janet Erskine Stuart, 1922
Catherine Mooney: Philippine Duchesne: a Woman with the Poor, 1988