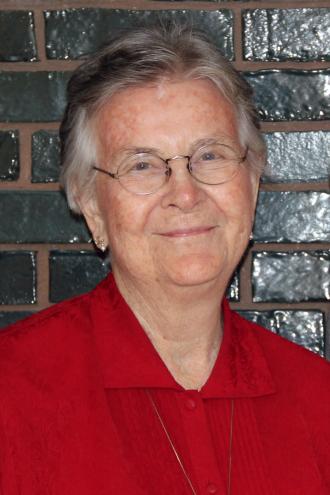 Birth: May 24, 1926Profession: Feb. 10, 1956Death: Sept. 9, 2015
Religious of the Sacred Heart Joan Kirby died Wednesday, September 9, 2015 in her community in New York City. Remembered for her inclusivity and generosity of spirit, her life will be celebrated in a Mass of Christian Burial on Thursday, September 17th at 11:00 a.m. at Sacred Heart of Jesus Church, 457 West 51st St. (between 9th & 10th Aves.) in New York City. Burial will be at the Society of the Sacred Heart cemetery at Kenwood at a later date.
Joan Carol Kirby was born in New York City May 24, 1926, the second of four daughters born to Daniel B. and Cecilia K. Kirby. In addition to her parents, she was predeceased by her sisters Betty Wooters and Janet Clark. She is survived by her sister Cecilia (Billie) Mullen, Bronxville, New York, numerous nieces and nephews and her sisters in the Society of the Sacred Heart.
A graduate of the Convent of the Sacred Heart, Maplehurst and Manhattanville College of the Sacred Heart, she entered the Society of the Sacred Heart at Kenwood in Albany, December 8, 1947. She made her first vows at Kenwood in 1950 and her final profession in Rome on February 10, 1956.
Sister Kirby's first assignment after making her first vows was as head of the lower school at the Convent of the Sacred Heart in Overbrook, Pennsylvania, 1950-55. Following final profession, she studied at the University of Louvain in Belgium, where she earned a licentiate in philosophy. In 1959, she was assigned to Stone Ridge Academy of the Sacred Heart in Washington, D.C., where she taught history and also served as head of the boarding school. In 1963, she became the first headmistress at Stuart Country Day School of the Sacred Heart in Princeton, New Jersey, where she spent four happy years. She was director of students at Newton College of the Sacred Heart, Newton, Massachusetts from 1967-69. In 1969 she became headmistress of the Convent of the Sacred Heart (91st Street) in New York, a position she held until 1981.
While still working at 91st Street, Sister Kirby joined the newly-formed community on West 49th Street, in the "Hell's Kitchen" neighborhood. In 1981, Sister Kirby began exploring new areas of ministry in this neighborhood. From 1981 to 1984, she served as a housing counselor and director of home ownership for Housing Conservation Coordinators. Broadening her vision, she also served as executive director and president of Homes for the Homeless in New York, 1986-88, and as a member of the Community Planning Board.
In 1994, Sister Kirby found her true passion when she became the director of the Temple of Understanding (TOU) in New York, an interfaith organization affiliated with the United Nations. The TOU works to educate adults and young people across cultures and religion to create understanding and peaceful co-existence. Sister Kirby remained with the Temple of Understanding, first as director, then as its representative to the United Nations, until 2014, when her illness made it necessary for her to retire.
In 2010, the Temple of Understanding presented Sister Kirby with the Interfaith Visionary Lifetime Achievement Award, "for promoting interreligious values at the United Nations, her lifelong commitment to addressing human rights and ecological issues, and her passionate devotion to the development of young leaders." UN Secretary General BAN Ki-Moon wrote at the time, "We are especially mindful of the special role you have played in advancing the Millennium Development Goals and interfaith and intercultural dialogue, as well as confronting climate change. I am also thankful that you have taken the time to nurture young global citizens from all parts of the world. Your leadership has been exemplary. Your influence profound. I thank you."
The TOU experience brought Sister Kirby into contact with the world of Buddhism, which had a profound effect on her spirituality for the last twenty years of her life.
Sister Kirby recently wrote, "People ask me why I practice Zen Buddhism. I do so because Buddhism has taught me to stop looking for Jesus 'out there.' For decades I sought to regenerate an inner awareness. I imitated the affections, feelings, attitudes of Jesus, but always as someone, something beyond me – outside – other than me. Buddhism has taught me to stop reaching, looking outside of my inner self … I am Christ. I receive Christ as my food; I have been permeated by the living Jesus. …This prompts me to live in the present moment because this is where God is."
Memorial contributions may be made to the Society of the Sacred Heart, 4120 Forest Park Avenue, St. Louis, MO 63108 or to Encore Community Services, 239 West 49th St., New York, NY 10019.