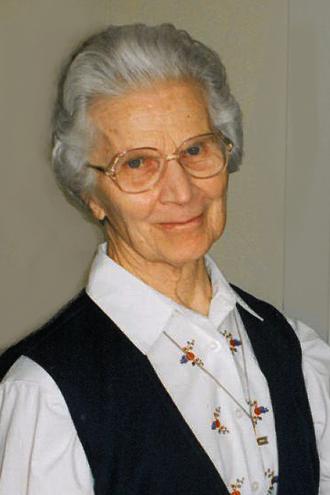 Birth: January 24, 1914 Profession: Feb. 11, 1942 Death: November 12, 2011
Madeline Howe, RSCJ died peacefully at Teresian House in Albany, New York on Saturday, November 12. Known for her love of knowledge and adventure, she spent 75 of her 97 years as a Religious of the Sacred Heart. The Mass of Christian Burial will be held the weekend of November 19-20 at Teresian House. Burial will be in the Kenwood Cemetery.
Sister Howe was born in Rochester, New York on January 24, 1914, the third of seven children of Henry B. Howe and Marie Curran Howe, both deceased. She entered the Society of the Sacred Heart in 1933 at Kenwood in Albany, New York, and made her final vows there in 1942. This year, Sister Howe celebrated her 75th Jubilee as a Religious of the Sacred Heart.
She is survived by one brother, Robert Howe (Dor), and two sisters, Mrs. Louis A. (Marie) Whalen, Jr. and Mrs. Edward W. (Nan) Mangan, all of Rochester, and numerous nieces and nephews. She was pre-deceased by one brother, William T. Howe, and two sisters, Sr. Margaret Howe, also a Religious of the Sacred Heart, and Kathryn Howe.
Susan Whalen, Sister Howe's niece, said "She was a person who was always up for anything, up for a new adventure. She wanted to know everything about every subject. Her desire sprang not from simple curiosity, but from an intense love of others."
Sister Howe earned a bachelor of arts in history, with a minor in education, from Manhattanville College of the Sacred Heart in New York City in 1948. From 1936 to 1992, Sister Howe taught at Convents of the Sacred Heart in Maplehurst, New York; Grosse Pointe, Michigan; 91st Street in New York City; and Greenwich, Connecticut. She served as teacher and sacristan for Manhattanville Annunciation School in New York, 1942-48. For 21 years, 1972-93, she served as administrative assistant at Doane-Stuart School in Albany. She also served in a variety of other administrative roles including secretary for the Society of the Sacred Heart Superior General in Rome and as under-treasurer at Manhattanville College.
One friend said of Sister Howe, "Sister Pat taught me so much about how to practice self-care and how to be of service to other people. She was brilliant, compassionate, sincere and loyal, and she had a great sense of humor. She was always praying for me and my family. I am so blessed to have had her in my life. Sister Pat will live in my heart forever."