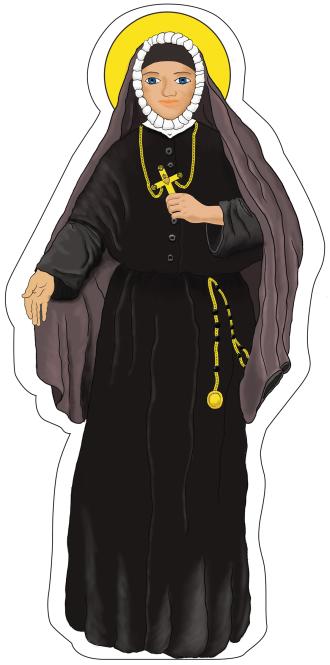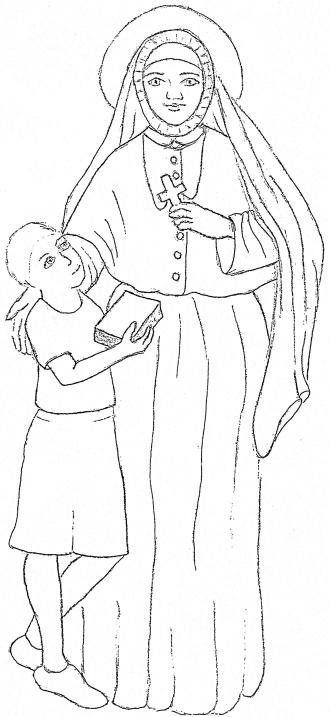 Using the concept of Flat Stanley, a children's book from 1964 about a boy who becomes flat and can be mailed around the world, Flat Philippine was designed as a fun way to share the story of Philippine around the world!
In the Flat Stanley children's books, Stanley travels the world in envelopes. Students who read the books send the paper doll and written notes to students in other parts of the world through conventional mail and e-mail. Children exchange ideas, photographs, questions and culture with students overseas.
Lisa Carswell, the art teacher at Villa Duchesne and Oak Hill School in St. Louis, started a Flat Philippine project with her students, connecting them with international Sacred Heart Schools. Her drawing of Philippine with a child was meant to be colored by the students.
At the same time, the bicentennial committee was talking about creating a Flat Philippine to use with social media during the bicentennial year. This version of Philippine would be brightly colored to show up clearly when people take selfies or photos with Flat Philippine. A life-size version also would be created.
The dots were connected, and both options of Flat Philippine now are available.
Flat Philippine was introduced at the Shrine of St. Philippine Duchesne booth at the National Catholic Educational Association's 2017 convention in St. Louis. It will be used at various meetings, conferences and celebrations during the bicentennial year.
Sisters, associates, alums and all friends of the Society of the Sacred Heart who use social media are encouraged to take selfies with Flat Philippine at their various activities and meetings or while traveling. These photos should then be posted to their social media using #flatphilippine. Then anyone who searches #flatphilippine can see other postings using this hashtag.
If Network schools choose to participate, Flat Philippine will greet students as they arrive for the start of the 2017-18 school year and join in the schools' activities throughout the year. (Information about how schools can participate will be available on the Network website.)
Click on the documents below to download either image of Flat Philippine. Requests to borrow the life-size version may be made by contacting Linda Behrens at lbehrens@rscj.org.
Click here for the Flat Philippine Facebook page or find it by searching FlatPhilippine (with no space).
If you have the opportunity to meet Flat Philippine, have fun! Take a photo or two and share it with everyone! Then use this opportunity to share the story of our St. Philippine with others.