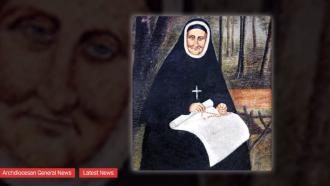 The headline in the Clarion Herald, the newspaper for the Archdiocese of New Orleans, reads: Sainted Sacred Heart Foundress Had Pioneer Spirit. The article continues to tell the story of Saint Rose Philippine Duchesne's time in New Orleans. 
That history and those close ties of hospitality with the Ursulines will be celebrated November 18, 2017, – the feast day of Saint Philippine Duchesne – with a 3 p.m. Mass celebrated by Archbishop Gregory Aymond at St. Louis Cathedral.
The Mass will be preceded by a procession at 2:30 p.m. and followed by a reception at the Old Ursuline Convent at 1100 Chartres St., the safe haven where the original band of five sisters was taken in and cared for by the Ursulines.