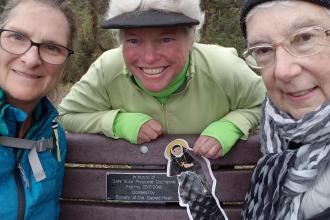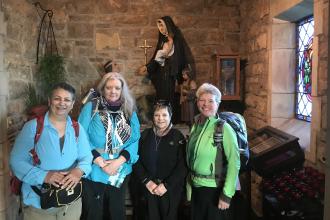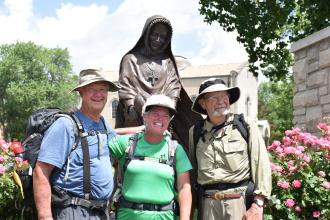 Three pilgrimages were organized by the Society of Servant Pilgrims, each coordinated with other events during the bicentennial. Read more about the pilgrims' journey here.
History and Overview
St. Philippine Duchesne came to America with the desire to teach the Native Americans. She initiated her efforts by opening the first school west of the Mississippi in St. Charles, MO. After decades of struggles and successes in other arenas, she finally achieved her goal by settling with the Potawatomi in Sugar Creek, Kansas. A shrine exists in nearby Mound City to celebrate life with the Potawatomis. This is a starting point for a pilgrim route to her tomb at the shrine collocated with the school in St. Charles, a walking distance of 340 miles.
The act of pilgrimage provides an intangible access through time and space of an experience unique to each pilgrim. Because of this and with such an inclusive definition, there are a myriad of types of pilgrims out there – touristic pilgrims, seeking pilgrims, bus pilgrims, armchair pilgrims, adventure pilgrims, group pilgrims, lone pilgrims, pampered pilgrims and evermore comfort-loving posh pilgrims.
Many North Americans fly to Spain to walk the Camino de Santiago de Compostela adhering to a more or less traditional method of spending the days walking with a minimum of personal possessions and passing the nights in simple pilgrim accommodation in churches or inns carrying a pilgrim credential that is validated each night by the host. This method has been used throughout Christendom for more than a millennium, and applies equally to anyone making a pilgrimage to a shrine in Missouri.
This pilgrim route is depicted in the interactive map below, with details for each stage provided. Beginning at Mound City, each of the 26 stages represents a day's walk and offers some type of pilgrim accommodation. St. Philippine herself never walked this route – she traveled by riverboat between St. Charles and Kansas City and overland to and from the Sugar Creek settlement (Mound City); however, the convenience of the Katy Trail that follows the former train line built after St. Philippine returned to St. Charles provides an interesting, stress-free and enjoyable route for a pilgrimage with enticing landscapes and conveniently spaced interim destinations.
In spring 2017, three pilgrims set out from Mound City on pilgrimage to celebrate the life and times of St. Rose Philippine in Kansas and Missouri. This route, tested and demonstrated, averages 13 miles per day – a half-marathon distance. The greatest distance in a single day is 17 miles, with one day 19 miles, if there in seasons of high water. Each night there is at least a church or community hall for accommodation, and in some cases, hotels and/or bed-and-breakfasts are additionally available. Experience from one of the exploratory pilgrims who used a step counter routinely measured between 30,000 and 40,000 steps during the course of the entire day. For reassurance, car services (e.g., Uber, taxi, friendly farmers) are not far away from any point on the trail.
For pilgrims who don't have 26 days available and would be interested in a shorter pilgrimage, the trail can be joined at any point, with two place – Sedalia and Jefferson CIty – served by an Amtrak line connecting St. Louis and Kansas City.
Readiness for a successful pilgrimage requires three elements: conversion of the heart, by making a commitment focused on the pilgrimage sufficient to carry the pilgrim through difficult patches; sacrifice, such as in comfort, access, and personal desires during the pilgrimage; and an openness to transformation, allowing the spirit take hold.
The pilgrim paradigm, like on the Camino de Santiago, involves walking during the day from one interim destination to the next, toward the shrine destination. Pilgrims carry their necessities on their back – there is no sag wagon. Minimizing their luggage includes wearing one set of clothes and carrying another set, washing first layers by hand every night. Walking is typically alone or with another, but not as an escorted cluster. Pilgrims have to make the point of knowing the day's goal and how to get there; along this route, navigation should not be difficult for anyone. Pilgrims can carry mobile phones, but experience demonstrated that the route has service areas and dead spots for the major US service providers (AT&T, T-Mobile, Verizon, Sprint…).
All of the hosts identified in the details page have hosted the three pilgrims in 2017 and will have an understanding of the standard pilgrim needs. On nights where the stage ends and there are no amenities available, such as restaurants or convenience stores, arrangements are made in advance for dinner and breakfast and/or make the kitchen available. Churches are not hotels, so accommodation is generally space in the parish hall where pilgrims can roll out their own bedding and sleep indoors. There's little privacy and many of these halls do not have showers. Accommodation in this style is as old as the pilgrim tradition. The cost for this is a free-will donation. Other towns have hotels or B&Bs at various luxury levels. Similarly, some of the stages have no restaurants or convenience stores and arrangements are made with the host parish or community hall in advance; again, the cost is free-will donation.
Everyone is encouraged to make this pilgrimage. The information needed to do so, independently or with a small group, is on the Society of Servant Pilgrims website. 
Detailed travel information, list of what to pack and PDFs of pilgrimage credentials are available from the Society of Servant Pilgrims website: societyofservantpilgrims.com/saint-rose
Check out this interactive map of each stop along the 340-mile journey from Mound City, Kansas, to St. Louis, Missouri!