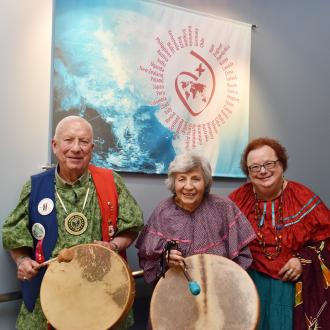 The Pearl children, Virginia and Bob, grew up in early 20th century Kansas hearing stories about their great-grandmother's devotion to a French religious they still call Mother Duchesne. Long before her official canonization in 1988, the Pearls considered Rose Philippine Duchesne a saint – one who taught their great-grandmother to pray and brought a sense of peace to a shattered tribe of Native Americans.
The Pearls, along with Bob's daughter, Janet, visited St. Louis in August to share stories of their great-grandmother, a member of the Potawatomi Nation, during a meeting of the Bicentennial Committee at the United States-Canada Provincial Center.
As a child, Equa-ke-sec Patnikwa (the Pearl's great-grandmother) survived the "Trail of Death," a horrific, forced march that moved the Potawatomi from St. Joseph, Michigan, to Sugar Creek, Kansas, from September through November 1838. Many tribe members, including most of the children, died of disease, starvation and exhaustion during the brutal march. Equa-ke-sec's survival earned her the name "Living," which became Equa-ke-sec Theresa Living Patnikwa at her baptism. Equa-ke-sec means "rising sun." It was in 1841 at St. Mary's Mission in Sugar Creek that the young Native American girl met the future saint.
Bob said his mother was full of stories about Philippine, which she had learned from her grandmother, Equa-ke-sec. Initially, children who misbehaved at the mission were punished by being told to thread Philippine's needles. When it was learned that the children considered it a privilege to thread the needles of "Woman Who Prays Always," the punishment was turned into a reward. Philippine taught the Native Americans to sew and crochet, something they still value today, Bob said. In letters to St. Madeleine Sophie Barat, Philippine asks for thread and needles, which were not only hard to come by, but also very expensive on the frontier.
Virginia Pearl, CSJ, a Sister of St. Joseph of Concordia, said her great-grandmother learned forgiveness and gratitude from Philippine, attitudes that have been passed down through the generations. While Sister Virginia had a hard time forgiving those who had expelled the Potawatomi from their ancestral lands and forced them on the Trail of Death, she said her mother insisted she should instead focus on being grateful that Equa-ke-sec had survived.
Every five years since 1988, the Potawatomi have commemorated the Trail of Death with a one- or two-week pilgrimage following the route taken by their forebears. One year, they met a man in Indiana whose own family history included a story about the "Indians" passing their home. His relative had been a boy, but the horror of the march stayed with him throughout his life, the man told Bob.
The Potawatomi have commemorated the Trail of Death with markers along the way, and there is a St. Philippine Duchesne Shrine in Sugar Creek. In St. Marys, Kansas, there is a headstone for the grave of the seven other Religious of the Sacred Heart who worked at the mission serving the Potawatomi from 1841 to 1879.
The Bicentennial Committee members were honored to meet the Pearls, hear their stories and learn about their heritage. We will share information on the 2018 Trail of Death pilgrimage as it becomes available.
Pictured, The Pearls (from left), Bob, Virginia and Bob's daughter, Janet