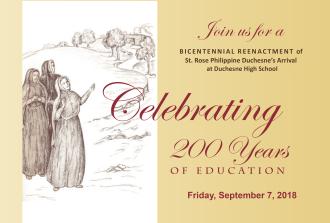 Due to heavy rain in the forecast, the reenactment will take place at Duchesne High School. There is enough space in our gym to hold all of our guests.
Duchesne High School
2550 Elm Street
St. Charles, 63301
Schedule
Friday, September 7, 2018
9:00 a.m to 10:15 a.m. Strolling historical characters, period demonstrations, entertainment
10:30 a.m Welcome, remarks and reenactment of St. Rose Philippine Duchesne's arrival
This event is sponsored by the Academy of the Sacred Heart and Duchesne High School.
Please direct questions to reenactment@ash1818.org.