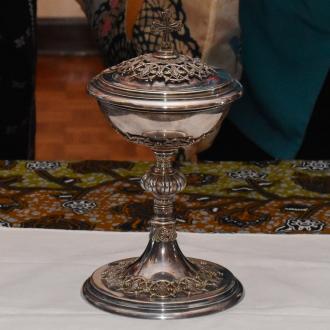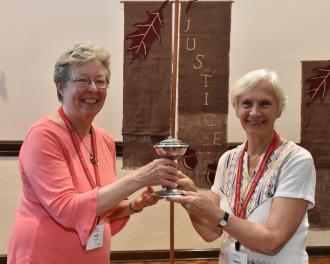 At the recent Sacred Heart Spirituality Forum, a special gift was presented to Provincial Sheila Hammond, RSCJ, and the United States - Canada Province.
Margot Bremer, RSCJ, was sent by the provincial of the Province of Venezuela to attend the Forum. At Eucharist, Sister Bremer gave Sister Hammond a ciborium that once belonged to Saint Madeleine Sophie Barat, who had given it to Saint Philippine Duchesne to bring to the New World in 1818.
A ciborium is a receptacle shaped like a shrine or a cup with an arched cover, used in the Christian Church for the reservation of the Eucharist.
The ciborium was given to the former Province of Cuba by Mother Hardey. When the sisters had to leave Cuba, it was given to the Province of Venezuela.
The ciborium now has returned to its first home in the Americas - in celebration of the bicentennial of Saint Philippine's arrival here!
At dinner, Superior General of the Society of the Sacred Heart, Barbara Dawson, RSCJ, received a phone call from Fernanda Vacas, Provincial of the Province of Venezuela. The call was shared with the Forum attendees via microphone and Sister Vacas could hear the applause and singing of everyone gathered.
What a wonderful gift! ¡muchas gracias!
Click here to read more in an article published in the St. Louis Review!
Pictured: Provincial Sheila Hammond, RSCJ, (left) with Margot Bremer, RSCJ, Province of Venezuela