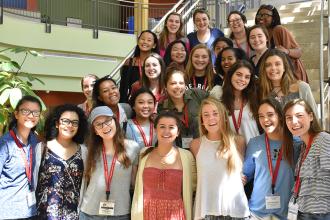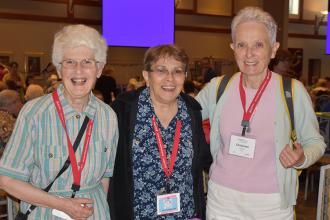 It was a wonderful event! The keynote talks were so worthwhile and each provided me with inspiration in different ways. The presence of Bob and Janet Kiwezi Pearl (Potawatomi) during the whole event, even on the pilgrimage to Sugar Creek, was a visible reminder of what we are about – Crossing Frontiers.
So. thank you for the good humour, your clear announcements, the life-giving liturgies, the table arrangements, the delicious and plentiful food, and creating an atmosphere where 360 people were nourished spiritually as well as physically!
It was truly great to meet with so many people from all over the world, including those from USA. It was great to meet with the Sacred Heart Family – younger and older, of so many backgrounds and cultures. I was delighted to have the students of your schools present – that gave such an added dimension – that we are looking to the future.~ Mary Sheil, RSCJ, Ireland
The Spirituality Forum, 'Philippine Duchesne – Celebrating her Life and Legacy,' was well-named; the days we had together were truly both a celebration as well as a concrete expression of Philippine's legacy. Initially I felt somewhat overwhelmed by the sheer number of people attending, but I soon realised that these were old friends from many provinces and new friends waiting to be found!
In so many ways I experienced the 'crossing frontiers' theme and had the opportunity to reflect on what this truly demands as well as the rewards it brings.
Finding myself outside my English and European culture, drawing upon my inadequate Spanish and French in order better to communicate, relating to students from our United States-Canada Province schools, and much more, were all experiences that sharpened my awareness of differences and invited me to cross frontiers. Each of the three keynote speakers gave me new insights into Philippine and what she had to learn or re-learn, to let go of, to enter into, to embrace – a whole world of difference, of unfamiliarity, of discomfort and often suffering at many levels. The message for me was that this is the environment in which spirituality grows and matures, and this is the legacy Philippine has left us.
I am grateful for the incredible organisation and planning that went into this event, the thoughtful touches, the kindness and obvious hard work of so many people, which enabled me to bring home much to ponder and reflect on.
As Gera said so well in her presentation: "Frontier crossing, of course, is not simply an external event. It is also a spiritual experience."
Thank you for that experience.~ Jane Maltby, RSCJ, England
Thank you to each one of you for the wonderful experience of the Sacred Heart Spirituality Forum 2017. I am so delighted that I could be with our Sacred Heart family to celebrate the life and legacy of Saint Philippine and her companions and to also take the Pilgrimage to Kansas and Sugar Creek, all of it was truly a spiritual experience for me.
Thank you most sincerely for all your organisation and attention to detail on each day, for the wonderful programme, the liturgy and music, for organising our travel and accommodation all the way to Kansas. It was truly remarkable!
I shall have wonderful memories and will be sharing all with our Sacred Heart community and schools when I return to Dublin.~ Anna Gethings, Ireland
My experience at the Spirituality Forum: The facts shared by the keynote speakers enabled me to get a better understanding of Philippine's life. Her strength and blind sports where clearly brought out. There were struggles yet she worked very hard to build bridges between the privileged and the marginalized.
My own perception is that the life of prayer which Philippine lived enabled her to pull through the struggles of life empowering her to experience God so deeply and from there she was able to inspire and make a deep impression on people's lives.
Thank you!~ Betty Nakato, RSCJ, Uganda
As I left the Saint Louis University campus on July 16 after four days at the Spirituality Forum, I had a deep sense of hope and gratitude for what I experienced. The Charism of the Society, to make known the love of Christ to the world, is alive and well and in competent, gifted, faith-filled men and women of all ages, races and varied backgrounds. I have attended four spirituality forums but this was the most outstanding: the substance of the keynote addresses; the variety in the break-out sessions; the prayers and liturgies; and the rich combination of attendees: students, faculty and administrators from the Network, Associates, alums and RSCJ from so many countries; made it a memorable experience, one which would have moved the heart of Philippine. ~ Nancy Kehoe, RSCJ, PhD, United States
I found the spirituality forum energizing, inspiring, thought provoking and extremely hopeful. The three keynote talks were excellent in their own complementary ways, and the final panel tied them together. I enjoyed the breakout sessions I went to and learned from them; they were well planned and well crafted. The liturgies and prayer services, planned by different groups, were all energizing, helped considerably by the musical leadership. The assortment of people from many countries as well as RSCJs, associates, Network faculty and administrators, and Network students helped make this gathering really special. The housing, transportation and the welcomes helped a lot, too.
There were a couple special dimensions, in addition. Table 9 was the best table there (here's a shout-out to my table mates). Plus there was the discovery that Betty Nakato and I are twins, separated by a few continents and decades, perhaps, but twins nonetheless.
Philippine owes the planning committee a lot of thanks. ~ Jean Bartunek, RSCJ, United States
2 Forums – 2013 Erskine Stuart and 2017 Philippine – Why do I go?I love learning about the history and charism of the society as well as our founder, Saint Madeleine Sophie, and the people key to its growth and sustenance, like Saint Philippine and Janet Erskine Stuart.
One of the deep lessons I have taken away from the forum is that the history and the charism are not cast in amber, but rather are very much alive and thriving through the lives of the RSCJ, Associates, alumnae/i, and friends who gather at the forum to present, learn, question, discuss, pray and, most importantly, to be with a community who are bonded through their experience of the society and the charism.
As an alum of a Sacred Heart school, it is a powerful, personal avenue for connection with my extended Sacred Heart family (beloved RSCJ, fellow alums, former teachers and Associates) and a way to broaden and deepen that circle. I see how wide the arms of my Sacred Heart family are, and I get to see the Five Goals in action beyond the boundaries of my student experience. I see how healthy and vibrant is Philippine's small field when I hear from my sisters and brothers of the work they are doing in their communities and when I pray with them at Mass. I see the vision of Madeleine Sophie is alive and well when steeped in the presence of this spiritual family.
I came to know the RSCJ and the Sacred Heart as a student – I continue to grow and evolve my identity as a child of the Sacred Heart through these forums. The forum is powerful testament to Saint Madeleine Sophie's words, "It is all very well to lay the foundation of solid virtue, but only the union of virtue with learning will give our work its perfection."~ Colleen Curran, Denver, Colorado, alum of Duchesne Academy of the Sacred Heart, Houston, Texas, United States
I learned the Spirituality Forum was being offered when I was hired as the new principal of Villa Duchesne at Villa Duchesne Oak Hill School (VDOH). I felt that attending the Forum would help me to reconnect with the "Sacred Heart" part of my history. Sacred Heart education and what I call the "Sacred Heart Experience" have been a part of my life since the early 1960s. My mother taught at Duchesne, Houston; my three sisters and I attended the school; I served on its alumnae and AASH boards; and I was a principal at our school in Atherton, California.
What I found was that the forum was a "coming home" for me. I was able to spend time with VDOH faculty members and the head of school. I reconnected with friends and alums whom I have met over the years. Most special was being able to be with the women who I believe helped raise me and helped develop in me my true passion for the charism of Sacred Heart.
The forum brought together RSCJs from around the world, Associates, alums and friends and current students at Sacred Heart schools. We were gifted with impassioned keynote speakers, breakout sessions that touched our hearts and challenged our commitment to being change agents, and we were able to celebrate Eucharist together.
I had hoped that the Spirituality Forum would be a way for me to get centered as I begin my new endeavor. What I found was that it truly was a "coming home" for me. I feel blessed to have had the experience and thank all of those who made it possible.~ Bridget Collins, administrator, Villa Duchesne, St. Louis, Missouri, and alum of Duchesne, Houston, Texas, United States
Attending the Sacred Heart Spirituality Forum 2017 seemed like a good time to learn more about Philippine Duchesne's life. But more than that happened. Through the presentations of the three keynote speakers and the various breakout sessions, I was taken beyond my previous knowledge of the people, the dates and the places in the life of Philippine to the realm of her spirituality. I was presented with questions I had not considered before.
In Catherine Mooney's keynote address about the frontiers that Philippine crossed and her blind spots, the question posed and examined was how the Society is crossing present and future frontiers. It led me to look at my own personal boundaries and blind spots. Looking back, I saw many times in my life when I had taken risks or asked myself questions about my relationship with Christ and the Church. As a parishioner of St. Francis Xavier (College) Church, I have opportunities to examine my blind spots in new ways.
Priscilla Solomon's prayer-presentation was a powerful imaginal journey of what Philippine may have experienced when she met the slaves in Missouri and the Native Peoples at Sugar Creek. Priscilla's description of the interconnectedness and interdependence of all creation in the spirituality of Indigenous People brought to mind my recent reading of Pope Francis' Laudato Si. It was as if she had translated his encyclical into the terminology and spiritual language of the Indigenous Peoples.
Philippine Duchesne began the global journey of the Sacred Heart Society. Geradette Philips introduced me to a journey across the frontier of other religious traditions and showed me how my own spiritual journey might be deepened through their wisdom.
Finally, the numerous conversations I had during the Forum with members of the Society, Associates, and those who teach and have been taught at Sacred Heart schools, deepened my knowledge and understanding of why Philippine came to America and the legacy she left. It endures and flourishes after 200 years. The enthusiasm of these other attendees assures me that her life will continue to inspire us to cross future frontiers.~ Emory Webre, friend, St. Louis, Missouri, United States
It was a joyful uplifting splendid forum. Your liturgies were superb...never seen such a joyful dance recessional! And the gift from Venezuela was so moving as was our dinner phone call thank you in musical "notes."
I asked when we all would sing "Coeur de Jesus" and then the students started singing it spontaneously at closing dinner.
Meeting nuns, Children of Mary, associates, alumnae and faculty from around the world (dined with the two Egyptian sisters, lunched with a Polish sister as well as a dear sister from India who was my classmate for 14 years) was fascinating. Breakouts were terrific; small enough for interchange. Moved by Friday keynoter. She spoke from a holy heart, charged with widening our hearts. Merci.Patricia Rice, alum and Associate, St. Louis, Missouri, United States
The Spirituality Forum 2017 was an incredible event. From check-in to check-out, each and every detail was covered. Transportation to and from the airport was provided as well as that between buildings at SLU for those who needed it. The keynote addresses were inspiring; the table discussions energizing; the breakout sessions informative; and the liturgies beautiful and prayerful. A wonderful balance between activities was maintained for the three days, leaving time for leisure and an opportunity to connect with old friends. The committee should be commended. Their planning and hard work was evident throughout the entire Forum.~ Sue Whalen, alum and Associate, Rochester/Albany, New York, United States
It was a pleasure to help facilitate the student portion of the forum.
To me, Philippine was most alive through the dialogues in which our students engaged. Students brainstormed about topics in our modern society that call for dialogue. After receiving some training, they had these conversations in meaningful ways, listening and learning from one another. When a student made the connection that dialogues are a way to continue to cross frontiers as Philippine did, I knew we were creating something special at the Forum.
The visits to St. Charles and Florissant, as well as interacting with the adults at the Forum, enhanced the experience. As we departed, the students took various plans to their schools to help engage their peers in authentic conversations.~ Kelly Weber, faculty upper school history and theology community service coordinator, Sacred Heart Academy, Bryn Mawr, Pennsylvania, United States
The dialogue skills will certainly stick with me because, through the lessons, I learned how to have articulate conversations and improve my listening skills through our great dialogues with the other students and adults. The forum helped me to deepen my sense of spirituality because I learned that all Sacred Heart students and teachers are connected through Philippine's crossing the frontiers, where she took a chance and succeeded. Her morals and values have been passed down through all of the students, faculty and RSCJs. I was amazed at how nice and similar all of the other students and teachers were to our school because we were able to cross frontiers and bond like Philippine did."~ Maggie McCallen, student, Sacred Heart Academy, Bryn Mawr, Class of 2018, Pennsylvania, United States
~ Silvana Dallanegra, RSCJ, from England shared her reflections about the Forum and much more on her blog. Click here to visit All this Life and Heaven Too. She has several posts about her time in St. Louis, including visits to the Saint Philippine shrines in St. Charles and Florissant and a visit to Philippine's star on the St. Louis Walk of Fame! She also shares a moving story about a treasure gifted to the United States-Canada Province from the Province of Venezuela - a ciborium that once belonged to Saint Madeleine Sophie and Saint Philippine.