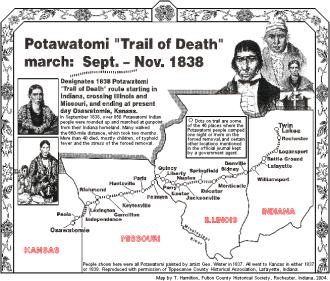 The 2018 Trail of Death Caravan is currently in progress. For updates, check our Facebook, Twitter or Instagram pages.
In the spirit of Philippine Duchesne, who served the Potawatomi 1841-1842, all are welcome to join Janet Pearl and the Potawatomi Trail of Death Association for the 7th Annual Potawatomi Trail of Death Commemorative Caravan.
Since 1988, every five years a group of Potawatomi, historians and interested persons organize and travel the original route the third week of September. The 660-mile journey from Indiana to Kansas begins immediately following the annual Trail of Courage Living History Festival. The caravan begins at Chief Menominee monument south of Plymouth, Indiana, at 9 a.m. September 17 and ends at St. Philippine Duchesne Memorial Park, south of Mound City, Kansas, September 22.
Itinerary
Those going on the caravan will meet Monday, September 17, at 7:30 a.m. at the Fulton County Museum to register and get information, then caravan to Chief Menominee monument at Twin Lakes south of Plymouth, Indiana for a beginning ceremony at 9 a.m. There, they will begin the 660-mile drive from Indiana to Kansas on the original 1838 route taken by the Potawatomi on the forced removal, Trail of Death. They will stop at historical markers, give programs at schools and museums, stay in motels and eat together.
*Individuals pay own motels and meals. Camping-out is welcomed.

If you have any questions, contact Janet Pearl at 440-666-7445 or pearlkiwezi@att.net