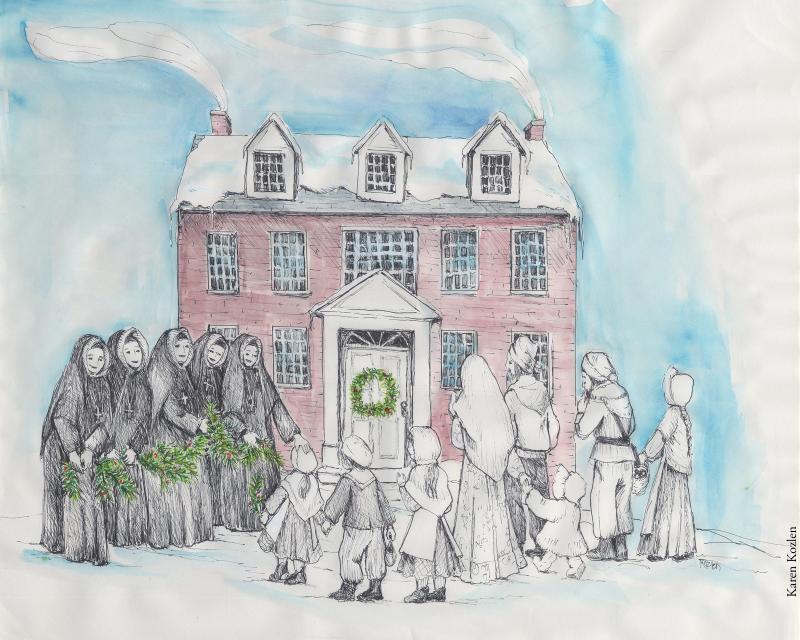 Christmas 1819 in Florissant
The transfer from the bishop's farm to the new convent in the village happened December 23 and 24, 1819, in very cold, snowy weather.
"... We were very late in reaching Florissant because we had lost our way. But we had to hurry with the work of preparing the chapel. Owing to the severe cold, the room intended for it had not been plastered. We removed the lumber that had been piled there and hung sheets as a curtain behind the altar which we set up. After supper we decorated it during the hour of veillée, then went to confession. At midnight Father De La Croix offered the Holy Sacrifice of the Mass.
"In her Journal Mother Duchesne recorded other details: the nuns recited Matins promptly at eleven o'clock that Christmas eve; the midnight Mass followed by a second one, and both were attended by the 'pious Irish workmen' who had built the house. There was a third Mass on Christmas morning, with joyous Christmas hymns ... and in the afternoon Vespers followed by Benediction. ... The Bishop came the next day to bless the new convent, and the children in their bright uniforms sang 'some couplets expressing gratitude to him.' ... Next morning ... a stream of carriages brought visitors, some coming through curiosity, others, like the Pratte family, to attend the bishop's Mass."
~ Philippine Duchesne: Frontier Missionary of the 
Sacred Heart by Louise Callan, RSCJ
May the timeless message of Christmas 
fill your heart and home with joy now 
and throughout the coming year.
Have a blessed Christmas!
With love from the Provincial Leadership Team:
Donna Collins, RSCJ
Maureen Glavin, RSCJ
Sheila Hammond, RSCJ
Mary Theresa Moser, RSCJ
Diane Roche, RSCJ
Artwork:
Depiction of Philippine Duchesne, Eugénie Audé, Octavie Berthold, Catherine Lamarre and Marguerite Manteau greeting the townspeople at the new convent and school in Florissant, Missouri, Christmas 1819. Artwork by Karen Kozlen, retired Sacred Heart educator and artist. Today, this is Old St. Ferdinand, a Shrine to Saint Rose Philippine Duchesne. Mother Duchesne lived there from 1819-1827 and 1834-1840.