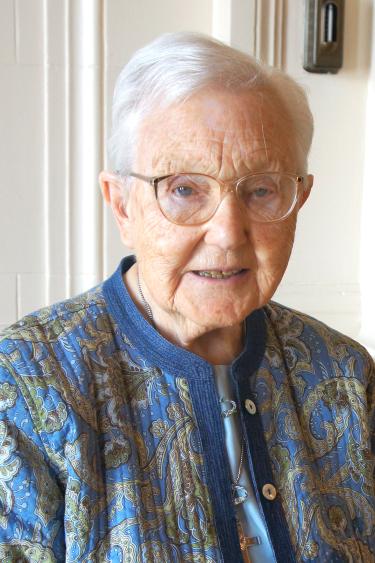 With sadness and with hearts full of gratitude for a life so fully and well lived in love, we share that Mary "Be" Mardel, RSCJ, died on October 4, 2022, at the age of 104.
One can imagine the impact a person can have over the course of a 104-year-lifetime, and Be was no exception. Be, who spent 82 years as a vowed member of the Society of the Sacred Heart, was a woman wholly committed to revealing God's love in the heart of the world.
She was an educator, spiritual mentor, activist, volunteer, student, and dear friend to many across the Society and the Network of Sacred Heart Schools.
Be spent almost 50 years of her life as a teacher, an administrator, in development, and in alumnae/i work. For 35 of those years, she served at Schools of the Sacred Heart San Francisco (Broadway), formerly Convent of the Sacred Heart (Broadway).
A revered member of the school community, noted the school's website, Be was credited with leading the transition of the school from one operated by Religious of the Sacred Heart to an independent Catholic Sacred Heart school with its own board of trustees.
In 2014 the school dedicated and named its chapel in her honor, and in 2016 the school released a documentary series entitled "Mary Mardel in Her Own Words," capturing some of the history, stories and spirit of the beloved RSCJ.
President of Schools of the Sacred Heart San Francisco Dr. Ann Marie Krejcarek shared:
When I received the news of the passing of our beloved Mary "Be" Mardel, RSCJ, I thought how full of grace Be was to take leave of this world on the Feast of St. Francis — her love of nature and the world was evident in her beautiful watercolor paintings, and she spent so much time in the Oakwood garden. Like that garden, Be tended to generations of students and Sacred Heart school leaders, seeing and nurturing each one's strength and heart with her love, fortitude and courage.

Upon the initial news that Be was nearing her final days, I set up a place of prayer around Mater Admirabilis in our chapel that bears Be's name. I brought out the chalice created in honor of her mother, father and brother, remembering that the last place her family was together was in that very chapel and that both our love for her and theirs was what we could give back to her as she began her journey home to the heart of the Christ she loved.

Sister Mardel was known as the "heart and soul of Broadway," having spent decades in service of the children of the Sacred Heart as a teacher, Dean of Students and later Superior. Sister Mardel had often been both a beloved champion of Sacred Heart traditions and an agent of change, propelling the school toward contemporary management models.

We join the entire Sacred Heart family in their grief and offer our heartfelt condolences to all who knew Sister Mardel. Her light, love, radiant smile and tireless contributions to Convent & Stuart Hall will be greatly missed. 
In 1966, Be founded St. Madeleine Sophie's Center (SMSC) in El Cajon, California, which began serving children with developmental disabilities and, soon after, transitioned to serving adults with developmental disabilities. SMSC remains in operation today as an independent nonprofit with two RSCJ serving on its board of directors.
Executive Director of St. Madeleine Sophie's Center Debra Emerson shared:
Sister Mardel will be held in high esteem and remembered fondly as the founder of St. Madeleine Sophie's Center. She was a person of superior standing, highly respected and held in high regard for her dedication to God and mission in life. Sister Mardel brought beauty to this world with her presence and academic distinction! I was honored to know her and treasure the time I spent with her. I know Sister Mardel was deeply dedicated to St. Madeleine Sophie's Center and that she is watching and keeping us safe from above! 
In the 1970s Be served both on the Provincial Team and as Provincial of the former San Francisco Province. As an active supporter of the United Farm Workers Union, on July 31, 1973 — the Feast of Saint Ignatius — Be and Carol Naumann, RSCJ, along with roughly 30 other nuns and priests were arrested and jailed for picketing in the vineyards with the United Farm Workers Union in protest of injunctions to limit picketing.
She and Naumann sent a telegram the following day from the Fresno County jail that read:
"I hereby protest the unjust injunction regarding anti union striking which would effectually nullify legitimate protest. I support fully those who would disobey, rather than participate in an unfair anti democratic procedure."
Additionally, during her active ministry, Be was a volunteer minister to individuals with AIDS. She served on multiple school boards as well as the board of Oakwood, a Society retirement center, where she later resided for the last 18 years of her life. She served as Children of Mary Director, led the local Children of Mary group in San Francisco, as well as the Associates of the Society of the Sacred Heart group in San Francisco.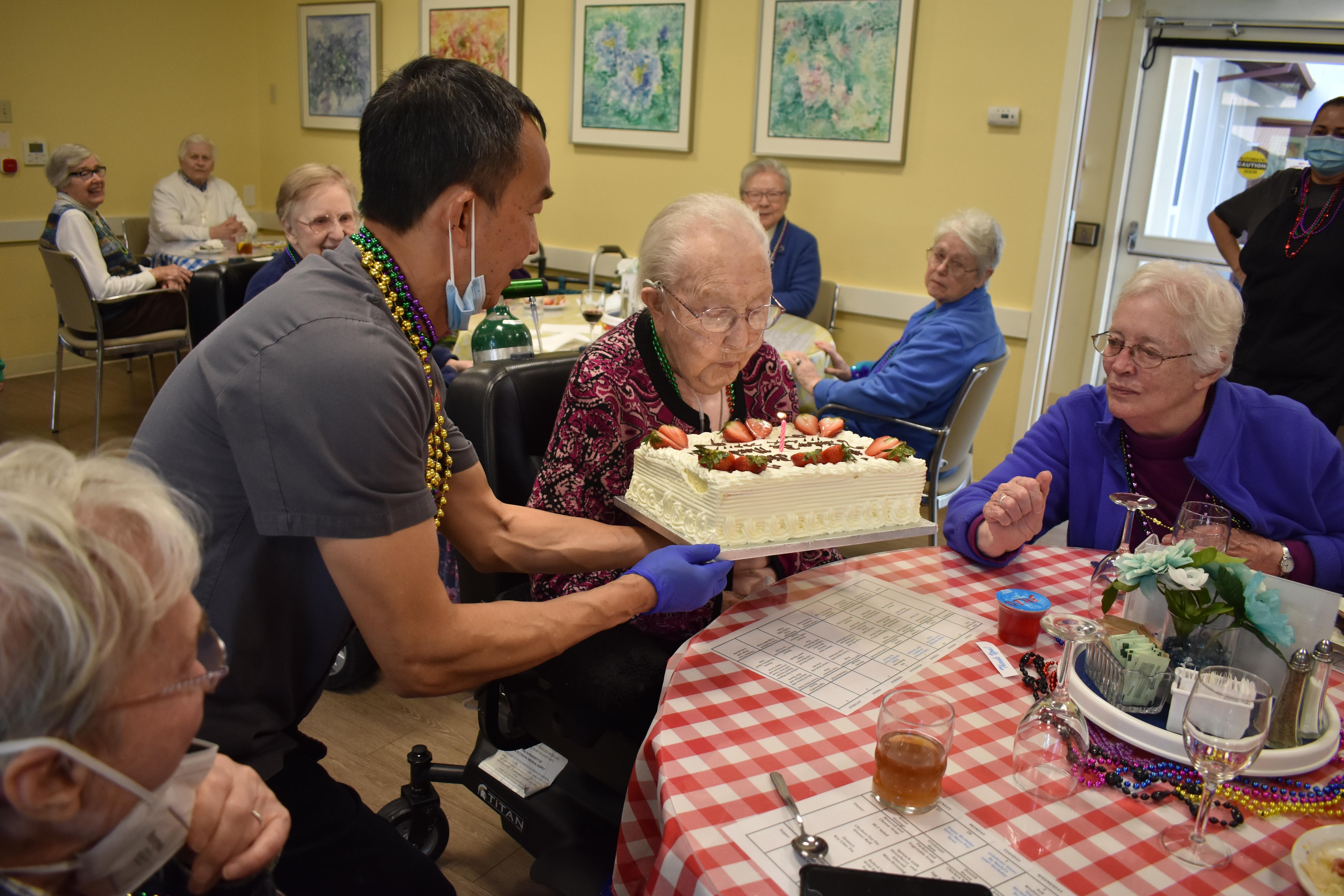 In a December 2020, during a Zoom call, it's noted that when asked what she thought heaven would be like, Be replied "it would be love, love deeper and more profound than any experience of God's love one has had here."
This in heart and mind, the Religious of the Sacred Heart and the entire Society of the Sacred Heart, United States – Canada Province, community celebrate the life of Mary "Be" Mardel, RSCJ, and pray for her along with all departed RSCJ. In all she did and was, hers was a life undoubtedly steeped in a deep and profound love for others and for God.