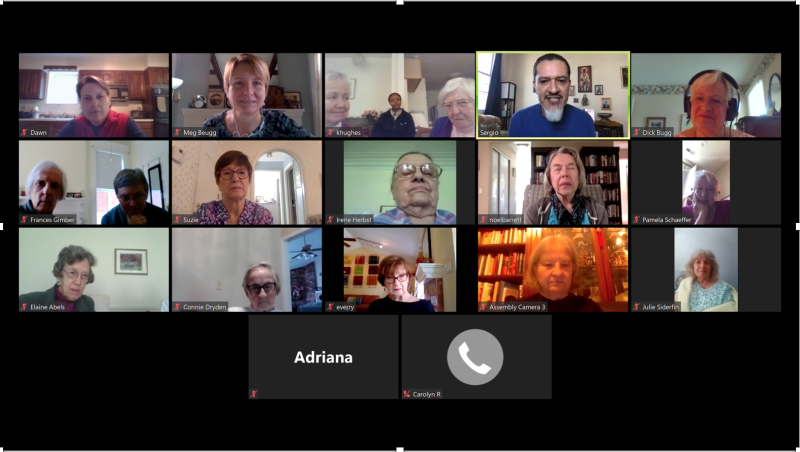 On a gloomy Sunday, three groups of Associates – Chicago, Halifax and St. Louis – used Zoom to meet with their groups virtually. A new way of being connected is forming across our province and Associates are embracing it!
I had a dream of a Sacred Heart "intranet," a world wide web of all members and organizations of the Sacred Heart family: RSCJ, Associates, educators, alums, benefactors, collaborators, where all would be connected virtually on a shared virtual platform ¬¬– where anyone could hover over a map of the world, for example, and find a Sacred Heart community. We could find family abroad no matter where we were or where we were from.
Having traveled to five continents doing work on Sacred Heart education, I've always been intrigued by this idea: being explicitly and sometimes intimately connected to "strangers" across the physical frontiers. It happens all the time in the Society of the Sacred Heart. And here we are, connected via Zoom, during a time no one could have imagined. Like the disciples on the Road to Emmaus, we too have much to talk about – much to discover and much to reveal.
I spent 14 years as campus minister at Stuart Hall High School in San Francisco, visioning what Sacred Heart education has to offer to the spiritual formation of adolescent boys. It was the greatest discovery of my personal and professional career – to make real Madeleine Sophie's vision of love through the Sacred Heart of Jesus, conveyed across barriers. For me, this is an expansive vision – a "little Society" that now has no borders. In fact, one of the greatest joys for me was leading weekly chapels and putting together the class retreats.
I had a conversation with a former colleague still at Stuart Hall High School who wondered how I would be addressing this crisis if I were still teaching and how I might be leading chapels virtually. What would change? How might we create an environment of connection across the distances using the tools technology has created in these last few years? And here we are, gathered as a gallery of Zoom squares – seeking comfort, delighting in seeing the faces of friends and colleagues, even if at a distance. Just like our Virtual Associates, we too have an opportunity to develop a new way of walking with one another in community.