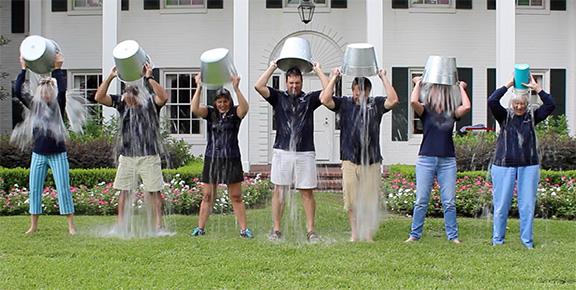 When Duchesne Academy (Houston) Upper School Theology teacher and Campus Minister, Sara Hoegen was challenged by a friend to do the ALS Ice Bucket Challenge, she promptly accepted. She also took the idea to her students and colleagues at Duchesne and after school on Friday, August 15, a small group gathered to watch as she and four others took the challenge and issued their own challenges.
The challenges to the Duchesne administrators and Sr. Ann Caire were promptly accepted. After school on August 18, Duchesne students, faculty and staff gathered on the White House lawn to watch as Sr. Ann Caire; Patricia Swenson, Head of School; Don Cramp, Head of Upper School: Tony Houle, Head of Middle School; Ginger Montalbano, Head of Lower School; Robert Bagley, Director of Athletics and Physical Education; and Mary Ellen Butler, Director of Alumnae and Community Relations took the ALS Ice Bucket Challenge and issued challenges of their own to their colleagues within the national Sacred Heart community.
"Our community has been touched in the past year by loss due to ALS and we are proud to take part in this effort to find a cure," said Ms. Swenson before taking part in the challenge.
Sister Caire is calling on other RSCJ to take on the ice bucket! We'll be watching for the videos!