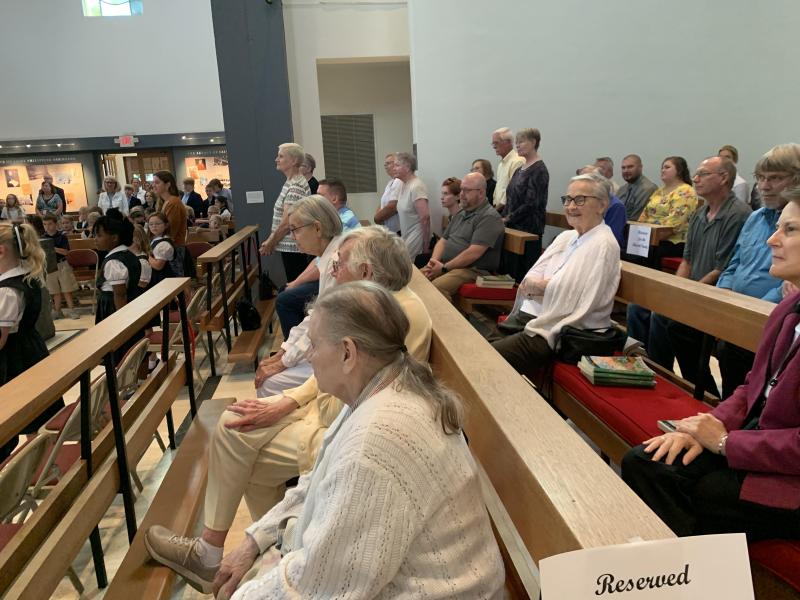 The Academy of the Sacred Heart in St. Charles, Missouri, held a memorial Mass in honor of Mary Loretta "Buschie" Busch, RSCJ, on the First Friday of September 2022. Sister Busch passed away on June 2, 2022.
Family, friends, former students and many from the Academy community joined together in celebration of such a beloved member of the school community. Notably in attendance were Mary's siblings, nieces and nephews.
Mary was a 1956 graduate of the Academy. After professing final vows in the Society of the Sacred Heart and more than a decade continuing her education and working at the Academy of the Sacred Heart in New Orleans, Mary returned to the Academy in St. Charles in 1980. She taught at the school for 26 years, and also lived on campus, where she dearly loved being part of life at the school.
She had varied interests and gave her complete attention to each: science instruction in the middle school, initiation of the Robotics program, and showed interested students the art of counted cross stitch as an after-school club, said Marica Renken, current principal at the Academy. Her intricate cross-stitch pieces were often prized at the school's annual Chemin de Fer fundraiser.
Former student and now faculty member at the Academy Alexa Masters noted that it was a beautiful liturgy, and she was honored to be a part of the celebration.
"I was a student of Sister Busch when she taught 6th grade. She was my homeroom teacher and she also taught science. I remember her classroom always felt so welcoming. It was evident how much she cared for each of us; not only that we would succeed academically, but that we grew as a child of the Sacred Heart," Masters said. "My strongest memory of her was the smile she had on her face after the jokes or funny remarks she would tell. She would slide them in at moments we needed them most, and I always appreciated that. She was a great teacher and pushed us to be better in every way — I probably grew the most in 6th grade because of her."
Following the liturgy, family gathered in the Griesedieck Conference room where they shared photos, personal mementoes, and stories of Mary and her family.