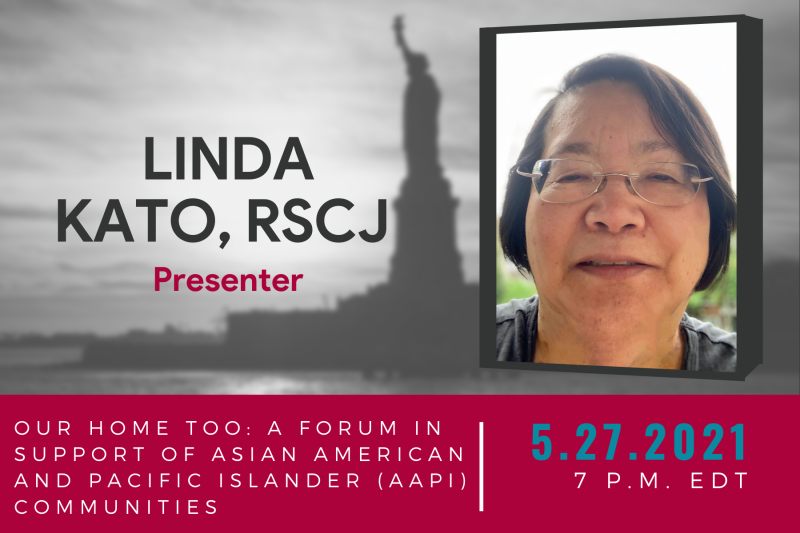 May is Asian Pacific American Heritage Month, a time when we recognize the history and achievements of Asian American Pacific Islander (AAPI) communities.
Linda Kato, RSCJ, will be presenting at Our Home Too: A Forum in Support of Asian American and Pacific Islander (AAPI) Communities, a virtual webinar hosted by Baltimore Sister Cities on Thursday, May 27 at 7 p.m. EDT. 
Sister Kato's bio on the event page reads:
Sister Kato is a multi-generational U.S. citizen whose ancestors immigrated from Japan in the mid-19th century to California. Her family was Incarcerated by the U.S. government together with hundreds of thousands of Japanese-Americans in internment camps during World War II as "potential enemy agents." In the 1980s-90s, Sister Kato joined efforts of the National Coalition for Redress and Reparation (NCRR) to successfully secure an apology and compensation from the U.S. Government for interned victims. Sister Kato began her career in her [congregation's] schools across the U.S. teaching social studies and theology and coordinating community service programs for students and parents. After receiving her Ph.D. in political science from MIT, she worked for decades in firms such as MDRC and Goodwill Industries International, designing and evaluating employment and social service programs for low-income communities and persons with disabilities. Sister Kato continues to advocate for racial equity, peace and worker rights. She also added being a professional doll artist to her educational toolkit. Her portrait dolls of history's remarkable women allow her to educate and engage with people about race, gender and social justice across barriers of age, socioeconomic status and ideology.
To read her full bio and those of the other presenters, and to register for the forum, click here.