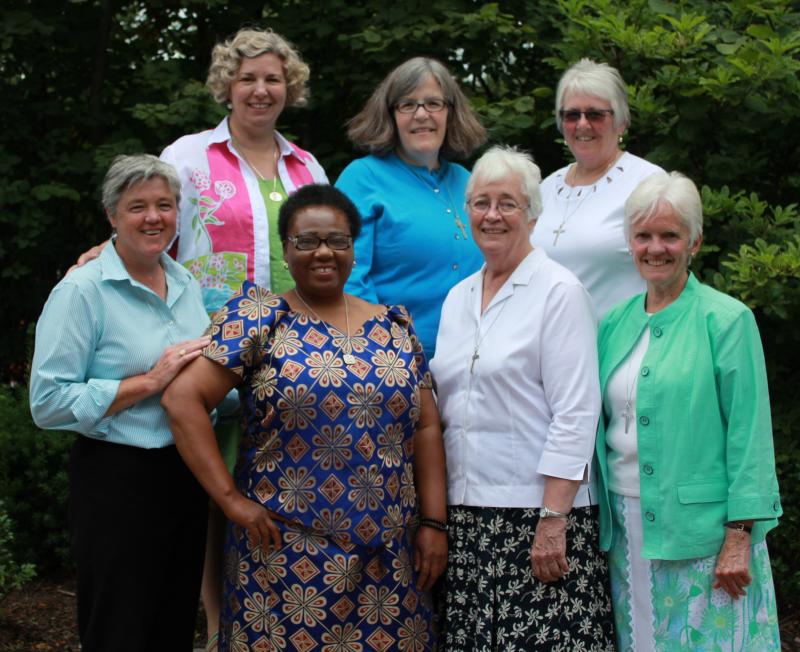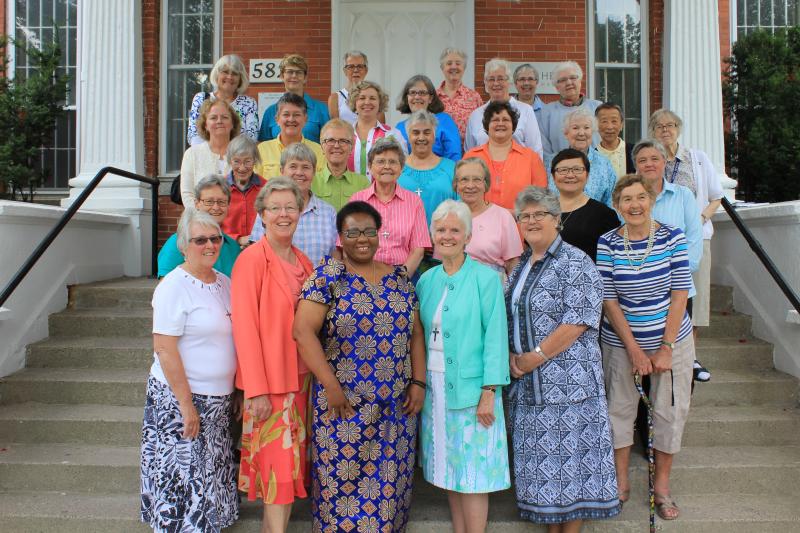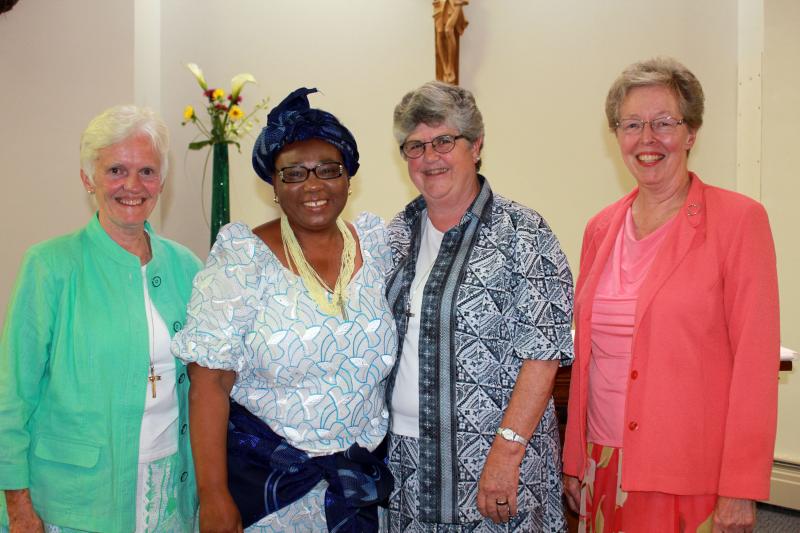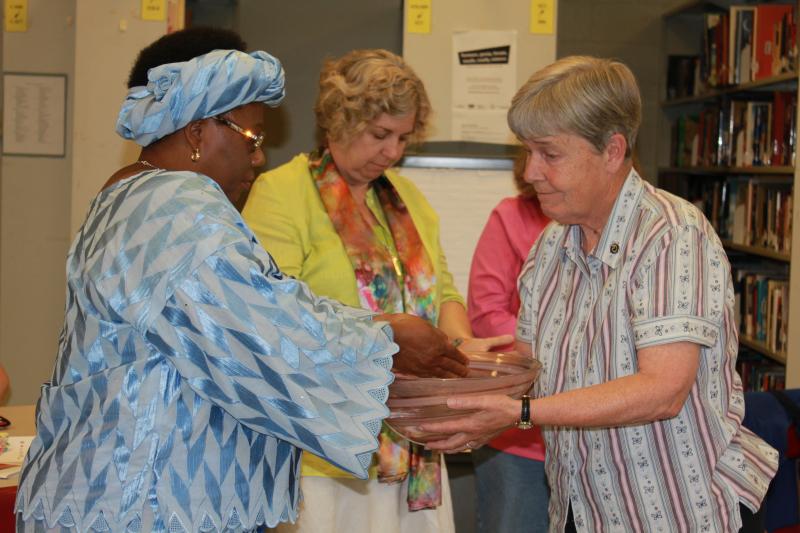 On Saturday, August 9, we celebrated the opening of our new noviceship in Halifax with a Liturgy with Associates and Religious of the Sacred Heart. We are blessed to have one novice studying this year and a vibrant community of religious surrounding her to aid her on her journey. We thank God for the gift of Evelyn Oluoha. Joining her at the Sophie Community are Sisters Anne-Marie Conn, Donna Dolan, Mary Finlayson, Kim King, Sally Rude and Anne Wachter. What follows is the homily delivered by Sheila Hammond, RSCJ at the liturgy on Saturday. 
Homily on the opening of a new noviceship
We tend to think of opening the noviceship in terms of place – Beacon Street, Kenwood, El Cajon, Healy House, Ottawa, San Diego, Layton House, Halifax. Certainly that is part of it, and Halifax is special and has been the locale of women coming into the Society and their religious commitment before. Of course the beauty of Halifax makes it a great choice, I think. Nature will form us for sure. But what we really do here today is open a new dimension of what the noviceship is and it includes all of us. Today we recognize, identify, bless, commission the noviceship as the adventure of persons and a journey of relationships. Today we open a new way for the life of the Society of the Sacred Heart to unfold with particular persons in this place.
Certainly this is in our tradition and central to our story. We revere Grenoble and Ste. Marie d'en Haut but what we really cherish is the meeting of Sophie and Philippine and that precious time they spent together. I dare say during that time together they were forming each other. The true treasure is that they got to know each other heart to heart, discovering God's love for them, sharing their hopes for a better world and their dreams of revealing God's love to make a difference in that world. This is the cornerstone of the noviceship experience we open here today.
God and the novice(s) (I am eternally optimistic) are the essential partners. The RSCJ who live here in Halifax and in the Sophie community are vital, as are all who will become part of the journey of claiming RSCJ identity for those who are new to our way of life. Members of the school community, our beloved associates and collaborators in mission, those with whom we will develop relationships in mission are the building blocks of the adventure that will lead to a woman's being able to say "I have come to know the Heart of Jesus. I have heard the gentle call of this great love in and among you, and in the pierced Heart of Christ I have met in a world in need. I have experienced your way of life. I have caught the way you view the world and I want to join you in living this mission."
All of our readings today affirm that it is persons and relationships as the crucial elements of what it is to claim a new identity: the Lord calls Elijah out of the cave, away from his shelter, to experience God's presence, not in expected ways but in the wonderful manifestation that is simple, straight forward, and needs to be "caught" – the tiny whispering sound, the still small voice. This is what the relationship of persons is about, what the noviceship journey is about – believing in the call out of the cave of the known, to be actively attentive to God's revelation, and to recognize its gentle, tender presence. It is a call to emerge from the cave of our known selves, our known cultures, and explore the depths of who we are in a new frame. It means letting go of the expected, the earthquake, the fire, the rushing wind to welcome new ways of knowing and being. We need to be alert, open, receptive. And maybe practicing this attentiveness leads to recognizing the grace and the mercy of God so that we don't need to hide but can lift our eyes in adoration because of God's love for us. Granted this is a life's journey, and it has already begun, but in this process this is the foundation and focus of becoming an RSCJ.
The same is true, I think, of the Gospel call. The invitation of the noviceship is "Come . . . Learn of me for I am meek and humble of heart." This is caught in prayer, and it is also caught in all of our relationships, especially with those who have lived experience of our mission. And with those who suffer, who hurt, who know the reality of the world's pain. Learn of me in the depths of your being and in the particular way you reach out to those who do not know justice and peace. Learn of me in Earth's struggle for survival for I am there as well. Our call in this time is to open to the variety of ways Jesus teaches the meekness and humility of his own heart, that we can enter into it with courage and confidence. We will know that we are, with Sophie and Philippine, and Mother Hardey and Anna Du Rousier and Mother Peacock, and so many other's shoulders on which we stand, that we are alive with that same passion for mission.
The noviceship is a process of generativity. It is a family becoming a new family, not in the parental sense, but as a family borne of God's desire and ours to discover and make known God's love in our world. It is the life unfolding of prayer, of relationships, of so many expressions of community, of service especially to those most in need that claims us and calls us to be God's heart in our world. It is the unfolding of this deep grace which makes a woman say "I can't wait to become more deeply part of this Cor Unum and live more fully this mission." And so we pray with and for each other . . . kneeling before the One from whom every family . . . takes its name . . . out of God's infinite glory may God give you the power through the Spirit for your hidden self to grow strong, so that Christ may live in your hearts through faith, and then planted in love and built on love, you will with all the saints have strength to grasp the breadth and the length, the height and the depth, until, knowing the love of Christ, which is beyond all knowledge, you are filled with the utter fullness of God.
Glory be to God whose power, working in us, can do infinitely more than we can ask or imagine; glory be to God from generation to generation in the Church and in Christ Jesus for ever and ever. Amen."
We are all the noviceship. Let US be open.
Sheila Hammond RSCJHalifax, August 2014