"Mother" is a particularly resonant term for the Sacred Heart family. It recalls not only the title used by choir religious before the changes of the 1967 Special Chapter, but the love and devotion so central to Sacred Heart education and spirituality. The symbolic power of "mother" is so substantial that we may even forget that, in the case of women religious, it can also be literal. Quite a few Religious of the Sacred Heart (RSCJ) have joined the Society of the Sacred Heart and embraced religious life after living a vocation in married life and as a mother. Despite our often erroneous conception of what a novice might look like, there is no legal bar against women who are mothers from joining a religious congregation; Catholic canon law requires only that entrants be unmarried and without dependent children at the time of entry.
On both sides of the Atlantic, some of the earliest RSCJ were mothers first. Gabrielle Eugénie Charlotte de Boisgelin de Gramont d'Aster, whose daughters, Eugénie and Antoinette, preceded her in the Society, was a close friend and staunch supporter of Madeleine Sophie Barat (Society founder) in the earliest days of the Society. Madame de Gramont d'Aster had served as a lady in waiting to Marie-Antoinette, and fled to London with her family during the Revolution, helping to establish a school near Hyde Park. Her experience in both court and family life made her an invaluable asset to Sophie.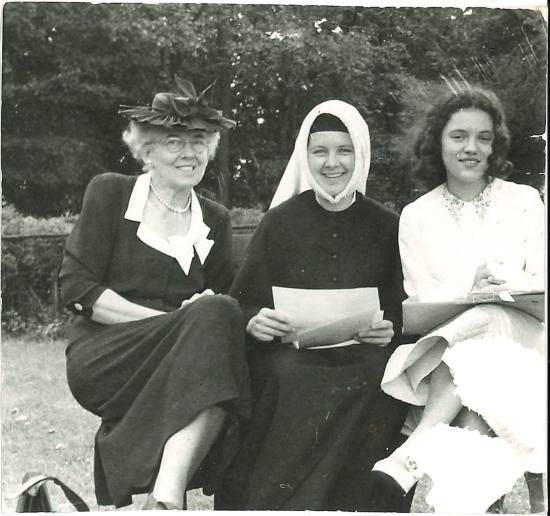 During the early crises of the Society, when individuals like Abbé Louis de Sambucy de St-Estève attempted to sow division and take control of the Society, Madame de Gramont d'Aster's acute perception and experience allowed her to advocate effectively for the Society, even in the face of resistance from her own daughters. It is difficult to understate her contributions to the Society, and her vocation as both mother and religious is inseparable. Her manifold calling was highlighted in death, when she was remembered by the Bishop of Grenoble: "Daughter, wife, mother, widow, novice, religious, head of house, in everything she was perfect."
In North America, some of Rose Philippine Duchesne's earliest vocations were widows and mothers. The Boudreau family, in particular, contributed a great number of its mothers and daughters to the Society. Borgia Boudreau, who would die just a few short months after entering in 1829, had daughters, granddaughters, and even great granddaughters who would all enter the Society, not to mention nieces. Suzannah Boudreau, the best known scion of the family, would go on to establish the Society's presence in New Zealand in 1880. She was accompanied on this mission by another mother, Juliette Garesché née MacLane, whose two daughters had preceded her in the Society.
Such remarkable individuals are not limited to the distant past, either. Edith Foy, who was beautifully memorialized by her daughter, the late Mary Ann Foy, RSCJ, entered religious life at the age of 68. There is too little space here to do her justice, but even a brief sketch of her life reveals her courageous response to God's call throughout her life.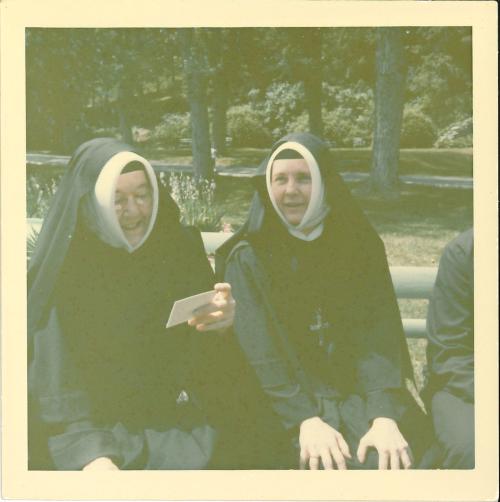 At 33 years old, Edith Gellenbeck was already an independent artist and teacher in Cincinnati. Her close friend, Freda Foy, died six short weeks after the birth of her seventh child. Freda's widower husband Edward, who had already buried a wife and an infant child, and who had six children under the age of ten to care for, asked Edith to marry him and take on the role of mother. Feeling that the proposal was a divine call, Edith responded with abandon and helped create a loving home for her new children. Mary Ann recalled the rich and loving environment created for her and her siblings and the respect and love her parents had for each other.
Mary Ann would go on to enter the Society in 1946. She was assigned to Clifton in Cincinnati when, in 1960, her father died. Only two years later, Edith joined her daughter in religious life, at the age of 68. Edith's somewhat unusual path to religious life was a source of humor as well as grace. When asked if it was difficult to learn the practice of obedience at her age, she responded: "Obedience! I haven't done my own will for over thirty-seven years!"
She had resumed her art work as her children grew and would be able to embrace it further during her time in the Society. When she went to Rome for probation — the period of final preparation before an RSCJ makes her final vows — Edith took the time to tour Europe to update her craft and would go on to teach art and art education at Barat College in Lake Forest, Illinois. When she passed away in 1980, her daughter Mary Ann summed up her life: "Ten years a single, professional woman. Thirty-seven years a wife. Two (or is it twenty?) years a widow? Eighteen years a religious. Fifty-six years a mother. And now, who can doubt it, a citizen of heaven for God knows how long!"