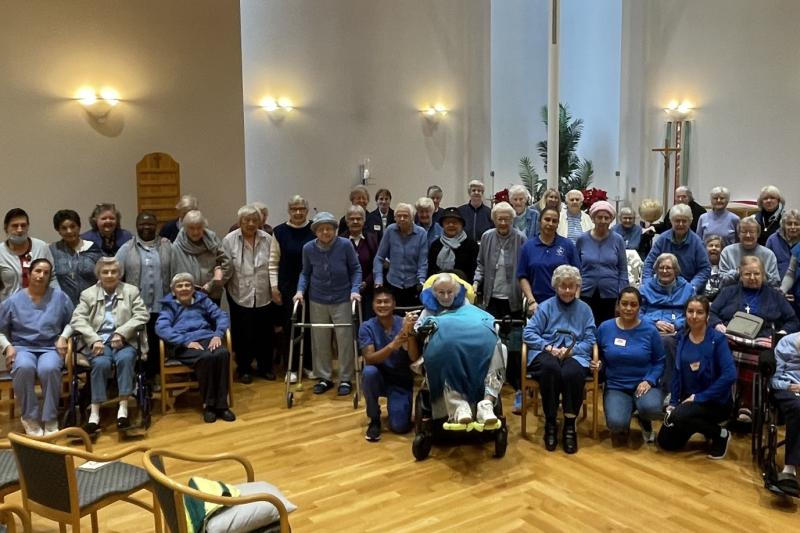 On January 11, 2023, Religious of the Sacred Heart (RSCJ) and staff at the Oakwood Retirement Community in Atherton, California, participated in the #WearBlueDay Campaign for National Human Trafficking Awareness Day in the United States.
Additionally, sisters engaged in educational opportunities throughout the day and held a liturgy in honor and memory of victims and survivors of human trafficking.
"It's an issue that many RSCJ in this community care about and try to learn more about, so it was important for us as a group to focus our efforts that day to be in solidarity with those who have been and are currently victims of human trafficking," said Sheila Hammond, RSCJ, Community Life Director at Oakwood.
She shared that the RSCJ at Oakwood will continue to focus on educational and awareness efforts throughout the year, specifically making use of print and video material to learn about this important human rights issue and ways to recognize and stop it. Sister Hammond emphasized the importance of helpful resources like the Stop Trafficking! Newsletter, an anti-trafficking newsletter produced by the U.S. Catholic Sisters Against Human Trafficking – an organization of which the Society of the Sacred Heart, United States – Canada Province, is a member.
Notably, of the sisters who reside and minister at Oakwood, Virginia "Ginny" Dennehy, RSCJ, PhD, is a therapist who previously spent five years supervising volunteer therapists at the First Safe House for rescued people who had been trafficked in San Francisco. And today, Frances Tobin, RSCJ, is an active member of the local Sisters Stop Slavery Coalition in the Archdiocese of San Francisco.