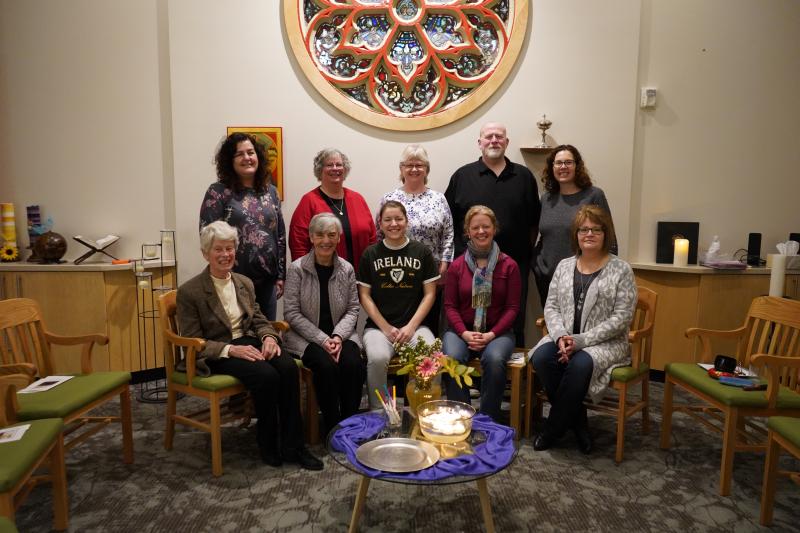 This January, Gail O'Donell, RSCJ, and Gina Rodee, RSCJ, facilitated a Busy Person's Retreat (BPR), a Sacred Heart retreat tradition within the province and Network schools for over 10 years, at the provincial office in St. Louis, Missouri.
During the week long retreat, staff members had the option to participate in daily morning prayer, meet with a spiritual companion throughout the week, and were encouraged to take time out of their busy days to pray.
"With so much busyness and change in our days, having the opportunity to step aside and refresh our sense of purpose in an atmosphere of quiet and peace is a rare gift, said Provincial Sheila Hammond, RSCJ. "We are blessed to offer that opportunity to the provincial office, and we are especially grateful to Gail and Gina who gave their time and energy to accompany members of our staff."
The adapted version of a Busy Person's Retreat began in Sacred Heart schools in Lent of 2007, as some of the faculty and staff at Schools of the Sacred Heart in San Francisco asked Lisa Buscher, RSCJ, to create a prayer experience for them during the season of Lent.
Since then, many schools have offered BPRs to their students, faculty and staff. The provincial office has offered the BPR to staff members since 2016.
The retreats are now a ministry of Sophie's Well: A Center for Sacred Heart Spirituality and facilitated by RSCJ and lay persons trained in spiritual direction.