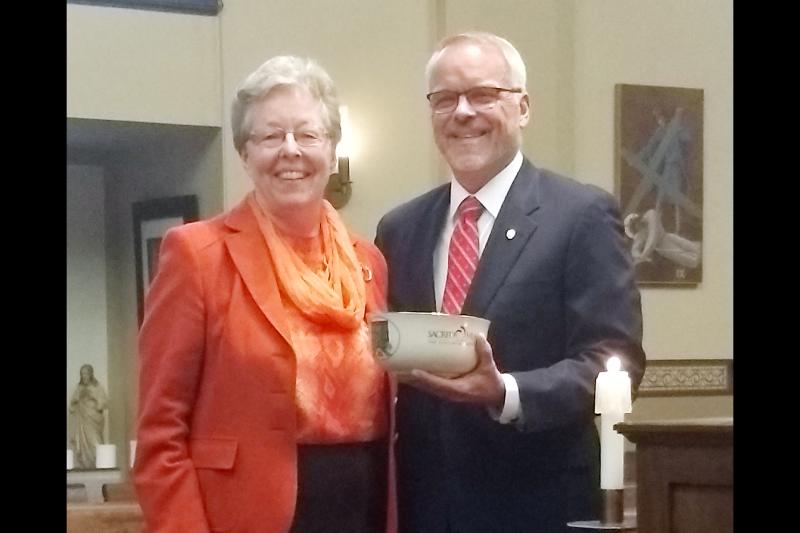 Sacred Heart Schools in Chicago, Illinois, bestowed its newly inaugurated Sr. Carol A. Haggarty, RSCJ, ASH'59 Leadership Award on Sheila Hammond, RSCJ, ASH'61.
The award honors an RSCJ, a Sheridan Road alumna or alumnus, or a former Sacred Heart Schools faculty or staff member who best exemplifies the leadership and commitment to Sacred Heart education demonstrated by Sr. Haggarty. Recipients of the award must also embody the call from St. John's Gospel – beloved by Sr. Haggarty – to "love one another as I have loved you" by providing leadership that propels Sacred Heart education into the future.
The Leadership Award was presented to Sr. Hammond at the Alumni Weekend Reunion Liturgy on October 22, 2017. Sr. Hammond attended Sacred Hearts Schools from first grade through high school, graduating in 1961. She has spent most of her life in service and leadership roles. After taking first vows in 1968, she was assigned a teaching position at Sacred Heart Schools. She taught English, French and religion, and also coached volleyball for six years. Sr. Hammond served on the Sacred Heart Schools Board of Trustees from 1980-81 and from 1999-2005.
Currently, Sr. Hammond is the Provincial for the United States - Canada (USC) Province of the Society of the Sacred Heart. She joined the provincial leadership team in August 2012, becoming provincial in October 2016. Seven years prior she was the director of pastoral care at Saint Louis University Hospital. Her previous roles have included director of chaplaincy services at Massachusetts General Hospital in Boston, director of formation for the former U.S. Province and chaplain for hospitals in Detroit and Lansing, Michigan.
Whether leading a team of clinical pastoral educators or holding the office of Provincial, Sr. Hammond said, "It's all about developing relationships" – wherever she is called to serve.
The service of Carol Haggarty, RSCJ, inspired the creation of the Leadership Award. Sr. Haggarty served Sacred Heart Schools on Sheridan Road in several capacities – as a faculty member, principal of the Academy and a member of the Board of Trustees.
Upon celebrating her 50th Jubilee, Sr. Haggarty said, "I have a commitment to the Society because I've taken vows, yes, but also because of my relationship with God. How do we glorify God in daily life? In the Society, we help each other down the path to holiness." Sr. Haggarty passed away in June 2017.