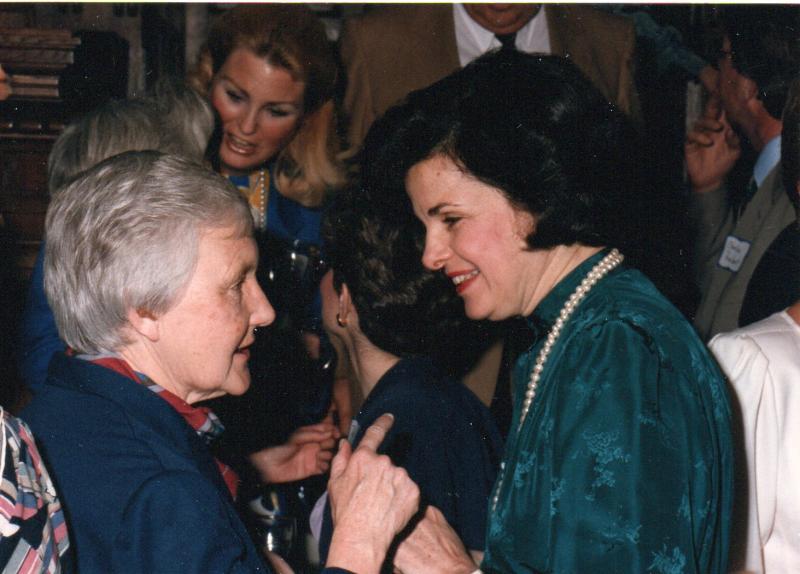 The Religious of the Sacred Heart join the Convent and Stuart Hall community, the City of San Francisco and the nation in mourning the passing of Senator Dianne Feinstein, a Sacred Heart alumna. Senator Feinstein lived consistently Saint Madeleine Sophie Barat's invitation to "Children of the Sacred Heart" to extend into the world through their lives the mission of the Society of the Sacred Heart. We are deeply grateful to the Senator for her work on behalf of so many people who needed their voices heard. We join the many and extend our heartfelt condolences and prayers to the Senator's family and friends.
The Convent and Stuart Hall, Schools of the Sacred Heart San Francisco (Broadway) shares:
As the longest-serving female senator, Sen. Feinstein '51 was a role model and inspiration to so many in our community and around the world, and we are honored by the deep connection she had to Convent and to her beloved friend and mentor, Mary "Be" Mardel, RSCJ. From her days as a student to her time as a member of the Board of Trustees and beyond, Sen. Feinstein's connection to the school was life-long, and her impact profound. 

During her most recent visit to Broadway for Sr. Mardel's memorial service, she shared touching remarks on the importance of their friendship and her education at Broadway, "The love that I got from this building and the religious within it has been unprecedented in my life. It is responsible for who I am today. To have the staying power, the determination, the faith in what I believe, and to continue on. I owe a great amount of gratitude to the Convent of the Sacred Heart. Ladies and gentlemen, this institution has made this Jewish woman what she is today: a United States senator." To request access to a video of the service, including Sen. Feinstein's full remarks, please submit this form. 

Follow this link to learn more about Sen. Feinstein's connection to Broadway and read a message from Dr. Ann Marie Krejcarek, President of Convent and Stuart Hall, Schools of the Sacred Heart. 

We send our deepest condolences and prayers to her family and friends, and we look forward to the ways we will gather to celebrate her life and her impact on her city, her county and the world.