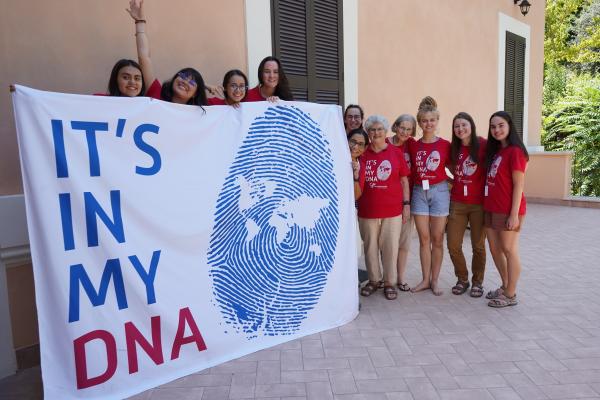 "Belong & Act as One: Discovering our SacredHeartDNA" is the story of a great adventure; a journey of courage, of will, and above all, of love.
Directed by the SacredHeartDNA program, the "Belong and Act as One" event unfolded in a transformative journey across the picturesque cities of Rome and Lisbon, where participants explored their shared heritage, beliefs and dreams as members of the Sacred Heart family.
The program started in Rome, where we gathered at the historic Villa Lante. This sacred space was once graced by the sojourns of our mother and founder, Saint Madeleine Sophie Barat. Against this backdrop, 28 young adults and Religious of the Sacred Heart (RSCJ) from Chile, Mexico, Poland and the United States embarked on a profound exploration of the history and core values of the Society of the Sacred Heart. As each of us shared our own stories, listened to esteemed Society and SacredHeartDNA leaders, and delved into the wisdom of the past, we started to walk a journey of belonging and community together, living and learning each day and discovering our own SacredHeartDNA in the process.
We continued exploring history as we were treated to an intimate encounter with Saint Madeleine Sophie Barat through artifacts and her letters, thanks to the archivists at the General Archives in the Villa Lante. We also experienced a deep spiritual journey. We attended Mass at St. Peter's Basilica, where a statue of Madeleine Sophie stands as a testament to her enduring legacy.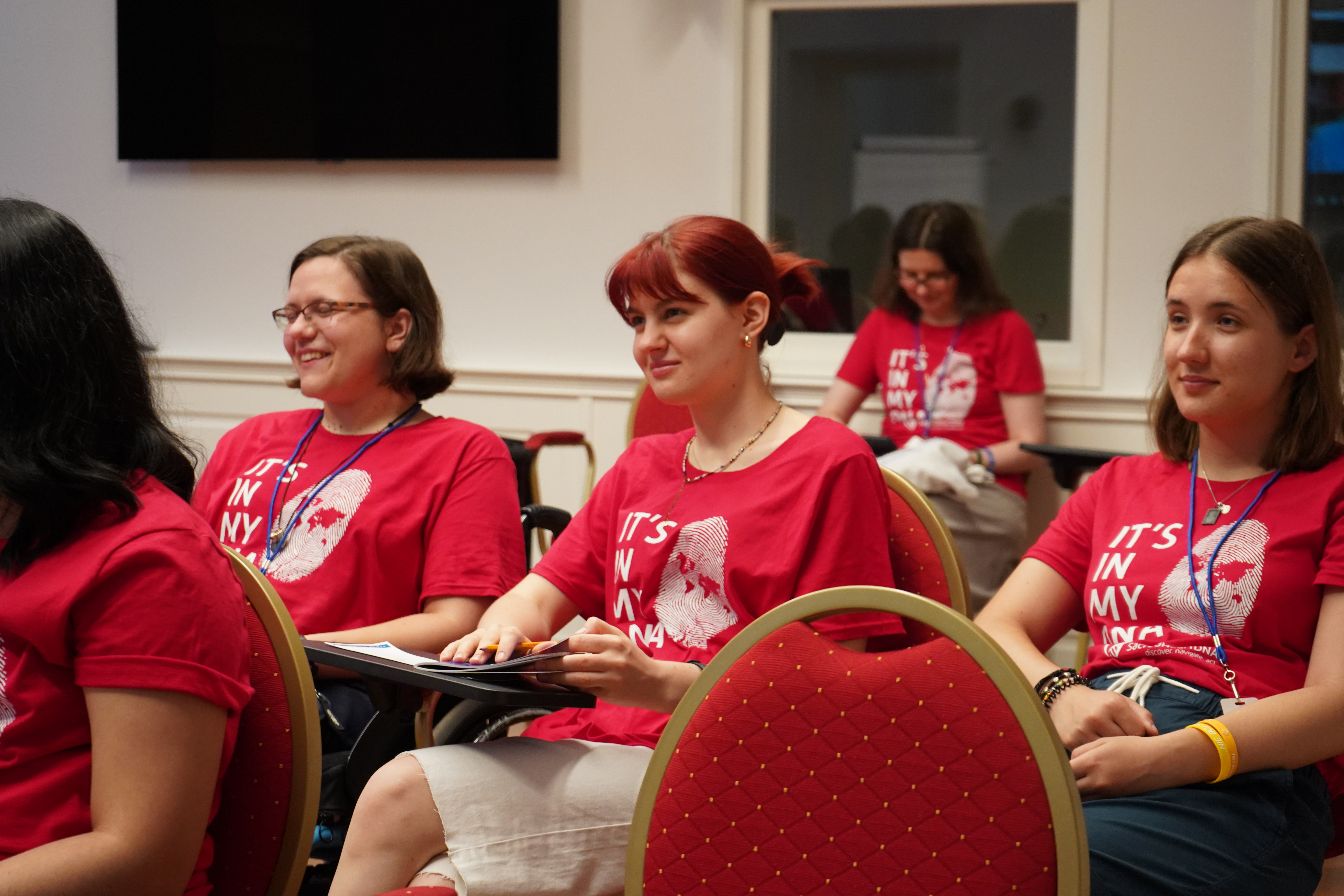 We all had the opportunity to visit and admire the original fresco of Mater Admirabilis at Trinità dei Monti, an experience that definitely left an indelible mark on each one of us, allowing us to
witness the beauty of our cherished Sacred Heart heritage.
Throughout the event, we were visited by some members of the Society of the Sacred Heart's General Council: Marie-Jeanne Elonga, RSCJ; Mónica (Bodo) Esquivel, RSCJ; Anne Corry, RSCJ and Superior General Barbara Dawson, RSCJ, whose participation added depth to our exploration of and reflection on our SacredHeartDNA, as we delved into the roots and essence of this cherished community.
This first part of the "Belong and Act as One" program in Rome was not only crucial for enrichment of our knowledge about our personal roots and DNA and the history of the Society of the Sacred Heart, but vital for the development of a strong community among us young adults alongside several RSCJ.
We quickly became a community rooted in our shared faith and love of God. This group of 28 participants from four different countries became ONE BODY, developing a close- knit bond while in Rome. After four days together, we were ready to take the next step into the event, discovering what it means and feels to belong to something bigger—the Church—alongside some two million pilgrims who would be participating in World Youth Day 2023.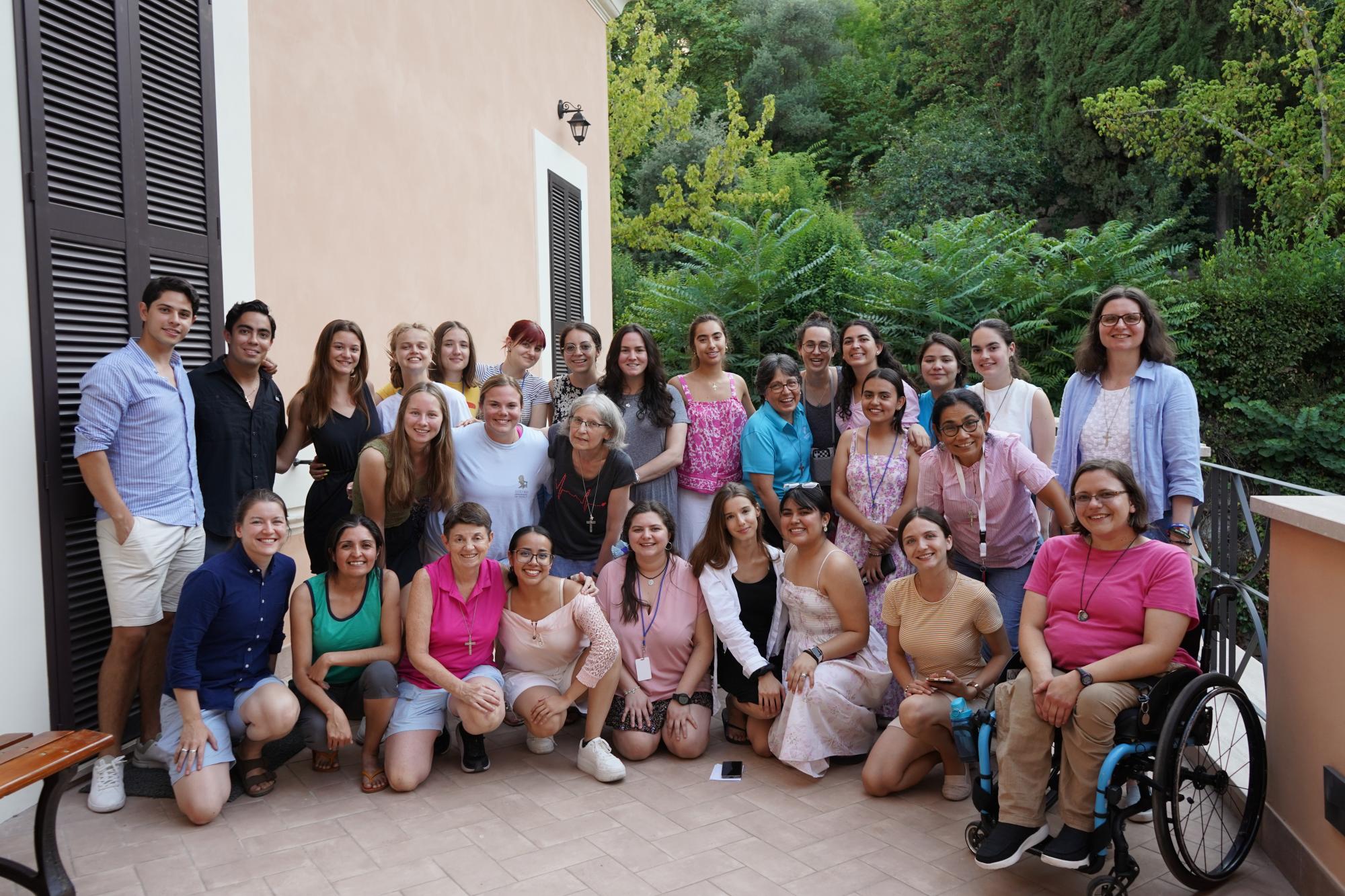 Our journey then continued into Portugal with a visit to the revered shrine of Our Lady of Fátima, a place of pilgrimage and reflection. Amidst the landscape, we pondered the messages of the gospel and the importance of embracing simplicity and love, learning valuable lessons from the perspective of children.
This day trip exposed us to touching moments, such as appreciation of a fragment of the Berlin Wall. Alicia Luevano, a participant from Mexico, shared that, for her, this symbolized the breaking down of barriers and the victory of unity over division.
The pinnacle of the program was World Youth Day with Pope Francis in Lisbon, where we joined with young adult pilgrims from all corners of the globe to listen to Pope Francis's message of love and inclusion. The moments of Eucharistic Adoration were a profound experience, where young people found solace and unity in the presence of the Sacred Heart.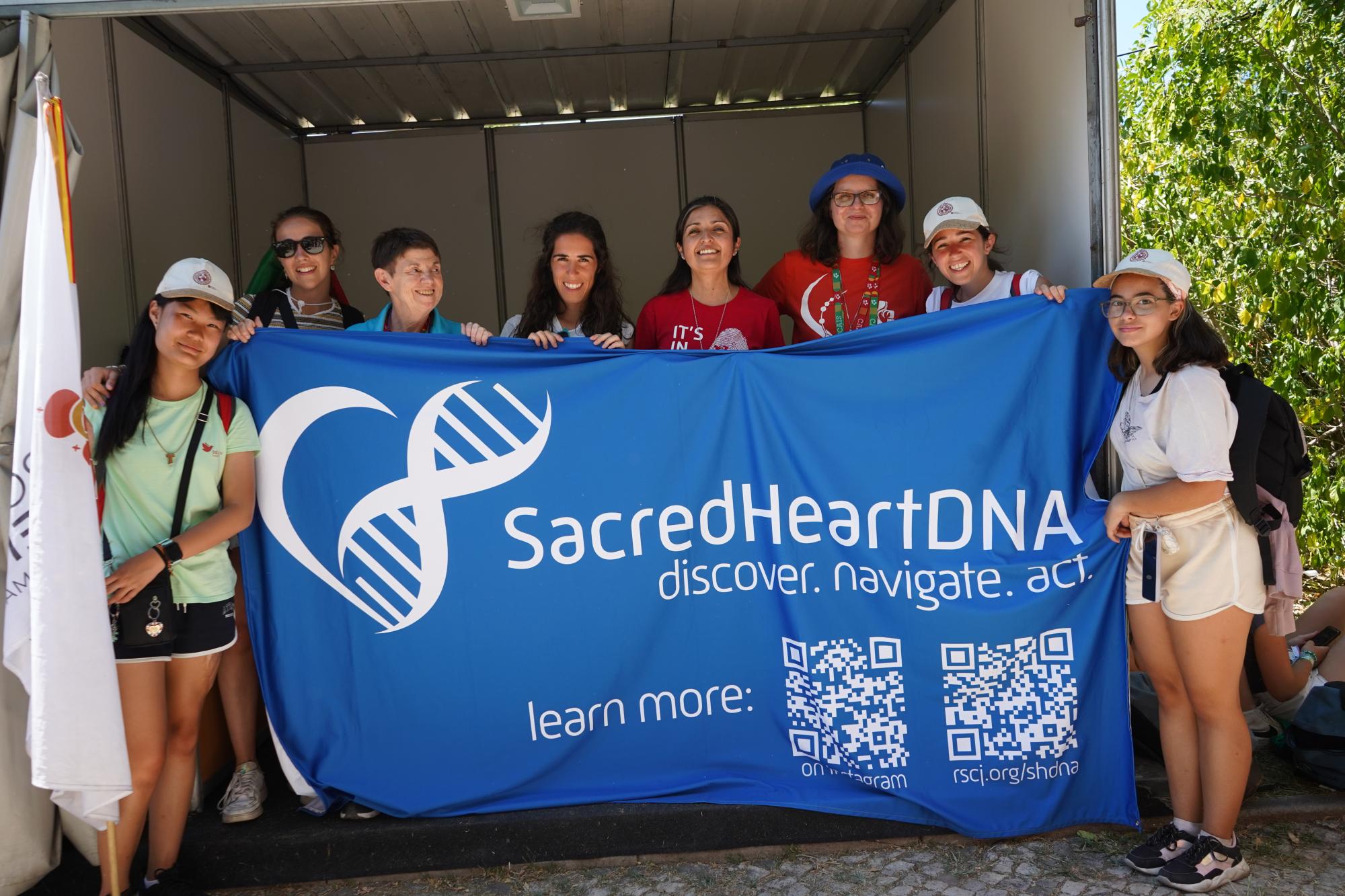 The SacredHeartDNA group also participated with a booth in the Vocations Fair "City of Joy," which took place over two days at World Youth Day. This event was like no other, as it allowed us to directly spread the Society's mission to other pilgrims and invite them to learn about the SacredHeartDNA initiative. Through conversations, sharing personal journeys and bonding moments with others throughout the Sacred Heart family, young pilgrims were called by the goals and values of the Society and the program.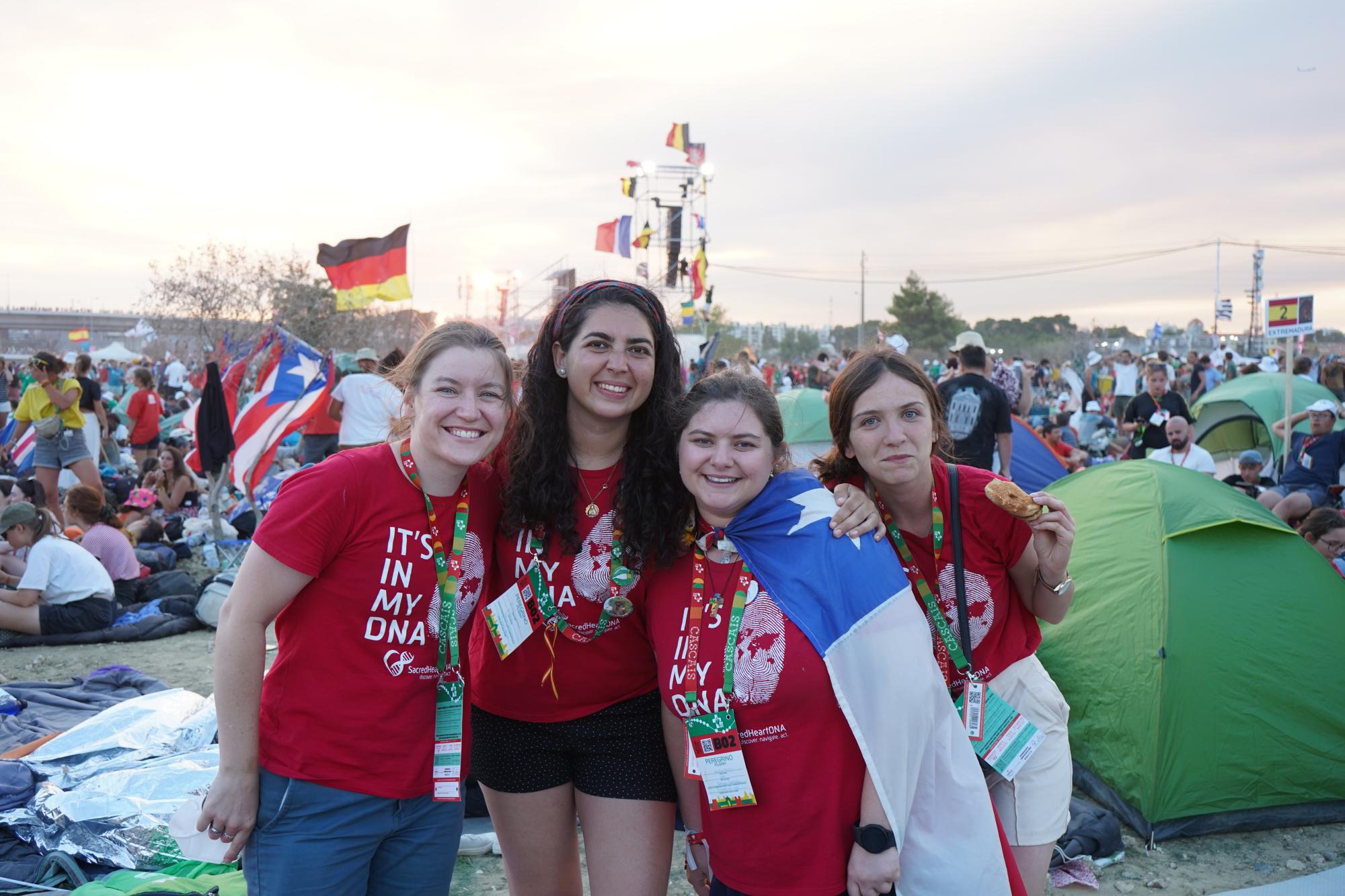 At the conclusion of the program, as a culmination of this enriching experience, all participants became "SacredHeartDNA Ambassadors," taking with them important determinations: always and everywhere we go:
to have the will to really appreciate in others that special DNA that far transcends our reason and our expectations;

to be willing to allow ourselves to change;

to allow ourselves to grow and evolve and wonder;

to search, to plant our roots across borders;

to conquer hearts and overcome difficulties;

to turn obstacles into motors and not into chains;

to know our differences and use them to unite and not to separate ourselves;

to make us stronger;

to be willing to work to create a better world; and

to create a space where all have a place to live and grow in the confidence of love.
We commit to all of this because, after all, it is in our SacredHeartDNA!
Watch a recap of the SacredHeartDNA group's adventures in Rome and Lisbon!