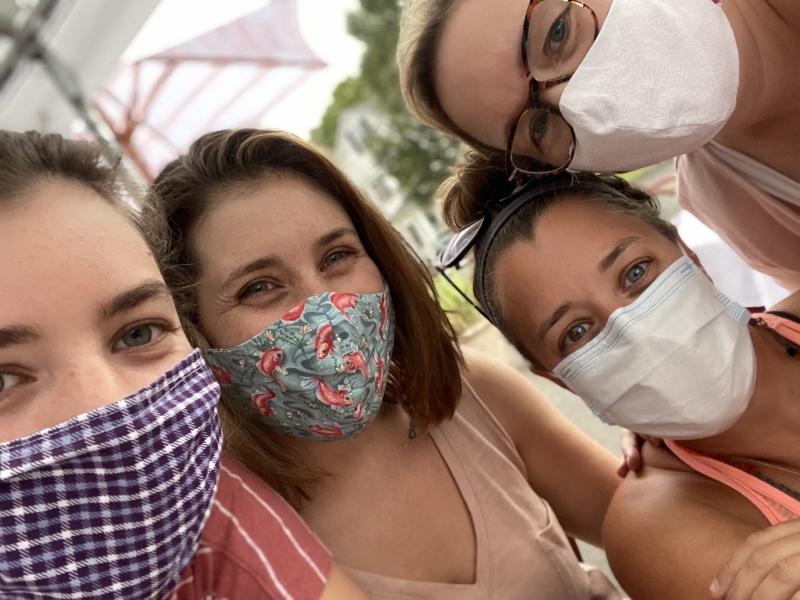 by Lori Wilson, Associate, Fairchester
Co-chair, Associates Leadership 
This past week I was not at my best. The pandemic, social isolation, masks, worry about my kids and grandkids going back to school in a few weeks was getting the better of me. Praying each day, I'm reminded to listen for God's voice in unexpected places and to watch and listen for God moments, times when I know God is speaking directly to me. This week there were three.
My eldest daughter was planning on coming for a visit. She's a high school math teacher and her school is going to open in a couple of weeks. She quarantined for three weeks in Maryland and then was going to drive up to Connecticut with her children so we could visit. The storm hit on Tuesday and I called her to let her know we had no power, no running water, no Wi-Fi, and no A/C. I wanted her to know what she was getting herself into and give her a chance to reschedule. She listened to me and said very gently, "Mom, we aren't coming to enjoy a hotel, we are coming to see our family. Who knows when we will have this window again? I just want to be with you." She reminded me that what is most important in life are relationships, not things. The gentle voice of God.
My daughter who is the middle child has two children of her own. They are absolutely beautiful, but can be a handful at 5 and, almost, 4. This week has been hot and a lot of work carrying water upstairs, entertaining the kids outside, trying to stay cool. We are all a bit on edge and getting anxious that we can't get to our to-do list and get everything done that we would normally be able to do. I struggle with being able to rest at the end of the day and feel like I've gotten enough done. One evening I was particularly worried about what I hadn't gotten to and was sharing it with her. She said gently, "Mom, you are only one person, you've worked all day. What would Jesus say to you right now? Rest and start again tomorrow, or two more hours before you rest." She reminded me that our best efforts are enough and we can be satisfied with them. The gentle voice of God.
My youngest daughter will be going to Boston College for her Masters in Social Work (MSW) in a few weeks. She has the softest of the voices of my children. She was listening to me as I turned on the faucet for the fourth time forgetting that there was no water. She said in a very soft voice, "Mom, you know even without power and running water, we are living better than 80 percent of the people on the planet. We can be grateful that we are safe and this is very temporary. We don't have to carry water for a mile twice a day. We don't have to cook using charcoal or wood for every meal. We don't have to worry that we are unsafe." She reminded me of just how blessed my life is. The gentle voice of God.
God speaks to us all the time, but we miss it. This week I am especially grateful for my three girls and for God's love to speak to me through their voices.