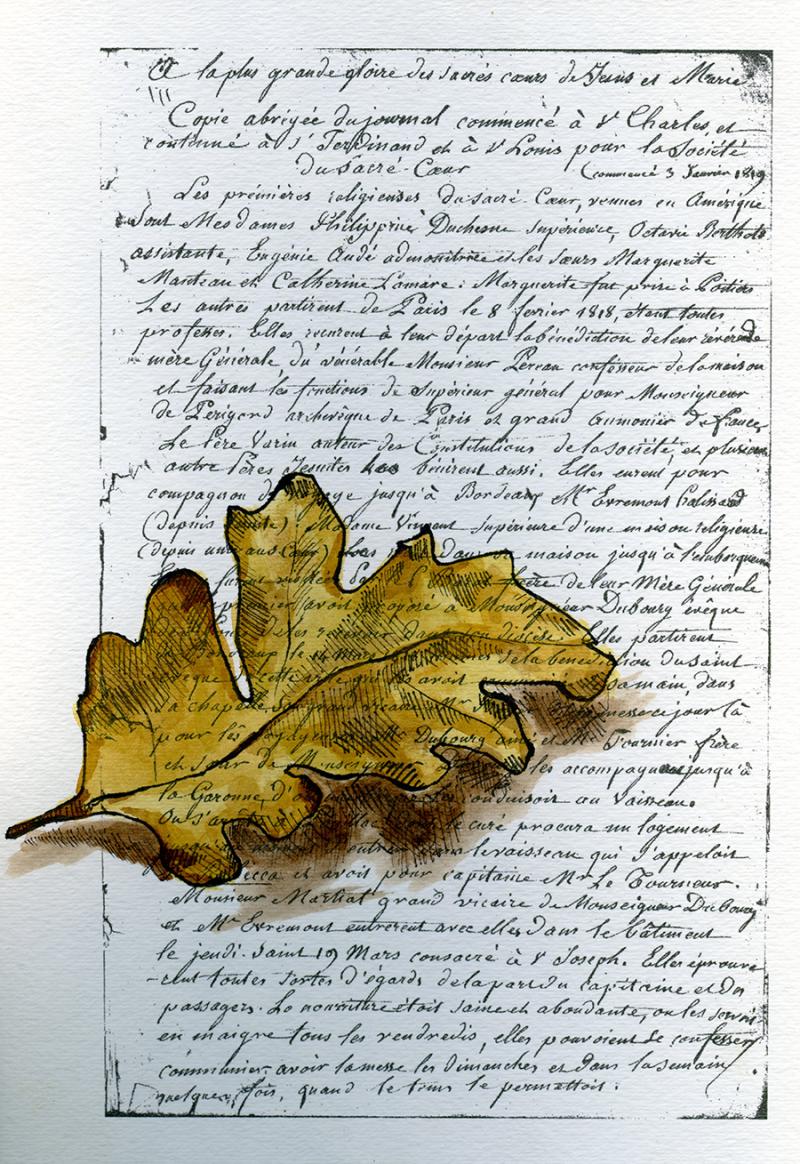 It may surprise you to know that Saint Rose Philippine Duchesne often wrote in a journal, keeping track of the events of the day, the people who visited, important moments and celebrations – in a word, providing a record of the life of the community. In fact, the cover of this journal is the opening page of one of her "House Journals," a recording – for posterity – of the significant life events in the earliest days of the St. Charles foundation, Philippine's first home in the New World.
There are many other uses of a journal, such as recording a noteworthy travel experience, accumulating favorite quotations or establishing and tracking life goals. A journal may also be adopted as a spiritual practice. In this case, journaling is an intentional discipline: a way to identify and remember important insights; a powerful tool to nurture one's interior life; a way to ponder the word, noticing patterns and movements of the Spirit and whatever wisdom bubbles to the surface.
This journal accompanies the Bicentennial Year of Prayer in honor of Philippine Duchesne.
For a full year prior to her feast in 2018, a reflection and image will be posted on www.rscj.org every Monday. These reflections have come from all over the world, introducing Philippine to those who do not know her well; deepening the love and appreciation of those who do. While reading, consider "frontiers" in her life and ours – issues, challenges, dreams, questions worth pondering. All of this is an attempt to tease out Philippine's relevance for our lives today.
The subjects of these reflections are as varied as the background of the writers: friendship, suffering, loss, courage, boundaries, failure, perseverance, hope, mission.
As we embark on the Year of Prayer, use this journal in a way most congenial to your own interest and experience. Perhaps you would want to trace a single question throughout the year: What about Philippine appeals to me? How do the reflection and/or the image illuminate my life? How does the image enhance the writer's reflection? Perhaps, on the other hand, you simply want to jot a few thoughts or remember a random intuition.
However the journal is used, let it become a powerful tool. Take time to dwell in stillness, to learn mindfulness and, for a few moments, to focus your mind and heart.
Finally, because the whole family of the Sacred Heart has been invited on this journey, the Year of Prayer offers the possibility of shared conversation. Twitter, Facebook, Instagram – choose your favorite social platform – provide the possibility of talking with others about a particular posting that touched you.
Let this Year of Prayer bind us together as one Body, connected across the world in prayer and praise.