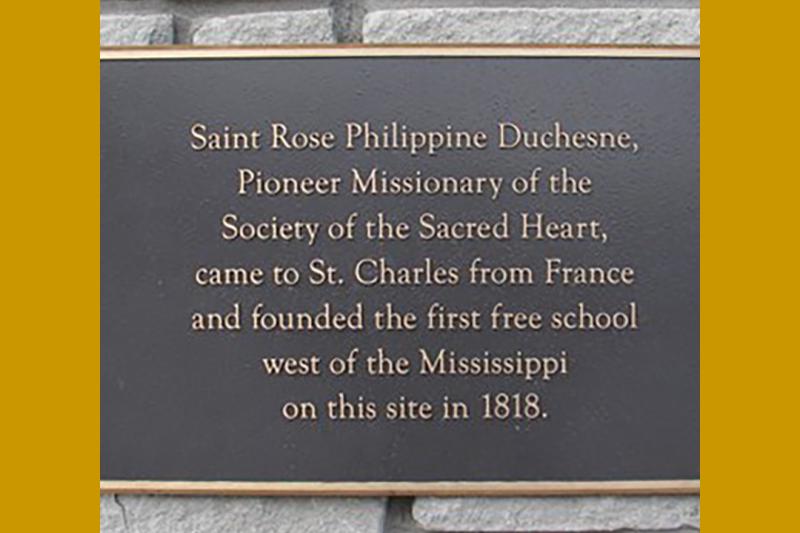 "A Remarkable Woman …" Arriving in St. Charles, for a visit in 2001, I wandered into a gift shop in the town and was approached by an assistant. With pride she said, "There was a remarkable woman who lived here in the early days and now she is a saint." Then, noticing my medallion, she said, "Oh, you'll know all about her!"
Having led morning assembly on Philippine on at least twenty occasions and celebrated, in 1988, with staff and pupils her canonisation, I did have plenty of knowledge about Philippine Duchesne. What I was to experience in the next three days was her spirit, as the RSCJ community shared the places and events of her life.
Philippine died in St. Charles in 1852, and yet, nearly 150 years later, there were signs of her all around: an information board about her on the river bank; the sign, shown above, indicating the site of Philippine's first school; signposts to the Sacred Heart Academy and her shrine. While schools, communities, and a noviciate flourished elsewhere, Philippine's time at St. Charles was not a "success." The free school, housed in a rough log cabin, 1818-19, had to close; and when RSCJ were brought back by Jesuits after ten years, Philippine had to leave it to others to re-establish it.
When she moved to St. Charles, after her year with the Potawatomi, having been too old to learn their language, Philippine felt a failure and was in poor health. She spent her last ten years, mending clothes, making vestments and praying. The people knew and loved her as a simple, humble woman who "prays always," and today they still call her "a remarkable woman!"
Anne McCarthy, RSCJ, Province of England- WalesImage: Linda Behrens