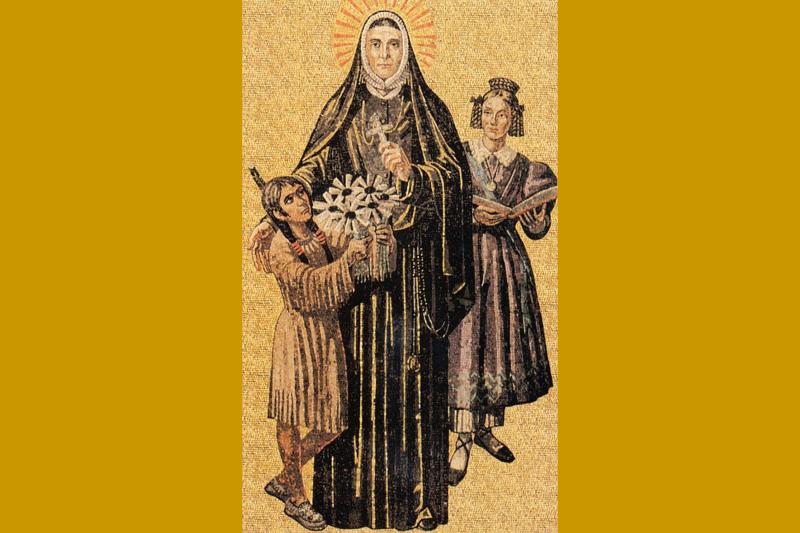 We Can Make a Difference
In this image, Saint Rose Philippine stands between two girls in a position that is very significant. This image reminds me of many illiterate women, particularly in my part of the world, who are struggling to love and educate their children against many odds. I have always admired Philippine's courage. Even though she could not speak English, she founded schools in a predominately English-speaking country. She was a woman impelled to action for social justice. She never gave up the mission to Native Americans, for which she waited for so long. Through these actions, she realized the encounter of two civilizations by fighting against illiteracy and poverty for God's sake. Philippine is my source of inspiration and courage, particularly in uncharted situations. She is a model teacher. I often ask, what might have motivated Philippine Duchesne to love children and the poor?
I see a similarity between Philippine and Pope Francis, whose hearts are wide open to the most vulnerable. On his way back from Greece last April, Pope Francis brought home with him twelve Syrian refugees, all of them Muslims. These twelve are now receiving language and job training as well as educational opportunities. Recently, he organized a party for 1,500 economically disadvantaged people.
In most cases, a poor person is an outsider, a person to fear! When I consider what motivated Philippine in all her actions, my heart is grateful for God's unfailing love and for the gift of Philippine to the Society. I am convinced that only love can destroy barriers and create bridges between the poor and the rich. In Africa, some traditions have led people to perceive the materially poor and women as destitute and vulnerable. However, if educated, these groups of people become very capable and strong. I believe that the worst aspect of poverty is being illiterate. I pray that, as the Society of the Sacred Heart, we continue Philippine Duchesne's legacy, becoming more aware of the injustices caused by poverty in our own time. Through education, may we do all in our power to eliminate these injustices. Kaja Kayembe Clémentine, RSCJ, Province of Democratic Republic of Congo Image: Hildreth Meière