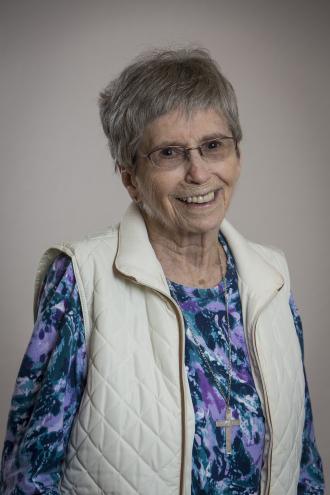 Birth: March 22, 1925
Profession: May 29, 1983
Death: March 9, 2021
Religious of the Sacred Heart, Ann Ryan, died March 9, 2021, in Redwood City, California. She was 95 years old and a member of the Society of the Sacred Heart for 42 years.
Ann Ryan was born in Minneapolis, Minnesota, on March 22, 1925, and was the second adopted daughter of Thomas John Ryan and Gertrude Louise Tracy Ryan.  Adopted at the age of two from an orphanage, Ann thrived under the loving care of her adoptive parents. She was a friendly child and enjoyed making friends in school. Her parents, along with raising two daughters, were ill at times; her father nearly died when Ann was in elementary school, and her mother dealt with the effects of a serious heart condition as a result of the flu epidemic of 1918. Despite continuous financial strain from medical bills, Ann's parents were determined to send Ann and her sister to Visitation High School, which they believed the best for their daughters.
While these times were challenging for Ann, she felt an overwhelming experience of God's presence and love while saying her prayers one night. This experience was one of many during her childhood. In high school at Visitation, it became clear to Ann that she wanted a life of prayer. She heard God's voice, "This is where I want you forever." Ann described this experience, as "very sudden and very lasting, and it never went away." As her prayer life grew, supported by her classes and the spirit of the Sisters, Ann kept this to herself, "since being 'pious' was next to being crazy."
Ann's mother was instrumental in guiding Ann to be independent and politically conscious. At the age of ten, Ann learned the city bus routes, read the newspaper, learned about politics, elections and conventions. Her mother even called Ann in from playing to hear all of FDR's speeches. Her mother taught Ann to drive at thirteen and on her sixteenth birthday, Ann got her driver's license!
Ann realized by her senior year at Visitation that her parents could not afford to send her to college. Her parents' poor health, a mother with heart disease, and father with Parkinson's made college out of the question, so Ann went to work at a bank and started night school. It was during this time, that Ann went to the Visitation convent, asked for the superior, and announced that she had a vocation to religious life. This was a shock since no student from the Academy had entered in twenty years.
Ann entered the Visitation Order in 1945 in St. Paul, Minnesota. While she felt the spirituality of the Visitation was right for her, the culture was not. This difficulty caused a delay both in her receiving the habit and making her final profession of vows. Despite this, she showed much promise, teaching and studying for a degree. She taught elementary school for ten years and earned a BA in Social Science. She did all of this inside the cloister, as the nuns did not leave the premises; the teachers came to them. Ann completed certification to teach a number of subjects and even earned an MA in Counseling. Ann made her first vows in the Visitation Order in 1946 and her final profession in 1950. Before she made her final vows, Ann lost both parents two years apart; this sorrow, combined with her difficulties with a superior, plunged her into such darkness and feelings of abandonment that she could barely function. She was diagnosed with anemia and hospitalized, but eventually recovered and was sent by the Visitation community to Marquette University in Milwaukee, Wisconsin, for studies in Collegiality so that she could teach the community. She resumed teaching at the high school level, even though her attraction to prayer was overwhelming. She was supported by several priest directors and superiors who affirmed her.
After thirty-four years as a Visitation nun, Ann began facing the question of leaving the order. She made a thirty-day retreat with Fr. Farrell, S.J., a Jesuit priest, who helped her discern how God was calling her. When she made the decision to leave the order, Father Farrell helped her form a plan, and Ann's exclaustration began. Shortly after this, Ann was introduced to the Society of the Sacred Heart through meeting Barbara Bireley, RSCJ, at the Epheta House in Detroit and was impressed. She also looked into other congregations and even tried negotiating with the Visitation community, but found that it would no longer be possible.
The next five years after she left the Visitation community she began ministry with adults in St. Clement's Parish in Romeo, Michigan. What started out as a part-time facility grew to a full-time counseling and aid center under her direction. She was known for spotting leadership and making the best use of other community services to address the challenges brought to the Center. She recounts her parish experience, "I met adults, not religious, on a peer basis for the first time since I was nineteen, and with whom I formed lasting and loving relationships. This parish community became a family."
Ann's prolonged absence from religious community life extended to five years. While Ann was serving at the parish, she once again met Sister Bireley who came to work there. Having experienced the RSCJ in Sister Bireley's community, Ann asked Barbara if she would be a good fit for the Society of the Sacred Heart. Even with Sister Bireley's affirmation, leaving the Visitation would be a hard experience for Ann. While Ann had given many years of devoted work to the order, she felt they gave her so much that shaped her spirituality.
On July 1, 1979, at the age of forty-one, Ann entered the Society of the Sacred Heart in Bloomfield Hills, Michigan, as a candidate for transfer from the Visitation Order. She spent several years in Albany, New York, living community life, and then at the Boston novitiate getting to know the Society. Ann transferred her vows on May 29, 1983, after five months of probation in Rome. When she returned to the States, she earned a BA in Gerontology at Madonna University, after which she moved to Atherton, California, where she assisted at the Oakwood retirement center for the Religious of the Sacred Heart and worked at the Timpany Rehabilitation Center in San Jose, California, as a water therapist for disabled children and adults. After several community moves, she settled in the San Jose RSCJ community. During these years, Sister Ryan became involved in community organizing and went to work with Title V in Santa Clara County, coordinating employment opportunities for low-income elderly. She also served as an ombudsman for nursing homes and residential care facilities. In time, Sister Ryan herself moved into a facility for low-income retirees, where she had a beautiful ministry with the residents until her own energy ran out.
During her years in the Society of the Sacred Heart, Sister Ryan served as area director, first in 1984 in Michigan and again in 1990 for the area of Menlo Park/San Jose. During the consultation process, her sisters identified Sister Ryan's many qualities. They valued her ability to relate well with everyone, her organized, sensitive, and excellent facilitative skills, and her loving nature, which made her a thoughtful and reassuring listener.
In 2004, Sister Ryan officially retired to the Oakwood retirement community where she was an active member. Earlier this year, as she needed more care, Sister Ryan was transferred to Palm Villas in Redwood City, California. In the early afternoon on March 9, 2021, Sister Ryan went peacefully to God.
A funeral mass will be held for Sister Ryan at a later date in the Oakwood Chapel in Atherton, California.